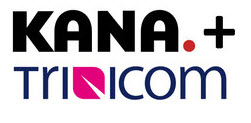 KANA Software, Inc., a global leader of customer service solutions used by more than 600 enterprises including half of the Global 100 and more than 200 government agencies, today announced it has completed its acquisition of privately held Trinicom, a provider of cloud-based web customer service (WCS) and customer interaction software. Terms of the transaction were not disclosed.

Trinicom, based in the Netherlands, serves more than 200 predominantly mid-sized organizations in both the public and private sector, offering fast, efficient access to comprehensive and multi-channel WCS capabilities such as knowledge management, web self-service, social communities, live chat and virtual assistant technology, as well as call, campaign and email response management – all from a single on-demand cloud application.

The acquisition expands KANA's customer and revenue base and strengthens its product portfolio. KANA will continue to support new and existing Trinicom customers, as well as accelerate the development of Trinicom core capabilities, and expand its market reach to mid-sized businesses globally.
"More and more companies are leveraging customer service solutions to maximize profitable growth, improve employee productivity and customer satisfaction, while managing costs and brand reputation," said Mark Duffell, CEO of KANA. "We are bringing together two substantial players within our industry: KANA that's focused on helping many of the world's largest enterprises and governments transform their complex business requirements into effective customer experiences, and Trinicom, which supports mid-sized businesses with a strong online sales and services focus get rapid access to comprehensive multi-channel web customer service and contact center infrastructure."