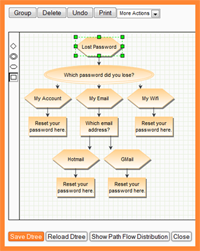 On 17 October 2012 Creative Virtual unveiled V-Portal as a knowledge management solution that simultaneously deploys intelligent virtual assistants across the call centre, web, mobile and social channels with just a few clicks. V-Portal manages and curates content based on business line or product area, and connects users to web services via natural language virtual assistants. Our virtual assistants are able to hold personalised customer conversations 24/7 helping organisations build brand loyalty and increase customer engagement.
A well-known online financial services brand, that is currently realising over 80% reduction in live chat volumes with Creative Virtual's V-Person™ technology, plans to implement V-Portal this year to seamlessly answer customer questions throughout a range of communication platforms.

"Creative Virtual is a pioneer in virtual assistant technology, and continues to evolve its presence in the customer service market," says Mitch Kramer, Senior Analyst, Patricia Seybold Group. "V-Portal's knowledge management technology is a significantly strong differentiator in the industry, and one that will exceed customer expectations."

V-Portal technology provides sophisticated workflow, permission management and intuitive task controls that support the creation and approval of content. The technology incorporates sophisticated natural language processing to deliver personalised conversations with virtual assistants that have a 90% accuracy rate, and call deflection rates of up to 50%, resulting in a lower cost per conversation.

"V-Portal enables organisations to create a seamless customer experience by managing content and deploying multi-channel virtual assistant technology from a single platform," states Creative Virtual Founder & CEO Chris Ezekiel. "Our customised knowledge management solution is an industry leading technology that gives our clients a competitive advantage by enabling them to deliver a great online customer experience at low cost, while supporting multiple business goals."

Key V-Portal Differentiators:
* Multi-Channel Content Management: V-Portal manages cross-channel content from internal databases, call centres, live chat transcripts, CRM and business intelligence tools from a single platform, unlocking organisational information silos to access, share and modify content in real-time to optimise customer support.
* Intuitive Workflow Management: V-Portal's simple drag and drop graphical decision tree editor allows for the creation of complex flow charts, which can be customised to provide contextual answers via the web, smartphones, tablets, game consoles or social sites like Facebook or Twitter, and published live in minutes.
* Unique Natural Language Engine: Creative Virtual's unique natural language (NLP) software enables customers to talk to a virtual assistant that can hold entire "real-person" conversations specifically about their issue.
* Intelligent Reporting & Analytics: The V-Portal reporting dashboard provides valuable insights into customer behaviour and interaction via transcripts and survey feedback that is unavailable with traditional web analytics.

"While knowledge management is critical for a cross section of industries from retail to telecommunications, the features of V-Portal are particularly beneficial for regulated industries like health care and finance where a history of changes and an approval flow are mandated," says Richard Simons CEO of Creative Virtual USA. "Our suite of tools creates a unique level of transparency between the company, its departments and their customers which cannot be duplicated in the market by any other solution."

To learn more about V-Portal and request a demo, please visit the Creative Virtual website.