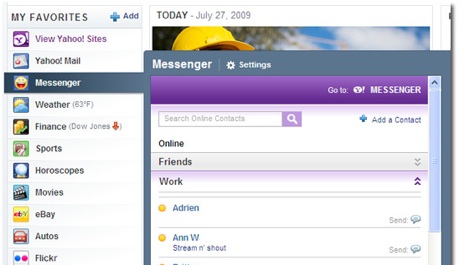 Yahoo Messenger Blog: Have you tried out Yahoo!'s new home page yet? This latest version gives you even more ways to customize the page with your favorite news, sites and services.

For the new Beta page, we worked with the team behind yahoo.com to create a new Yahoo! Messenger module. This new version provides a quick view of which friends are online, plus you can easily IM them right from the page. Here's a quick look at the features of the new Yahoo! Messenger on yahoo.com:
See all your friends in one place
Like the versions we currently offer in Yahoo! Mail, this Yahoo! Messenger module will show you all the friends you're used to seeing in your list, plus other online friends that are in your Yahoo! Address Book. These are grouped under "Your Yahoo! Contacts". You may see friends in there you didn't even know were on Yahoo! Messenger so drop them a line to say hi!
You can start a conversation with a friend right from the home page. Find them in your list and then click the IM or SMS icon to the right. This will launch a new IM window in Yahoo! Messenger where you can start chatting. Note that the SMS icon only shows up when you have a mobile number in your address book for a friend.
Search to find a contact
This one's handy for those of you with a lot of friends. Use the search box at the top of the module to quickly find a friend in your list. Once you do, click the IM or SMS icon to start a conversation.
Collapse/expand groups
Click the arrows at the right of a group header to expand or collapse a group.
Change how your list is sorted
Click the Settings icon near the top of the module to sort your list alphabetically or in reverse alphabetical order.
Related links
Looking for more information on Yahoo! Messenger and its features? Check out the links to the right for help with finding the latest version, using a webcam, or getting to know emoticons.
http://www.ymessengerblog.com/blog/2009/07/27/yahoo-messenger-on-the-new-yahoo-com-page/