Looking for the best web chat apps to place on your website? Are you interested in web chat apps that you can use for customer support, chatbot automation, lead generation, answering frequently asked questions (FAQs), etc.?
We know there are many website chatbots to consider, so we keep an updated list of all the best web chat apps available for you to choose the right web chat app for your website.
Table of Contents

What is a Web Chat App?
How to Choose the Best Web Chat Software for Your Website
Best Web Chat Apps #1: MobileMonkey
Best Web Chat Apps #2: Botsify
Best Web Chat Apps #3: WP Chatbot
Best Web Chat Apps #4: Pandorabots
Best Web Chat Apps #5: Helpcrunch
Best Web Chat Apps #6: Kayako
Best Web Chat Apps #7: Zendesk
Best Web Chat Apps #8: Meya.AI
Best Web Chat Apps #9: LiveChat
Best Web Chat Apps #10: Intercom
Best Web Chat Apps #11: Drift
Conclusion: Benefits of Using Web Chat Apps on a Website
What is a web chat app?
The term "web chat app" is often used interchangeably with "live chat" or "website chat." Here's the simplest explanation of what web chat apps are: Web chat apps are chatbots for your website. However, they can also be used on other platforms and with other applications.
Chatbots are often found on messaging services, such as Facebook Messenger. Web chat apps, or website chatbots, function similarly, however, they exist on a business's website rather than a third-party platform.
Web chat apps interact with website visitors via a pre-programmed chat interface in order to accomplish certain tasks.
They can function to help website visitors find products, make appointments, answer questions, and more.
Web chat apps can also function to merge the user experience with web and messaging services, such as Facebook Messenger. For example, a user can begin an interaction with a web chat app on a website and end the interaction on Facebook Messenger.
Then the company that deployed the website based chatbot will have all of the data that was acquired by the website chatbot and use it to push content to the user via a Facebook Messenger channel.
How to Choose the Best Web Chat Software for Your Website
Using some form of web chat solution on a business website promotes better customer service and improves customer satisfaction rates by making communication more accessible to site visitors.
Chat software on a website allows website visitors to speak to live agents, while also providing automated solutions to things like questions and answers. website chatbots often boost site conversion rates by up to 45%.
Automated chatbots on a website are a cost-saving solution that automates most daily business practices, giving businesses more time to focus on revenue-generating projects and thorough customer support.
Steps to take when comparing web chat apps:
Step 1 - What functionality will your web chat software serve? Are you interested in web chat apps for customer service, customer acquisition, user engagement, lead generation, sales, questions and answers, or all of the above?
Step 2 - Define your desired functionality and pricing of web chat software.
Step 3 - Compare the pros and cons of all web chat apps that meet your requirements.
Questions to ask when comparing web chat apps:
How much will the chat platform cost upfront and will there be any hidden fees?
Are there any recurring fees for this chatbot platform?
Can the chatbot platform bridge data with other marketing or business systems?
Is the chatbot platform mobile friendly?
Can the chatbot platform handle multiple languages?
MobileMonkey is an all-in-one chatbot builder and editor that supports Facebook Messenger bots, website bots, SMS bots, and live chat integration.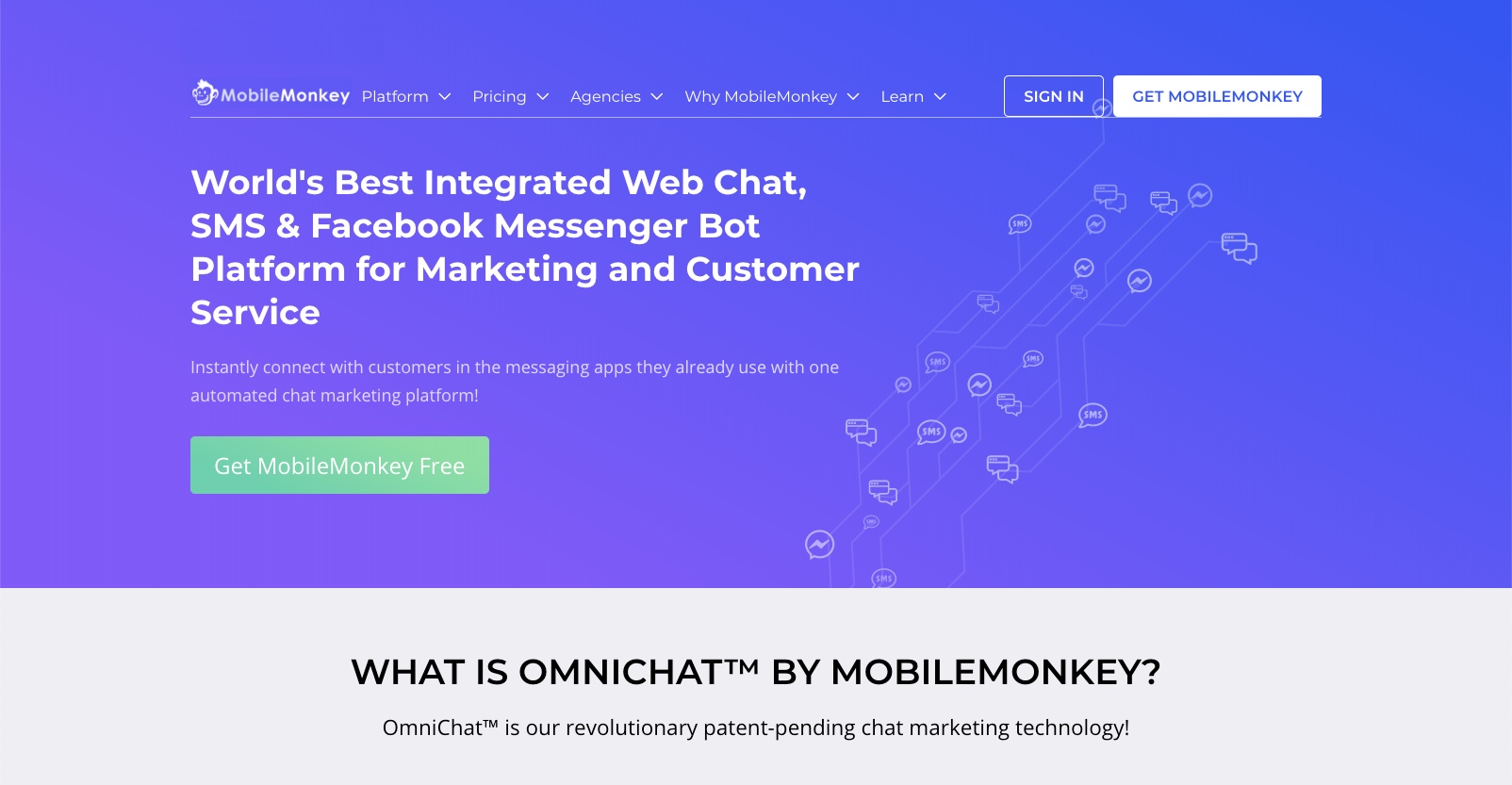 Mobile Monkey Features:
Multi-channel chatbot platform on web and mobile app
Native web chat, Facebook Messenger, and SMS marketing tools
Visual-flow chatbot builder and editor
Chatbot templates
Multilingual
Zapier and other integrations
Mobile friendly
Facebook Messenger Ads
Live chat integration and handoff
Analytics and reporting
Pros of MobileMonkey:
Extensive suite of chatbot tools and automation
Surprisingly easy to use for such a robust platform
Chatbot builder and workflows
Works across many channels (SMS, web chat, Messenger) and unifies all conversations in one inbox
Unlimited contacts and leads on all plans
Huge user community
Cons of MobileMonkey:
Frequently updating user interface
MobileMonkey Pricing: You can get started building bots with MobileMonkey for free. If you need advanced automations and integrations, pricing then starts at $14.25/mo, and goes up to $299/mo.
Best Web Chat Apps #2: Botsify
Botsify is a platform that allows a business to create a chatbot for Messenger, Slack, or a website.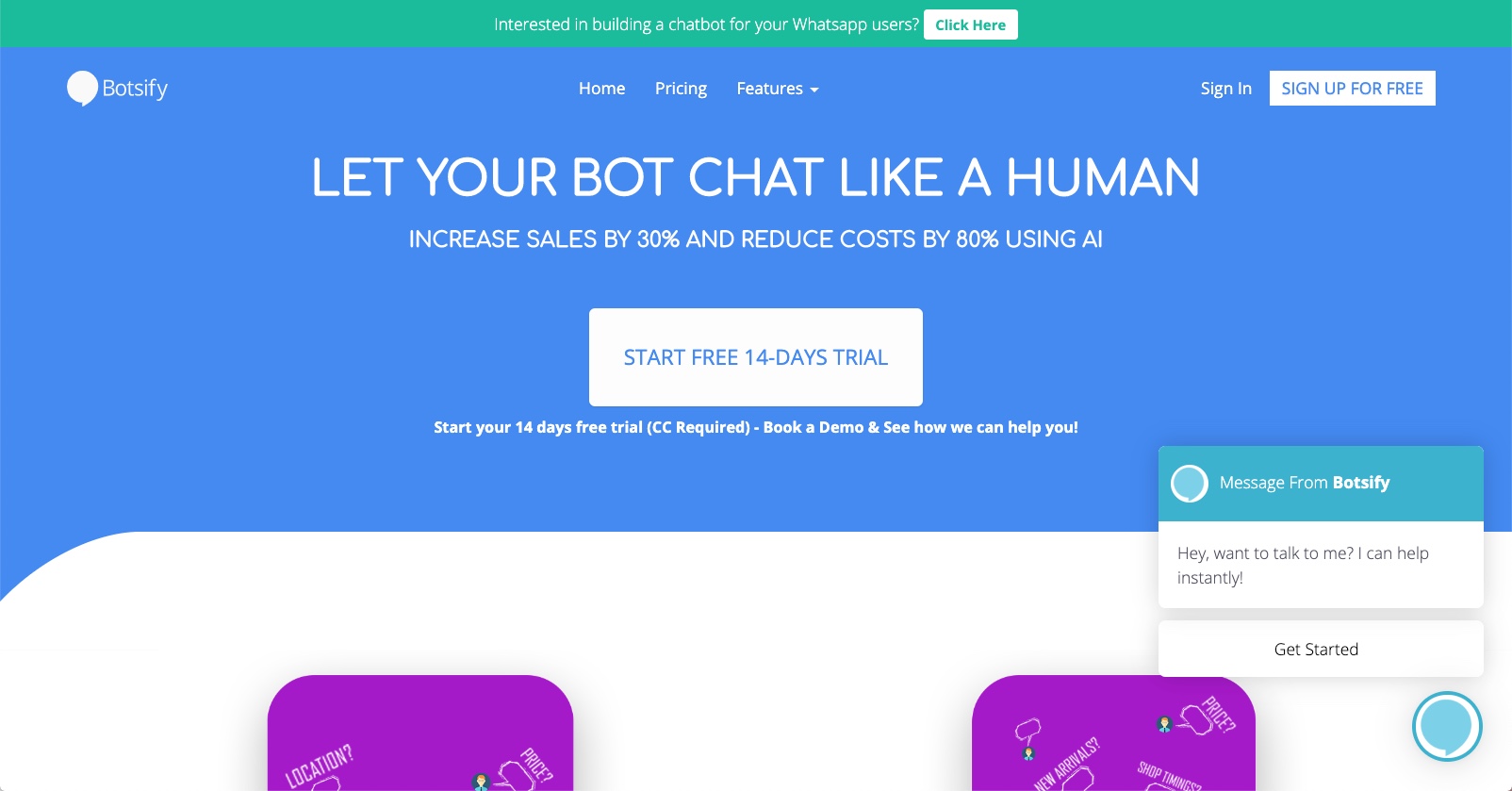 Botsify Features:
Visual flow bot builder and editor
Chatbot templates
Store user data
Keyword auto-responses
Multilingual chatbots
Enable bot to send email notifications
Integrate with other business systems
Botsify Pros:
Quick and easy to set up a bot
Machine learning features
Basic analytics
Integrations assist in using data from website to chatbot
Botsify Cons:
Advanced responses require hard coded dynamic API-based responses
Pricing based on the number of subscribers
Limited number of contacts in the pricing model, which quickly becomes $300/mo
Chat capture feature is free only during the 14 day trial, and with a single chatbot
Botsify Pricing: After a free 14-day trial, Botsify starts at $50/mo with up to 30K contacts. After that, it jumps to $300/mo for unlimited contacts.
Best Web Chat Apps #3: WP-Chatbot
WP Chatbot is probably the best WordPress chatbot on the market, which is why it comes in at #3 on the list. It's a quick and easy way to get a sophisticated web chat app onto any WordPress site.
WP-Chatbot Features:
One-click-install for WordPress
Custom greeting messages
Add Messenger customer chat in web applications
Multiple languages supported
Traditional live chat and robust chatbot builder
WP-Chatbot Pros:
Super easy to install.
Team-friendly inbox for your marketing, sales and support teams
Full integration with MobileMonkey
Complete chat history and contacts storage
Detailed positioning, customization and branding
WP-Chatbot Cons:
Requires Facebook Messenger
WP Chatbot Pricing: WP-Chatbot is free to get started. If you want the enhanced website chat widget for WordPress, pricing starts at $48/year total.
Best Web Chat Apps #4: Pandorabots
Pandorabots is an open-source website allowing people to build and publish chatbots on the web.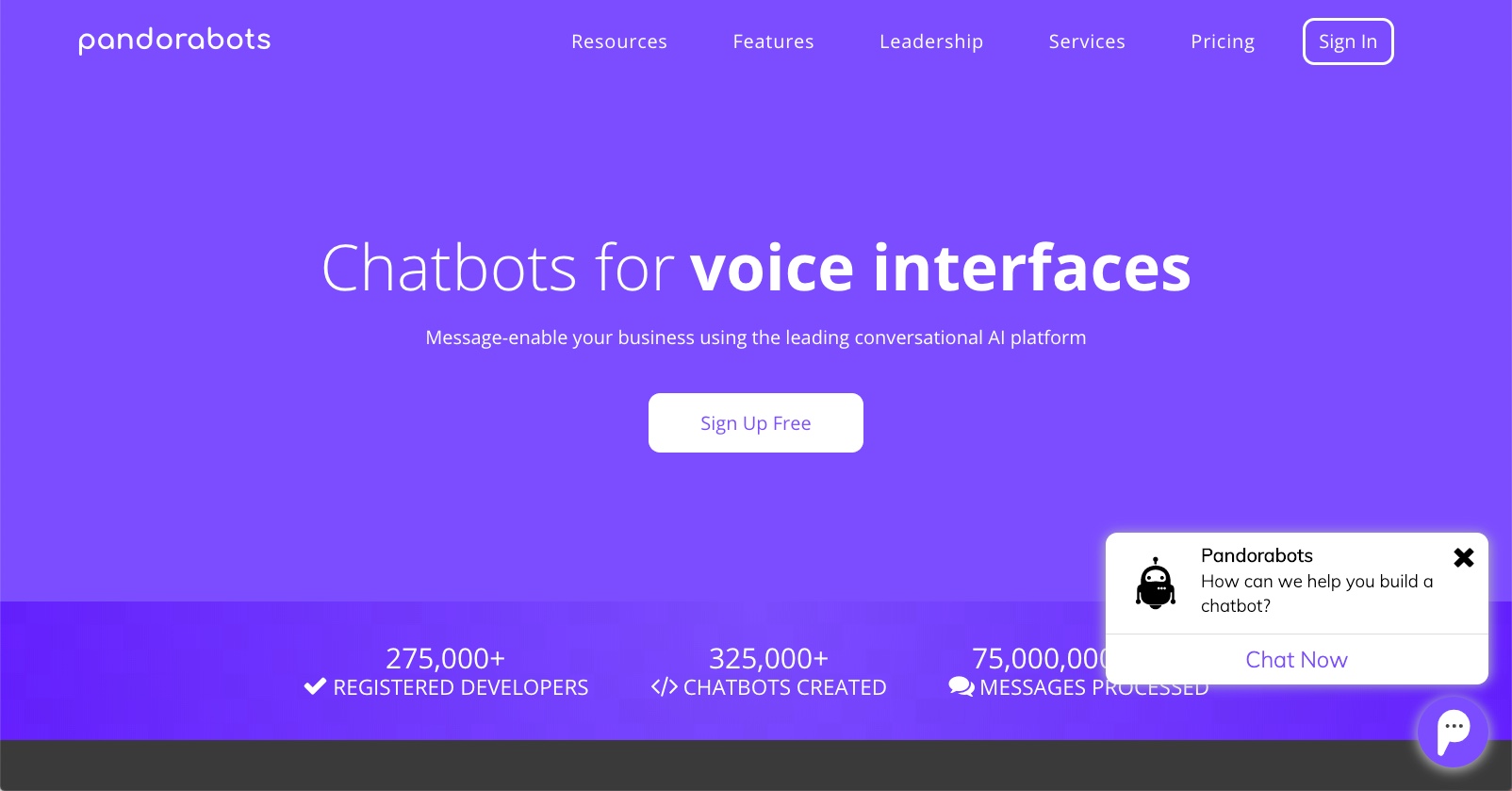 Pandorabots Features:
AIML is the main differentiator
Voice enabled for speech-to-text and text-to-speech
Mobile support
Web hosting and publishing
Free documentation and training
Multilingual
Context-aware
Web-based development tools
Conversational logs
Integrate with external knowledge sources
RESTful APIs
Pandorabots Pros:
Open source platform, so you can own and download your code
Deploy to messaging or voice channels
If you're willing to build your own bot, lots of flexibility and can easily build high performance bots
Pandorabots Cons:
The use of pure AIML requires that you define your own input/output pairs
Not advisable to build your bot using Pandorabots and then host it somewhere else
Pandorabots Pricing: Pandorabots does have a free 14 day trial. Pricing after that starts at $19/mo, the next plan is $199/mo, and then above that is Enterprise pricing.
Best Web Chat Apps #5: Helpcrunch
Helpcrunch is a multi-language live chat tool that has intriguing marketing automation features, but does not yet have bots and bot automation. However, bots are soon to come.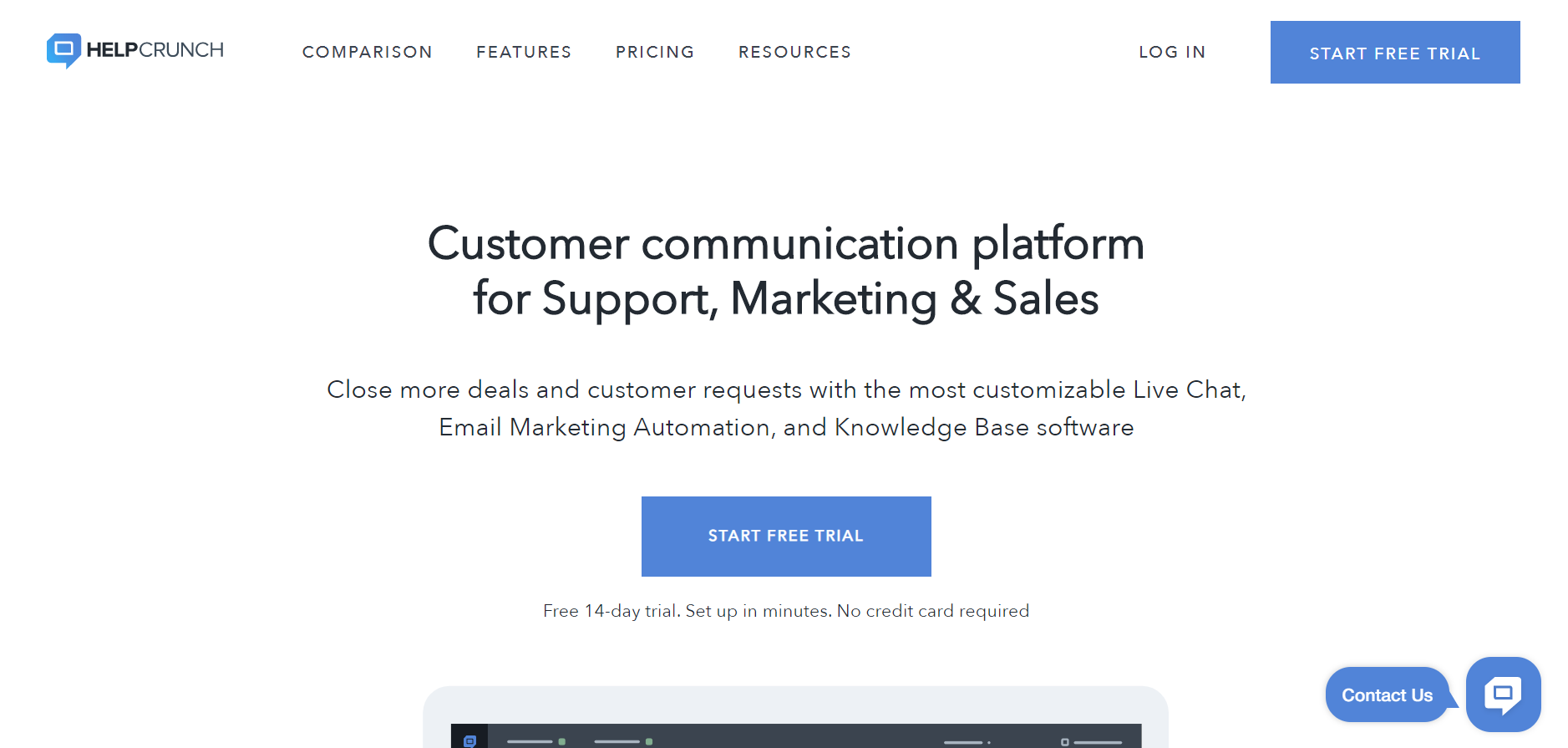 Helpcrunch Features:
Build chatbot with visual flow builder and editor
Live chat
Email marketing
Knowledge base
Mobile aps & SDK
Auto messages
Help desk
Pop-ups
Integrations
Helpcrunch Pros:
Automation for customer segmentation and email
Ability to offer live chat in different languages
Easy to use and get started
Helpcrunch Cons:
Still no chatbot or chatbot automation available (coming soon)
No real-time view of current site visitors
No integration with Facebook or other major social platforms
Helpcrunch Pricing: Unlimited contacts on all plans. Plans start at $15/mo per team member for 1 chat widget, and $25/mo per team member for 5. Must speak with them for Enterprise accounts.
Best Web Chat Apps #6: Kayako
Kayako Engage is another help desk software platform that has a live chat feature for support.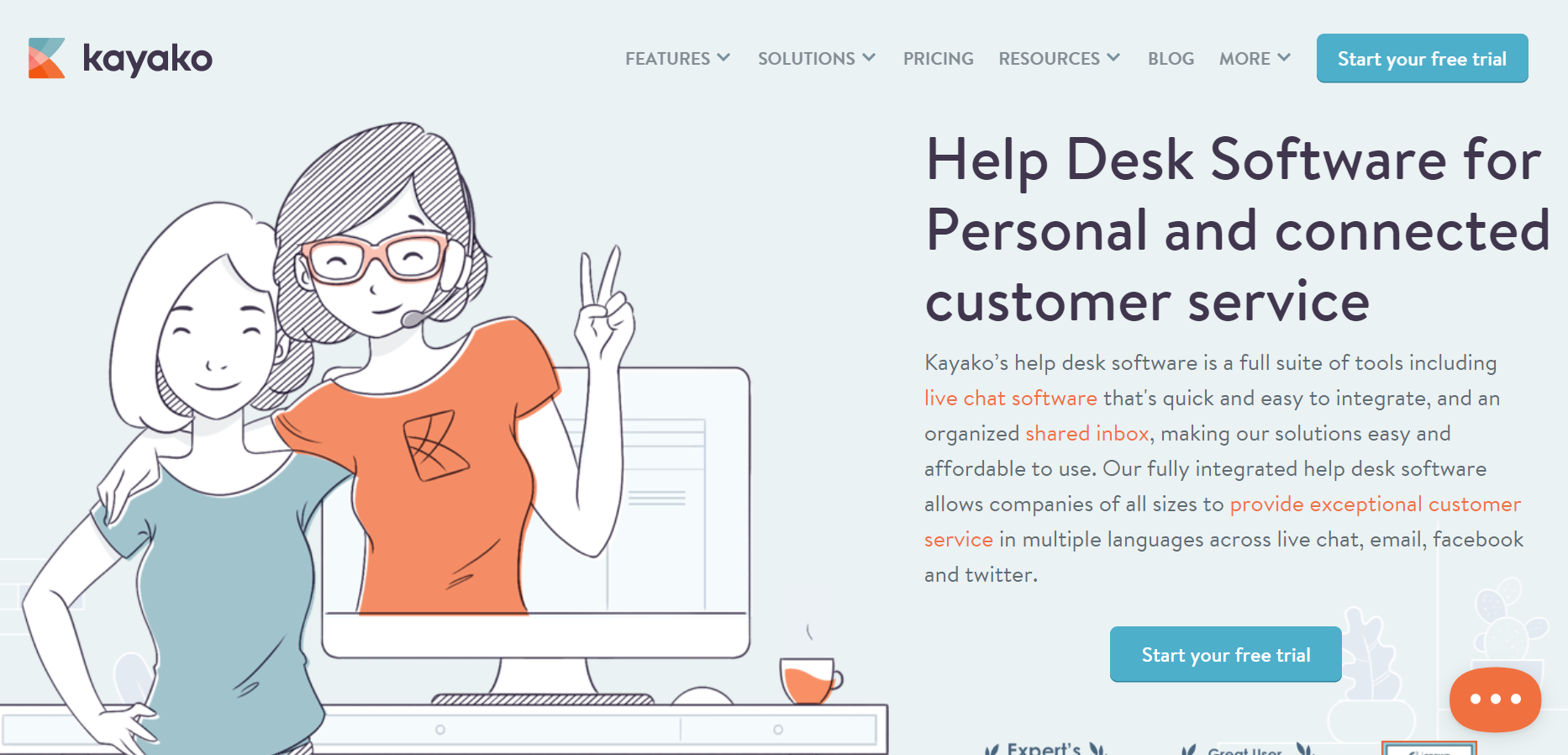 Kayako Features:
Live chat
Help center
Analytics
Customer journey
Messenger chatbot
Shared team inbox
Ecommerce support
Kayako Pros:
Native integration with help desk
Live chat agent routing
Many integrations
Customer activity tracking and analytics
Kayako Cons:
Uses unique reporting language, like SQL, which you need to learn
Integration options very limited
Lots of complexity that other platforms do not have
Kayako Pricing: Five different plans for chat and customer service tools, ranging from free to $59/mo per agent.
Zendesk is a help desk software that uses live chat as a communication feature.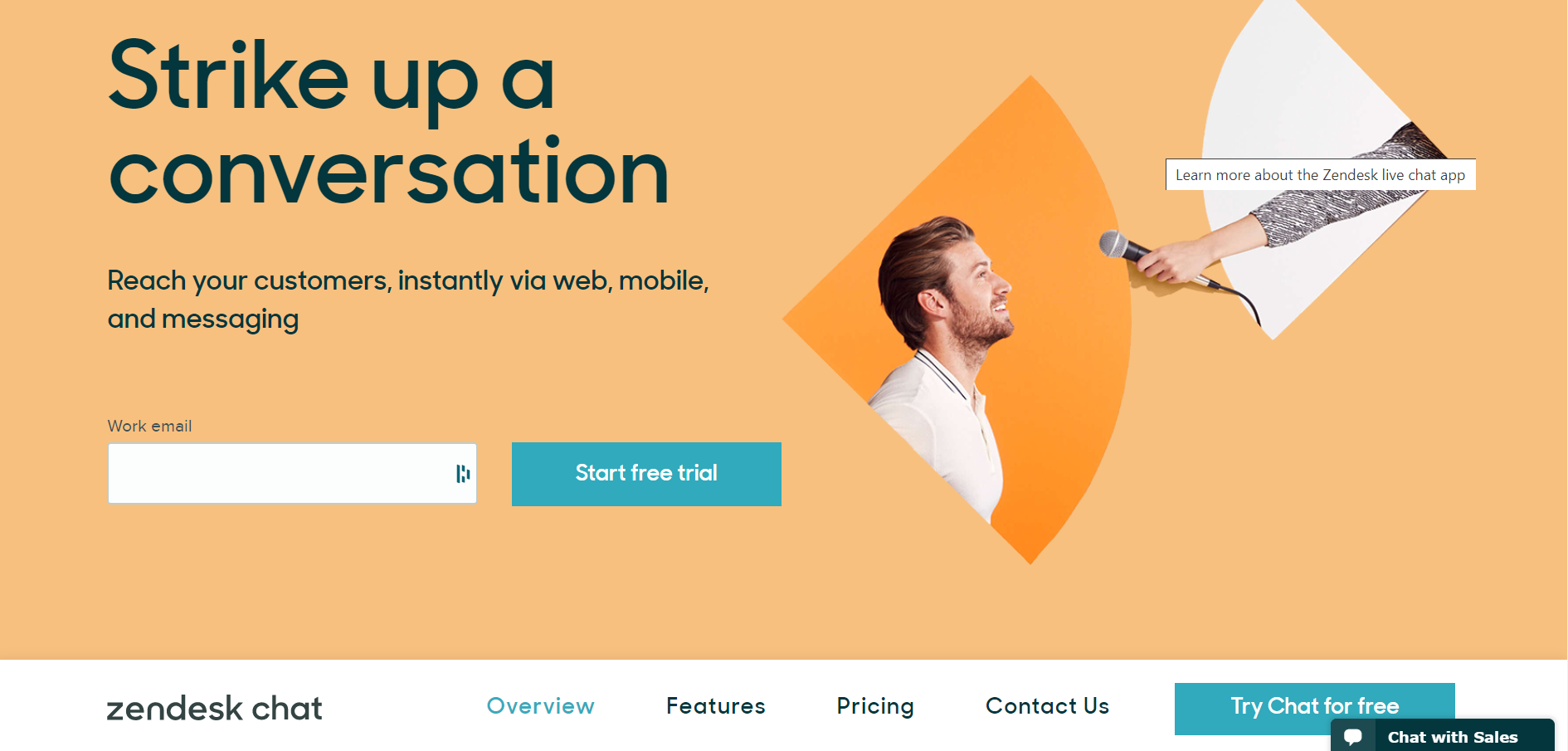 Zendesk Chat Features:
Organize customer requests into tickets
Prioritizing tickets
Team cooperation
Set up predefined responses to queries
Mobile application
Track chat volume
Zendesk Chat Pros:
Good live visitor tracking
Lots of useful triggers
Affordable pricing
Monitor data in real-time
Track operator productivity
Zendesk Chat Cons:
Too advanced if you're looking for a simple live chat app
Not a native WordPress plugin
Limited features in the free version
Extremely expensive
Zendesk Chat Pricing: Zendesk Chat has a free trial, after that the platform can become quite expensive, but starts at $14/mo per user (just for the chat feature), and then quickly goes up to $199/mo per user and beyond.
Best Web Chat App #8: Meya.ai
Meya.ai is a chatbot builder that allows any developer to build a comprehensive AI app.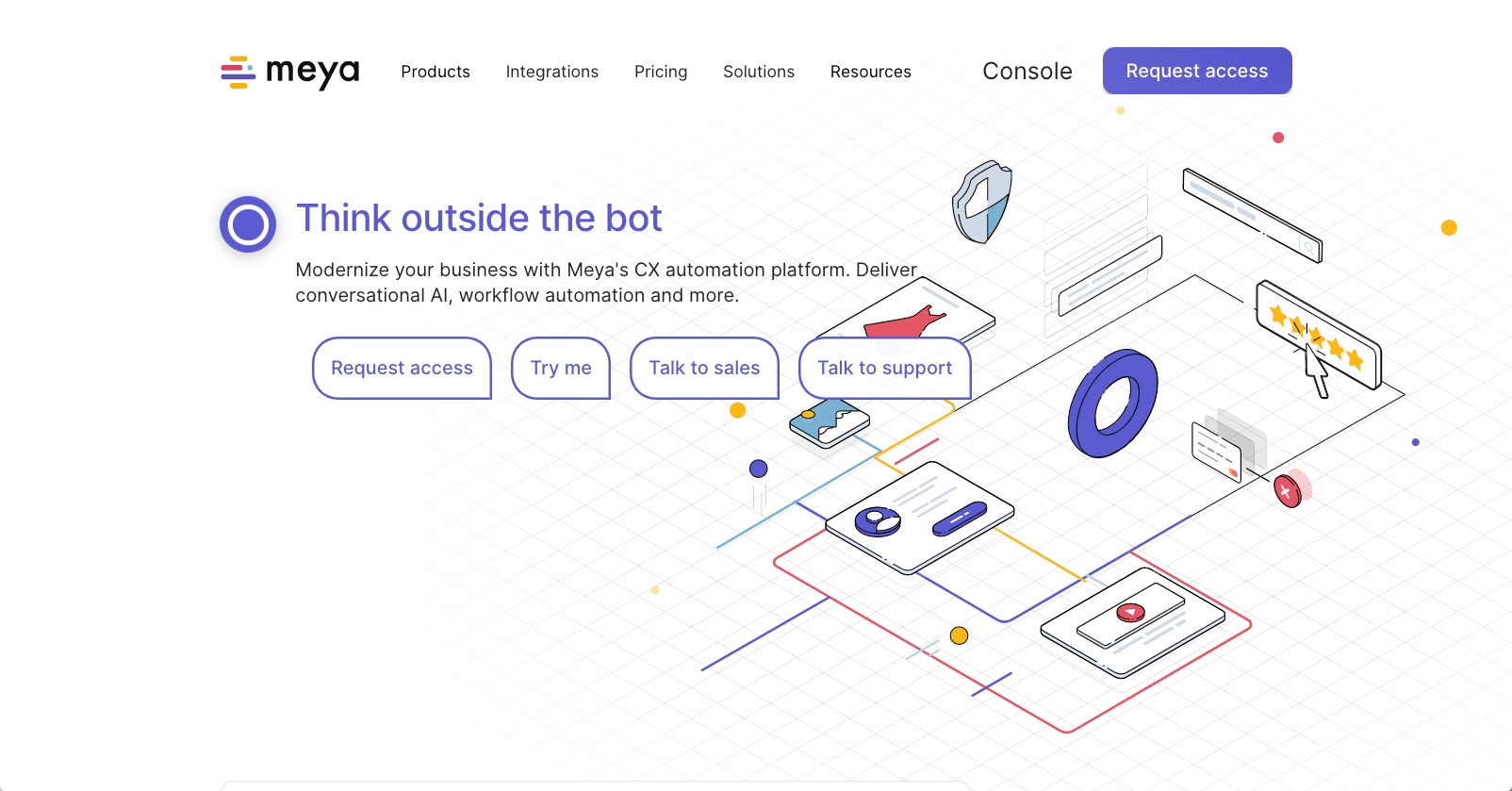 Meya.ai Features:
Grid: Cloud-hosted backend
Orb: White-labeled chatbots
Console: Team control panel for devs
Cognitive framework
API documentation
Analytics integrations
Messaging integrations
Customer service integrations
Flow and code editor
Live debugger
Integrate with other business systems
Analytics
Meya.ai Pros:
Nearly unlimited amount of integrations
Ability to create unique and personalized customer experiences with intelligent bots
Meya.ai Cons:
Development team or Meya.ai professional services required to build anything of value
Not a lot of information or clarity to know if customers are seeing an ROI
Meya.ai Pricing: Standard pricing for Meya.ai begins at $500/mo for up to 5K conversations. The Pro plan is $2,500/mo and includes 25K conversations per month.
Best Web Chat Apps #9: LiveChat
LiveChat is a simple chat window that can be installed on any website to provide live chat support or integrate with chatbot.com to create a chatbot for the window.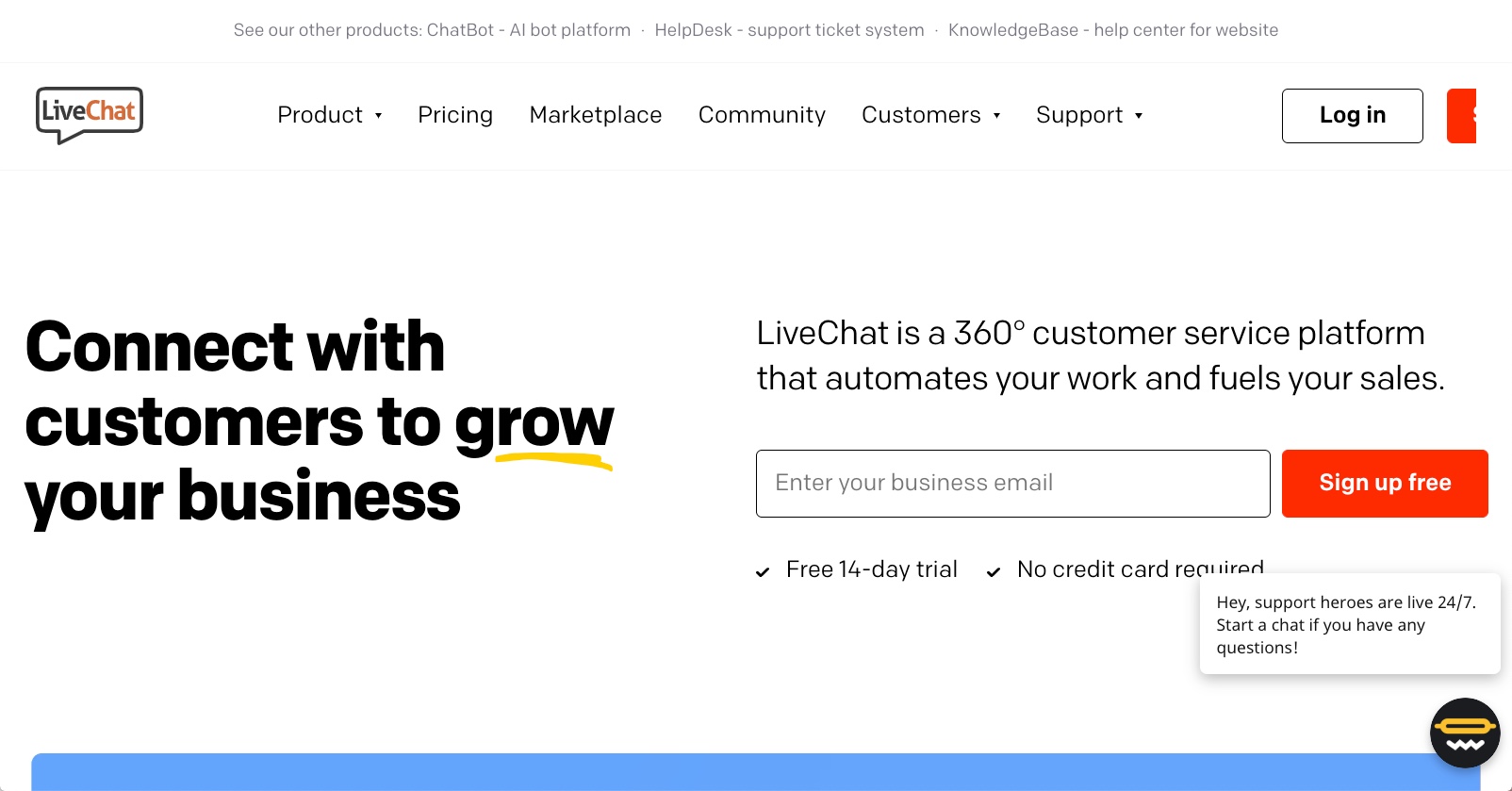 Live Chat Features:
Web, desktop, and mobile applications
Ticketing system
Chat window customization
Reporting and analytics
Sales and goals tracking
Integration with other business systems
Create a chatbot by integrating with chatbot.com
Live Chat Pros:
Feature-rich platform
Many integrations
Good design
Predefined responses for FAQs
Chat widget customization
Live Chat Cons:
Automation toolset is far worse than competitors
High pricing in comparison to competitors with similar feature sets
Poor multilingual compatibility
Standalone app that has a separate WordPress plugin
Premium plans are relatively expensive and features in the Starter Plan are very limited
Live Chat Setup & Pricing: LiveChat has no free plan available. Starter Plan is $19/mo per user and before you get to Enterprise level pricing, there is a $149/mo per user plan.
Best Web Chat App #10: Intercom
Intercom is a live chat solution used to identify and qualify leads.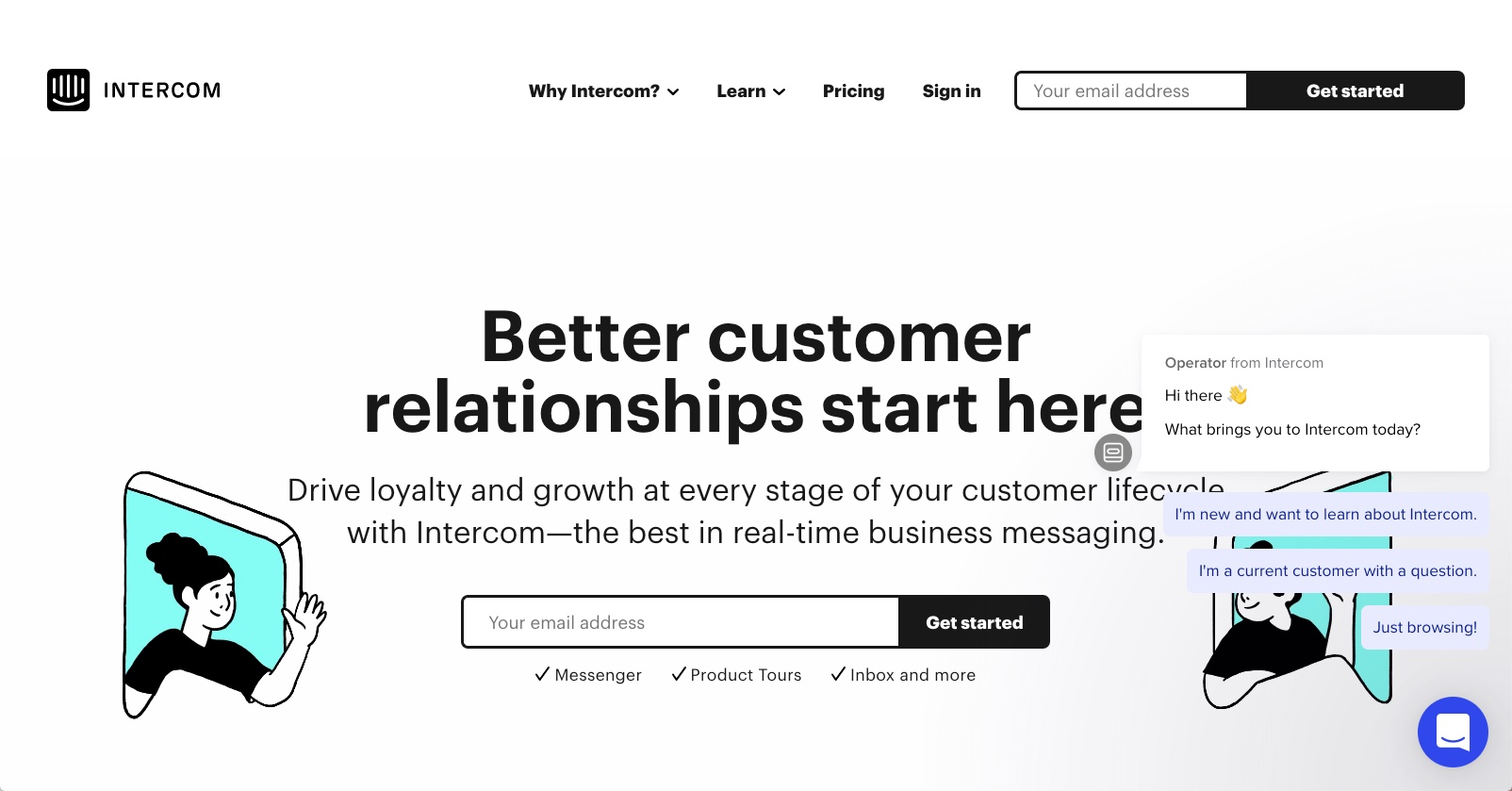 Intercom Features:
Native mobile applications
Conversation performance and analytics
Automated messaging
Store data about visitors
Integration with other business systems
Intercom Pros:
Robust platform
Supports bots and live chat
Options to create custom chatbots
Intercom Cons:
Limited to your website only
Custom chatbots are very expensive (additional $500/mo)
Non-flexible pricing model
Customer support is only through chat - frustrating for such an expensive platform
Intercom Pricing: Pricing is complicated with Intercom. There are a-la-carte products available, however, you almost always need multiple products to achieve your business goals. To have all the features listed here, and to qualify Intercom in the web chat apps category, you're looking at at least $1,000/mo or more just to get started.
Best Web Chat Apps #11: Drift
Drift is a platform that utilizes live chat and automated chatbot software.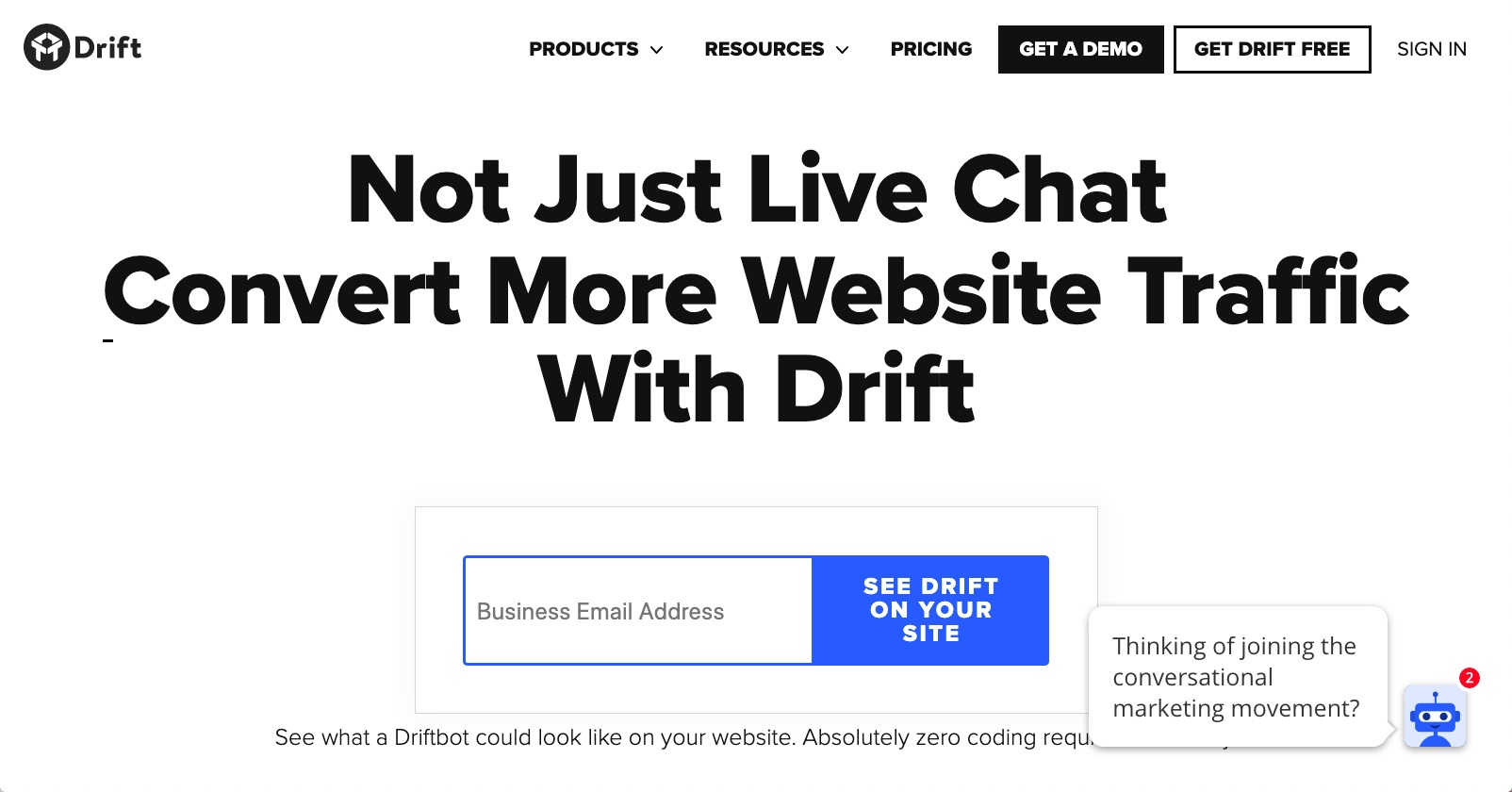 Drift Features:
Mobile application
Manage complex customer cases through tickets
Option for automated messaging
Automate activities with a chatbot
Store data about visitors
Marketing and sales automation
Integrates with other business systems
Drift Pros:
Strong lead generation features
Ease of use
Lots of automation tools to choose from
Drift Cons:
Pricing is extremely high compared to the competition which offer similar or better feature sets, especially if you have multiple teams and want to route chats between them
Mobile application has many bugs
Many competitors outscore Drift in key feature areas and sell for a lower price
Drift Pricing: Drift has a free plan that doesn't include any notable features. After that, pricing begins at $50/mo and then jumps to $400/mo, $1500/mo and custom pricing with an additional charge for each user.