Creative Virtual is a leader in self-service customer experience management solutions for enterprises. Global organisations like HSBC, Verizon, CA Technologies, E*TRADE, Lloyds Banking Group, O2 and Virgin Media rely on our technology to optimise their customer support, sales, marketing and call centre teams, reduce costs, increase online sales, and achieve operational excellence across mobile, web and social media channels.
Since 2004, Creative Virtual has built the most advanced technologies in knowledge management, natural language processing and virtual assistants to help businesses deliver intelligent, personalised customer experiences that reduce email and call volume, build brand loyalty, and increase customer engagement at a lower cost per conversation. Delivering accuracy of over 90% and call deflection of up to 50%, our platform is the most compelling self-service product in the world today.
Creative Virtual has been a featured vendor in Gartner's report 'Virtual Assistant Vendor Landscape, 2011' as well as in Forrester Research's 'Five Essential eBusiness Criteria for a Successful Virtual Agent Vendor Selection'.

Case Study
O2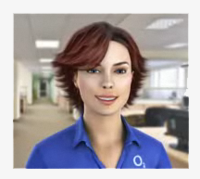 O2 UK, part of the Telefonica O2 Europe Group, is a leading provider of mobile and broadband services to consumers and businesses within the United Kingdom. Formed in 2001, O2 is recognised as the leader in non-voice services, including text, media messaging, games, music and video, as well as data connections via GPRS, HSDPA, 3G and WILAN. There are over 18.4 million O2 customers in the UK.
The Challenge
O2 identified three key areas that required focused attention:
Reduce the high level of calls concerning the self service processes that need not require call agent assistance (such as My O2)
Provide an alternative and cost effective communication route for customer queries
Help customers to find answers easily to simplistic queries where the information required is already on the website
The Solution
After extensive market research, O2 decided on the Creative Virtual virtual assistant solution for a range of reasons:
Quick and easy to implement
Very user friendly
Provides an easy way for users to interact
with information and FAQs on the website
Provide cross-sell/up-sell opportunities
Proven to reduce call centre traffic
No IT resource required for implementation
The Creative Virtual team began an 8 week build process with an initial focus on the 'Pay monthly' and 'Pay as you go' portions of O2's website.
O2 opted for an animated avatar, named Lucy, to be the face of their V-Person™. Lucy, created in 3D for greater reality, is an excellent example of an avatar which displays a number of 'emotions' depending on the conversation taking place at the time.
A more personal experience has been created by the team with Lucy's ability to 'remember' a user's name. Through the use of cookies, the V-Person greets the user by name during subsequent conversations once the user has entered "My name is".
At first Lucy's knowledgebase was focused solely on 'Pay monthly' and 'Pay as you go' mobile services. However, now she can field questions for all parts of the website including Home Broadband, Mobile Broadband, O2 Money and The O2. This means that sometimes Lucy is presented with a general question and needs to find out which service the user is referencing. The Creative Virtual team has developed a set of about 30 mini decision trees to help Lucy gather the information she needs to provide an accurate answer. For example, asking "What is my password?" prompts Lucy to present clickable options for information about a Mobile Phone Account or a Broadband Account.
Another feature that has been added to O2's V-Person since the initial launch is Live Chat Escalation. Together O2 and the Creative Virtual team identified particular FAQs that Lucy could answer but that may require some more personalised assistance. Those FAQs are now flagged in Lucy's knowledgebase so that when asked, she offers the option of Live Chat pending the availability of an O2 advisor.
A year after Lucy went live on the O2 website, she was released as a mobile application. The template has been specifically designed for a mobile platform.
The Result
O2 have seen a very significant deflection rate (21-25%) in the amount of calls and emails that might otherwise have been made to their help centres since adding Lucy to their website.
This system has been so effective that it is now also being used as an 'expert system' in call centres as a tool for call centre staff to answer customer enquiries.
Lucy is now identified for customers as a first point of contact for questions in correspondence such as billing emails. In March 2010 alone she answered over 450,000 questions on the web and nearly 96,000 through the mobile application.
Verizon

A global leader in delivering innovation in communications, information and entertainment, Verizon is a household name all over the United States. The company prides itself in offering its customers voice, video and data services over superior wireless, broadband and global IP networks in order to meet customer demand for speed, mobility, security and control.
The Challenge
Verizon approached Creative Virtual in 2008 for a solution to help them reach the following objectives:
Improve self service support on the Verizon website and mobile platform
Reduce call center volumes
Improve product support content
The Solution
The Creative Virtual and Verizon teams first focused on having Verizon's 'automated customer support agent' answer questions about FiOS TV. Over a period of 18 months, starting in August 2008, the virtual assistant was expanded to provide support for FiOS Internet, High Speed Internet, Phone and My Verizon on the Verizon.com website, as well.
The system has been segmented into separate contexts based on a user's entry point or their selection of a service or support topic. There are entry points on the Residential Help page, support landing pages and in My Verizon.
Through a close partnership with the Verizon technical team (AIMS), the V-Person™ is integrated with Verizon's in-house Live Chat system. The two systems offer a seamless customer experience as users are escalated to Live Chat when required. The escalation is to a specific channel depending upon the topic of conversation and issue. Additionally, where questions are outside of Verizon's domain, questions can be sent to the Verizon user forums to check if there is an answer available.
Auto Complete helps users to select the question that matches their problem as they type.
In 2010, the team improved the V-Person through the addition of a variety of new decision trees:
Voicemail Setup
Broken Remote Setup and Remote Control Setup
Call Block and Call Forward
Email, Router and VISS decision trees
The mobile version of the V-Person is closely integrated with Verizon's backend systems, allowing users to find general information, such as payment locations and specific information such as their current balance. This functionality has been extended to My Verizon, thus allowing users to receive answers to questions such as:
"How do I view or print my bill?"
"When is my bill due?" & "What is my balance?"
"Can I see an old bill?"
"Did you receive my payment?"
"Where do I go to reconnect my service?"
There are also V-Person implementations on the Verizon Jobs and Verizon Business websites as well as on the Verizon Payroll intranet.
Verizon Jobs
Verizon has changed the template to reflect the design of their Career web pages which feature photos and names of Verizon employees. This V-Person answers questions about graduate level jobs and internships.
Verizon Business
The Verizon Business install is located within the secure log-in area of the site and is personalized for the user. The avatar is based on a photo of a current Verizon employee.
Verizon Payroll
Penny, Verizon's payroll support agent, answers questions on the internal Verizon Payroll site and is very popular with employees. Surveys rate her performance at 40+ percent call avoidance.
The Result
The V-Person implementations are currently providing a call avoidance of up to 45%. The variation is driven by the self service options available and the nature of the issues the customer is trying to resolve. With the recent increase in resource devoted to providing content and new techniques being deployed, Verizon saw the overall call avoidance increase by over 20% in 2010!
During 2010 the mobile installation saw a dramatic increase in traffic.
The team continues to plan for the future with more integration and improvements.
Virtual Assistants by Creative Virtual
International Implementations
Chatbots.org News about Creative Virtual
Read more
Visit the
website of Creative Virtual
for more information.
Contributions of 3 employees
| | |
| --- | --- |
| | Mandy Reed contributed 32 chatbots, 59 news articles, 14 comments, ranked #18 |
| | Chris Ezekiel contributed 15 chatbots, 19 news articles, 1 comments, ranked #56 |
| | Rachel Freeman contributed 7 chatbots, 10 news articles, ranked #115 |
Total contribution of Creative Virtual on Chatbots.org are 3,655 points, ranking #3. We appreciate Creative Virtual for their time to advance the industry of Intelligent Virtual Characters by adding content to Chatbots.org.