Chatbot channel(s): Messenger
Overall rating (out of 5 stars):

Price (from $ to $$$$$):

Are you using chatbots as part of your marketing strategy?
If you aren't, it's probably time to start.
Marketing chatbots are huge right now. They're incredibly successful because chat-based apps are being used by millions of people around the world.
In particular, Facebook Messenger has exploded in growth, and Messenger bots are becoming more and more common. That's where ItsAlive comes in.
ItsAlive is one of the many marketing chatbot platforms that have recently entered the fold. Its goal is to help you build chatbots that will engage your customers and hopefully convert them into customers.
In this review, I'm going to discuss all of ItsAlive's features and evaluate it. So if you're wondering whether you should use ItsAlive, you've come to the right place.
ItsAlive Review: Main Features of the Chat Platform
Each chatbot platform has its own way of presenting you with the ability to create conversations, and ItsAlive is all about recipes.
If you've used the popular service IFTTT (If This Then That), you're familiar with recipes. In a nutshell, a recipe will tell your bot how to act under certain circumstances.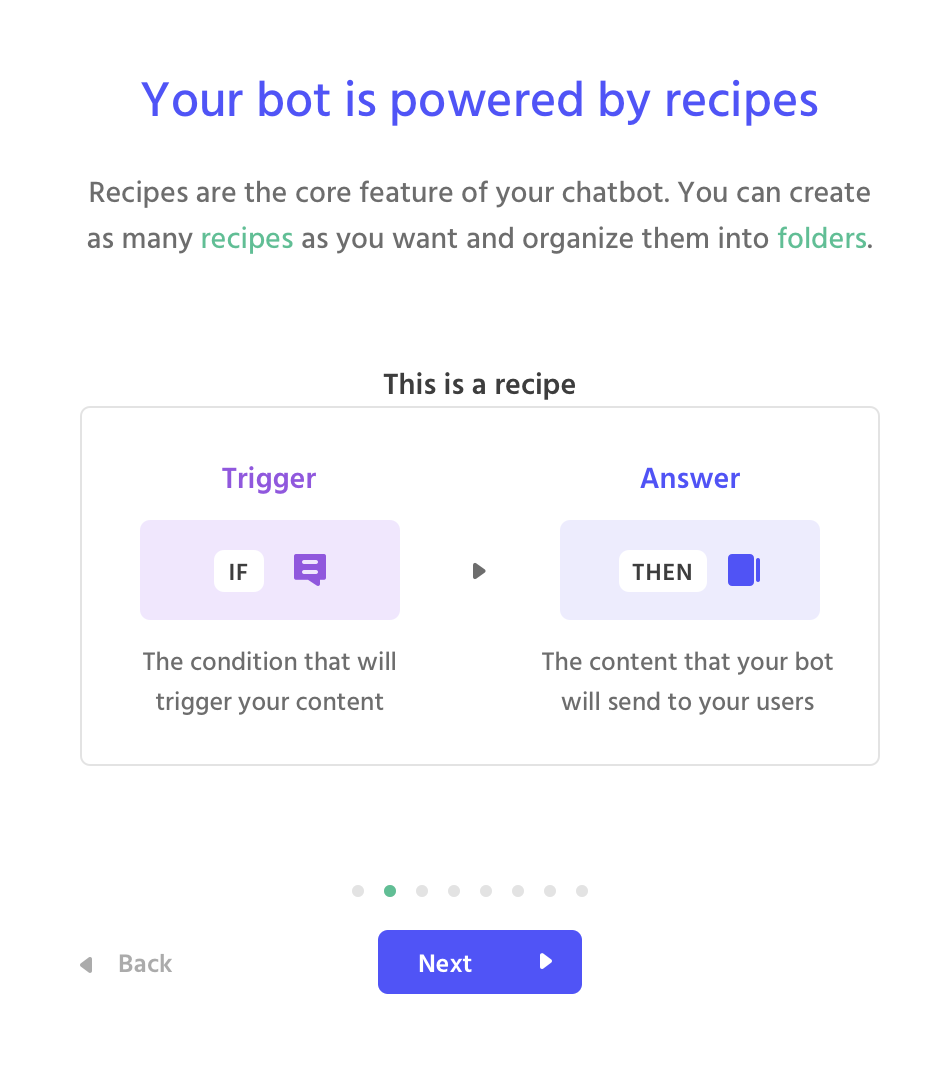 For example, if a customer uses the specific keyword "support," you can configure your bot to send a message that provides support options.
Technically, most chatbot platforms operate this way, but ItsAlive specifically uses a recipe workflow, making it quite different from its competitors.
To create a chatbot sequence, you first decide on what will trigger the bot, and then you decide what it will do or say. It's as simple as that.
Here, I've made it so that anyone who uses the keywords "support," "help," or "assistance" will receive a message asking about the type of support required.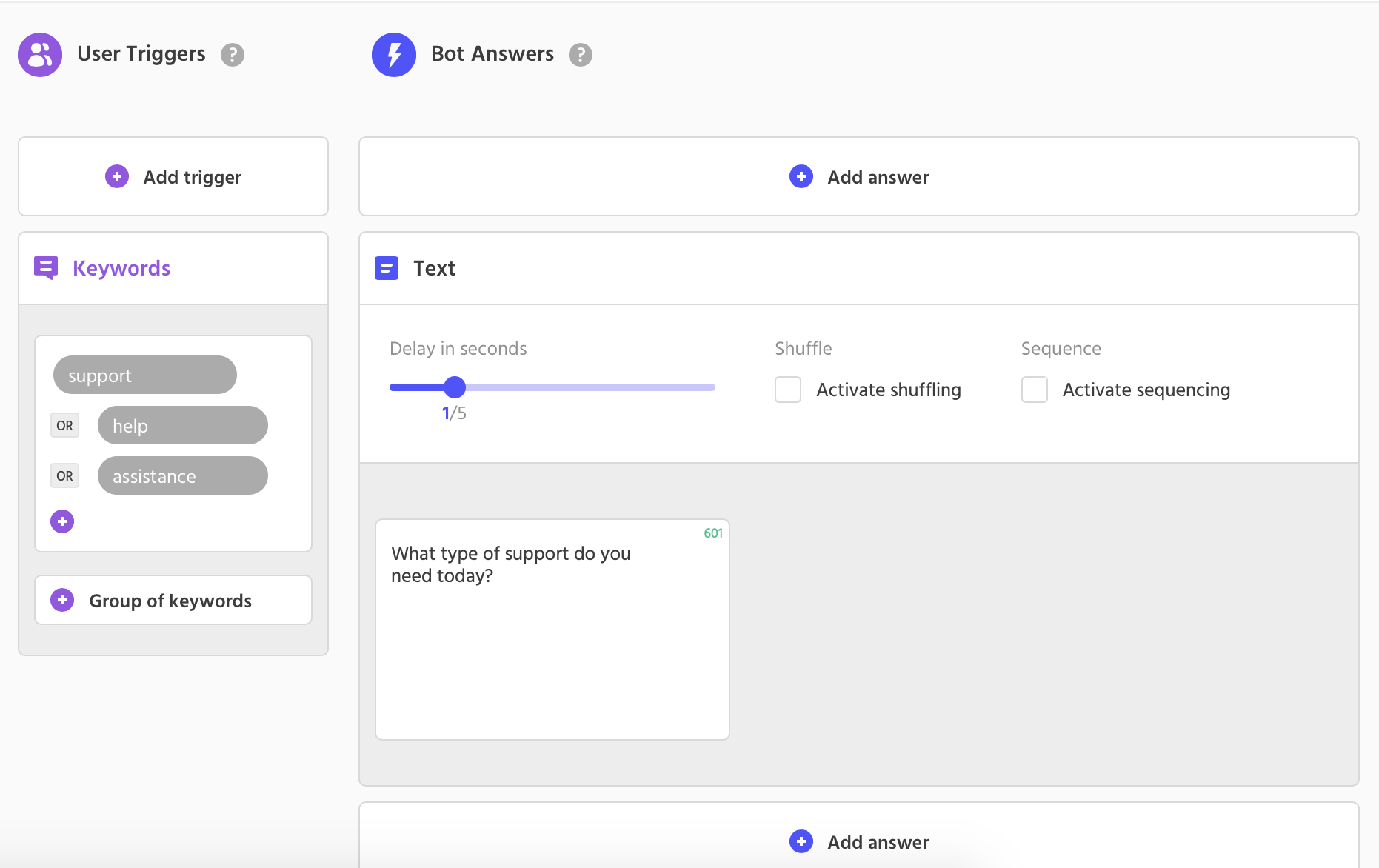 Of course, you can do a lot more. This is a super basic example, and you can go as in depth as you need to.
Once you understand the recipe workflow, you can very quickly build a conversation. The idea is to build all kinds of recipes, which the chatbot will then connect to form a seamless experience for the user.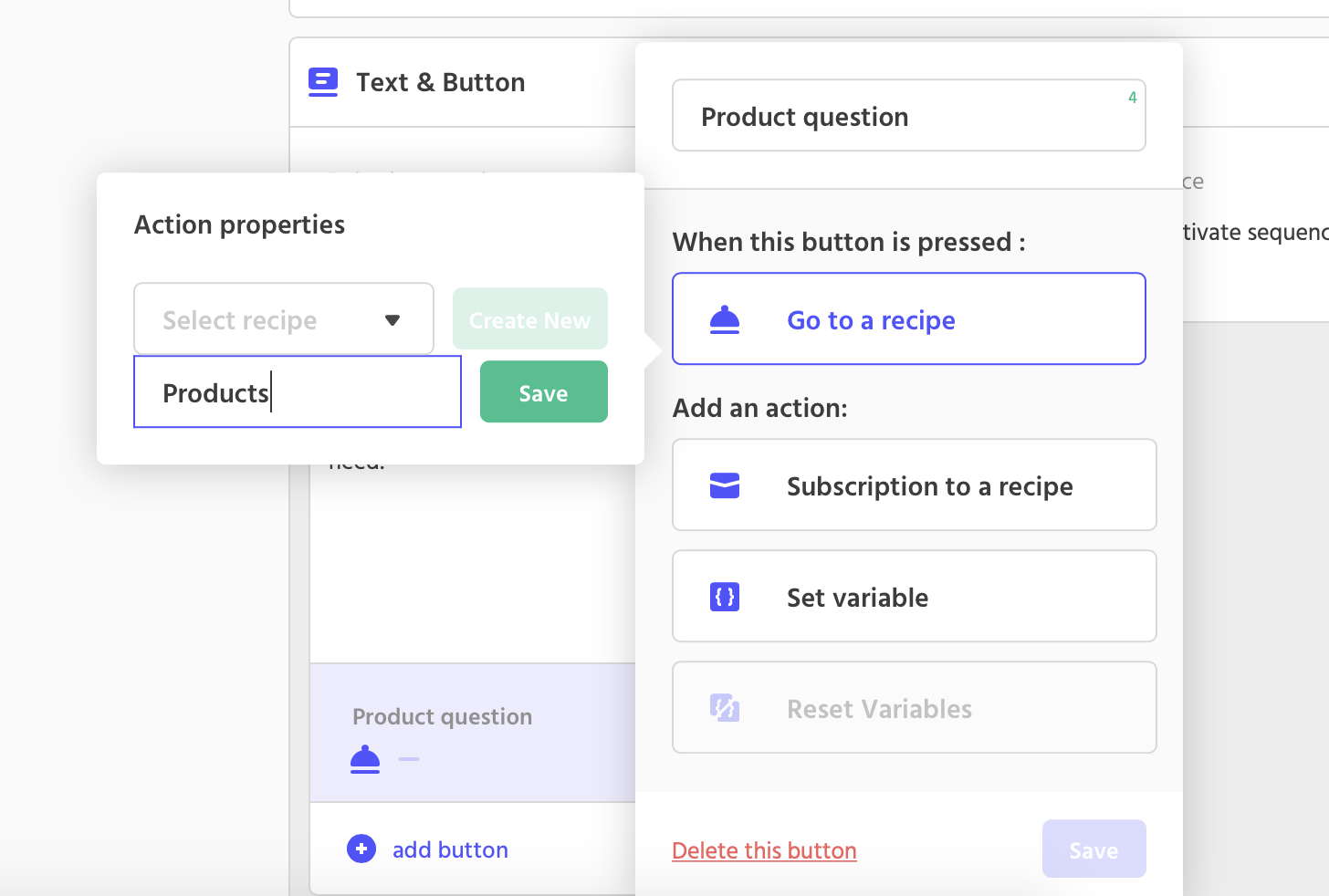 Setting a welcome message is also a breeze. ItsAlive has an Essentials menu that contains the welcome message alongside a persistent menu and unanswered message (more on those later).
You just click on Welcome in that menu and edit the message: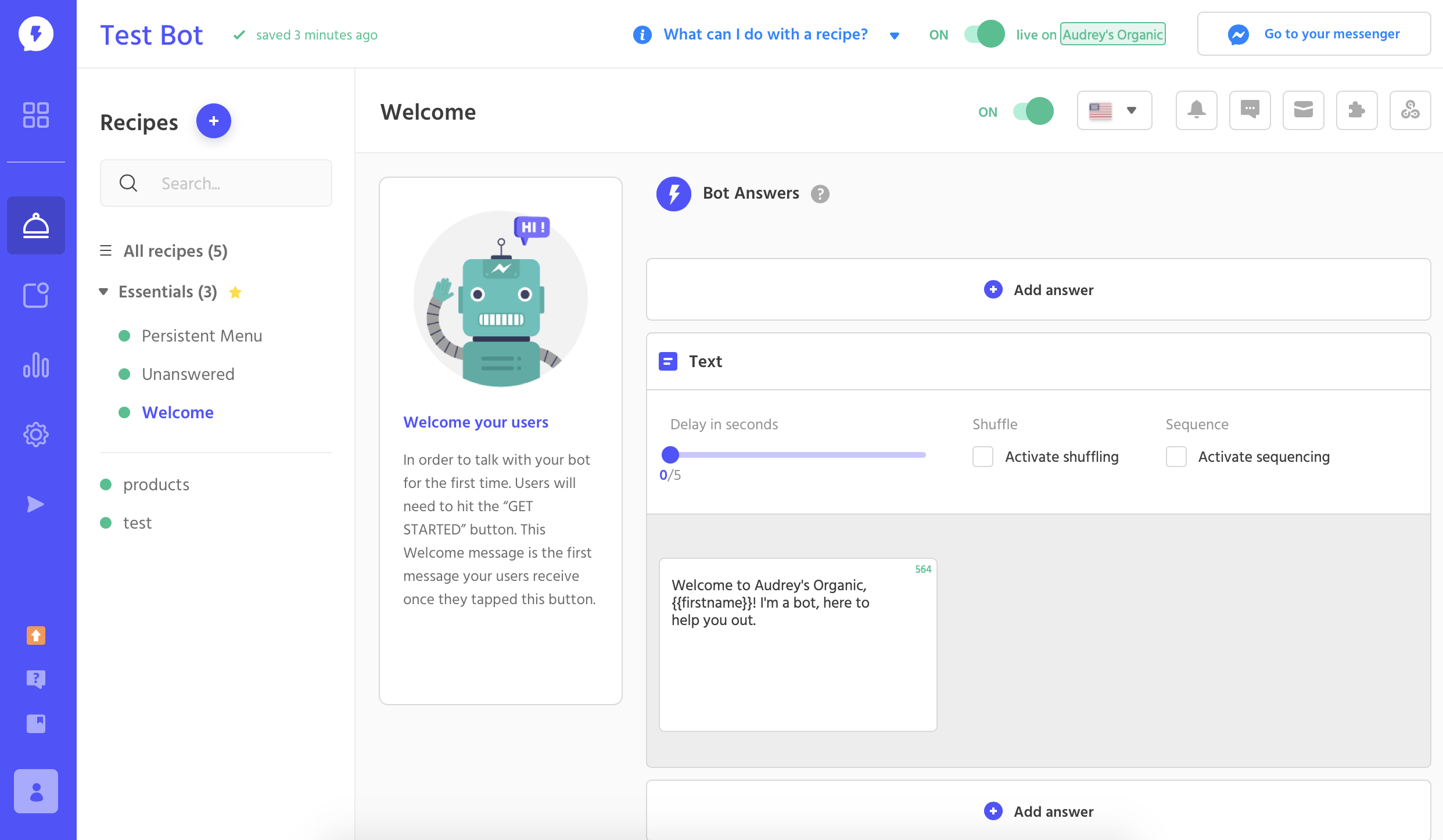 The message is a simple text response by default, but you can add to it if you want to.
Nailing the welcome message is critical because it's the first thing a new customer will see when initiating their first chat conversation with you. ItsAlive allows you to tweak it as you like so that you can ensure a great first impression.
Now let's talk about the other Essential features: the persistent menu and the unanswered message.
The persistent menu feature allows you to create a menu that is always visible to the user. This can come in handy if the user wants to navigate back to a certain point in the bot or misclicks and goes down the wrong conversational path.
You can add up to 3 top-level buttons to make navigation easy no matter where the user is. For instance, you can add a button that takes the user back to the start so they can select a different option and begin a completely new path.
Here's what the backend looks like: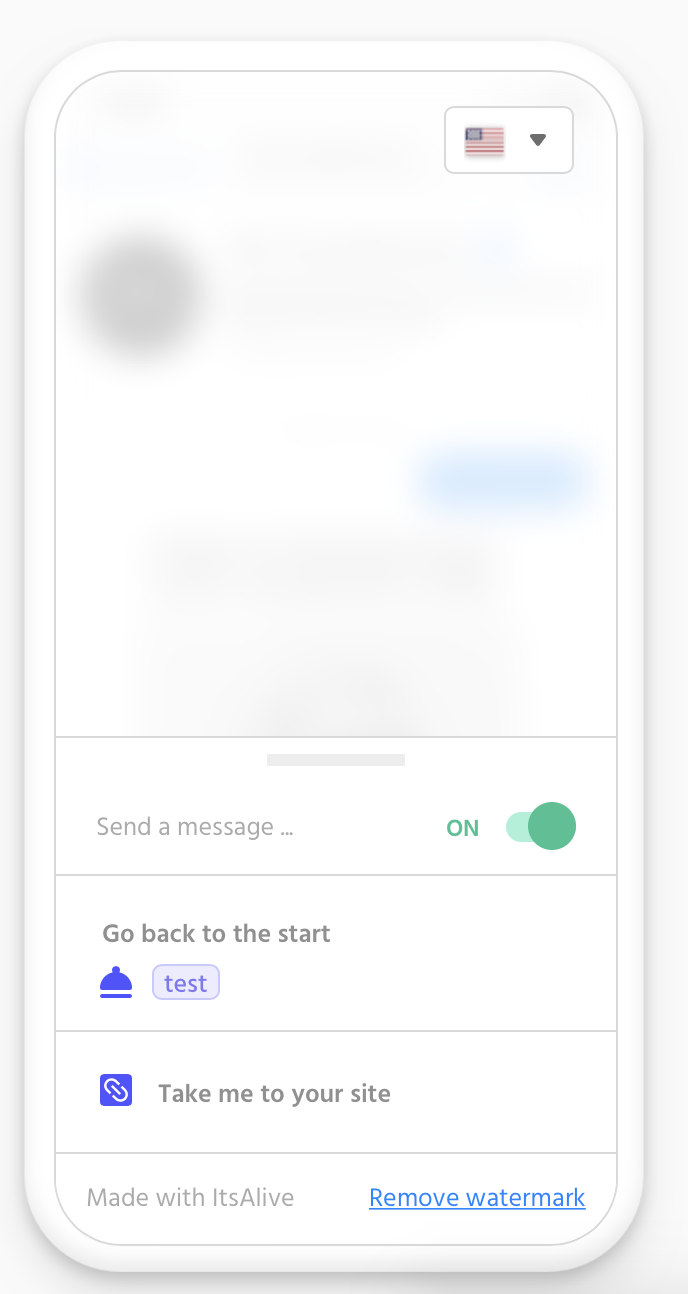 I've set it up so that users can either choose to go back to the start of the bot or go to the website, but you can modify these buttons to take the user anywhere you want.
The unanswered message is simply the message a user will receive when they input something the bot doesn't understand. This is helpful for gently nudging the user in the right direction or just telling them you'll be with them soon.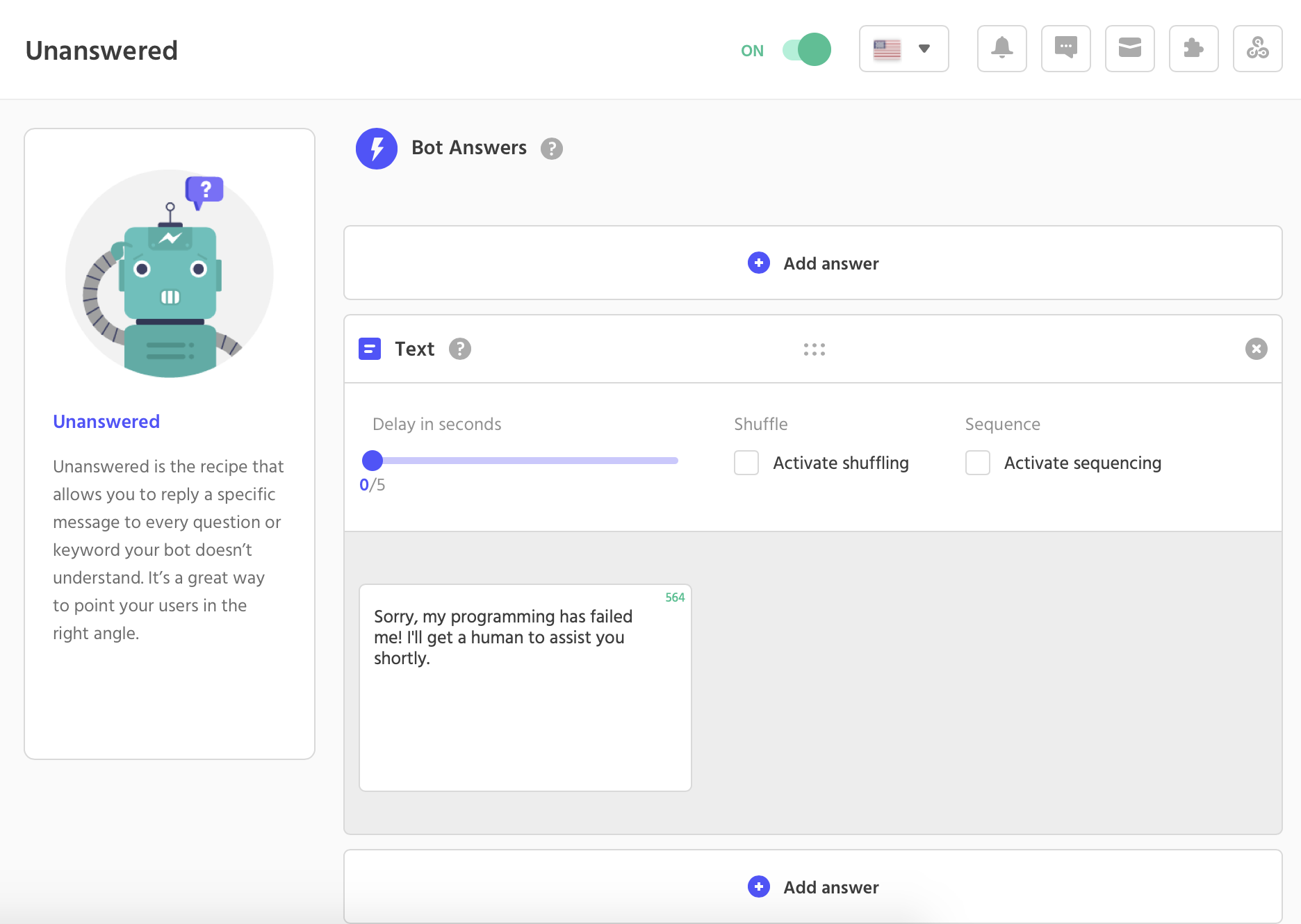 These basic features are really all you need to know to build a bot, but ItsAlive allows you to do a lot more.
One cool feature of ItsAlive is the Activity tab. This section shows you all of the messages that the bot wasn't able to understand.

Knowing this information is useful for customizing your conversational paths. If lots of users are asking about a certain product, for example, you could add in a dialogue path specifically for that product.
ItsAlive also has a helpful Analytics tab that displays several important metrics in a dashboard layout.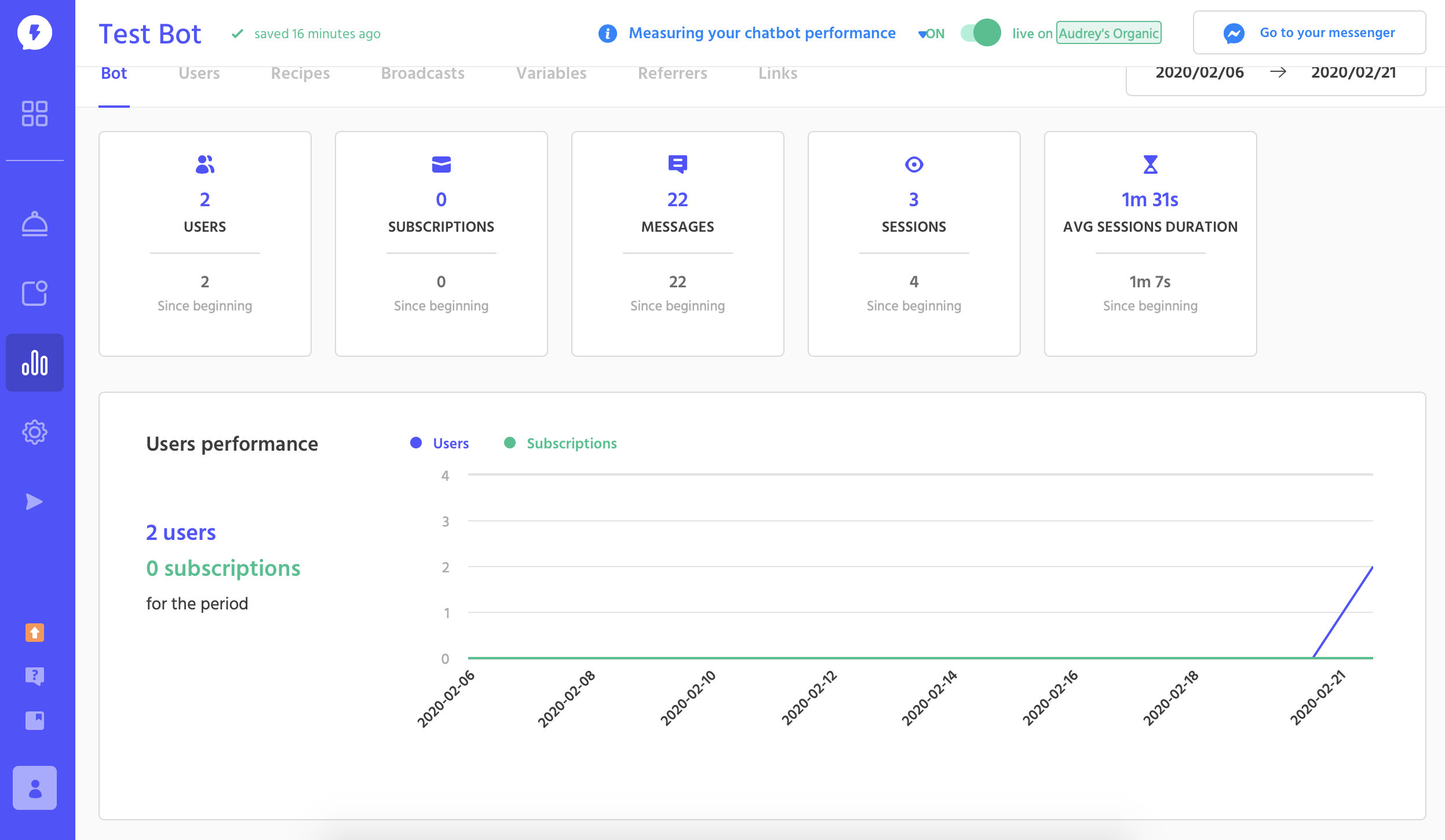 You can see information like the number of subscribers, average session duration, and message amount.
Between the Activity and Analytics sections, you'll be able to get a good look at how people are using your chatbot, which means you can always know the best way to optimize your bot.
Once you've finished a bot, you can test it by using the "Go to your messenger" button in the top right corner: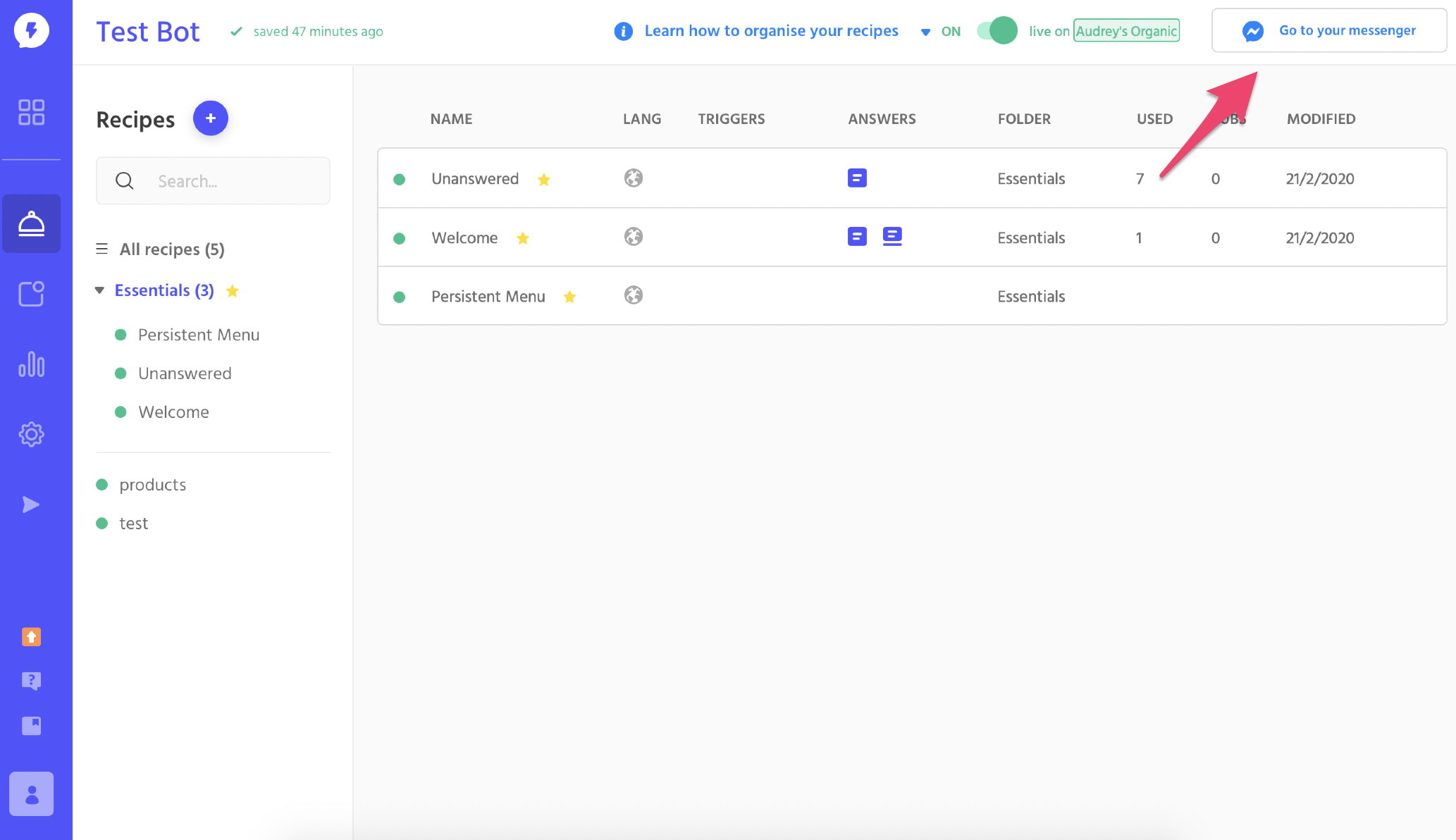 This will take you straight to Messenger, where you can try out your bot and make sure it's working as it should be.
Although ItsAlive doesn't have a virtual test chatbot, it is nice to be able to test easily within Messenger itself because you'll experience your bot just as your customers will.
Pros of ItsAlive
ItsAlive certainly does a lot well. There are several valuable features that help it to stand out as a powerful option for chatbot creation. Let's take a look at some of those features:
Recipes
Using recipes isn't an original idea by any means, and most chatbot platforms have some form of recipe building, but ItsAlive executes this concept excellently.
The recipe interface is simple to use and helps you conceptualize your chatbot in simple cause and effect terms that make it easy to understand what's going on. It's a middle ground between a completely visual editor and a more modular editor that's almost all text-based.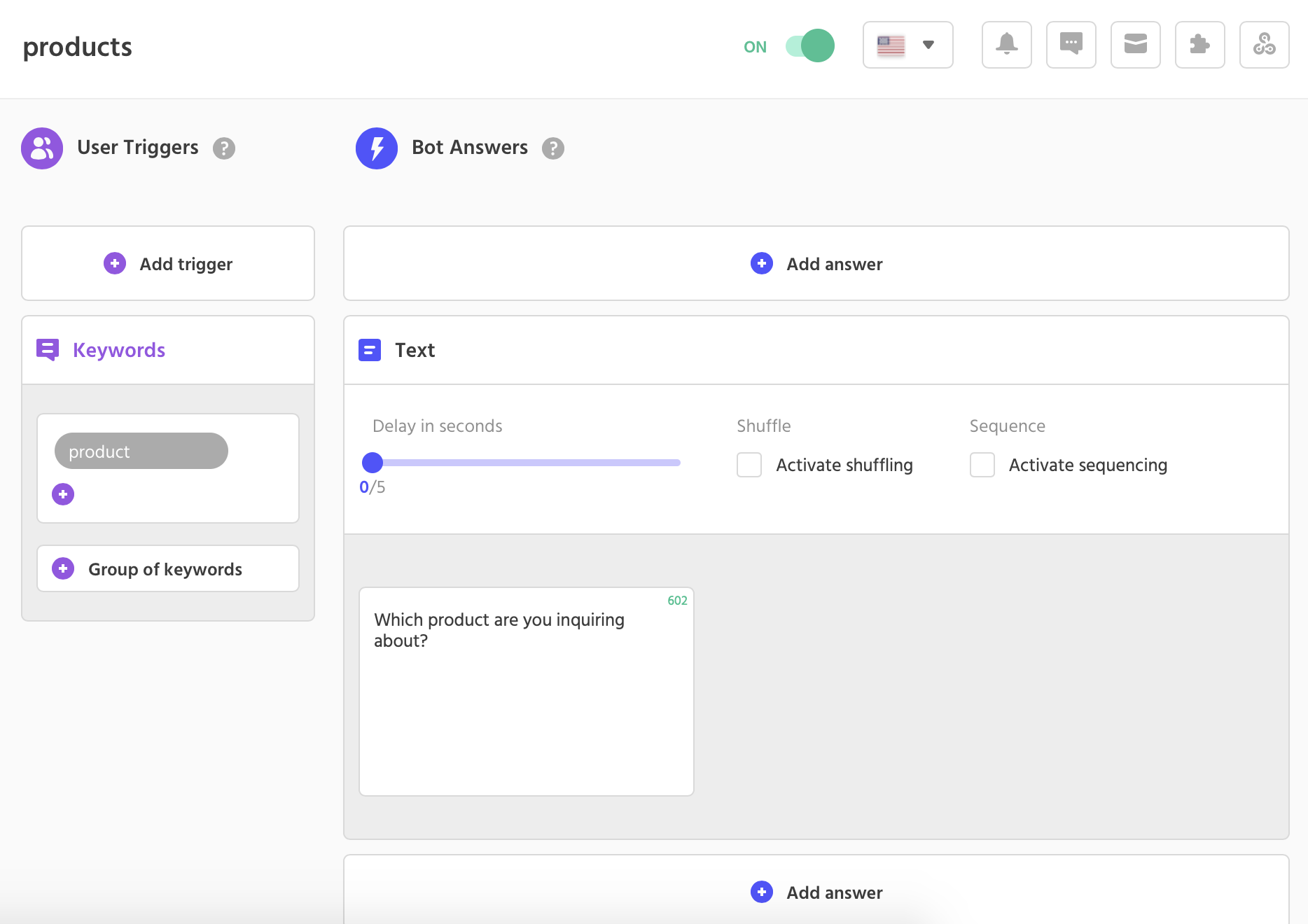 It's a nice method of building bots that makes a lot of sense. As a result, the workflow is also efficient, so you won't find yourself backtracking a ton or getting lost. Most of the chatbot building takes place in the Recipes tab anyway, so it's pretty much all self-contained by the type of work you're doing at the moment.
Interface
ItsAlive's interface is one of the better ones I've seen across different chatbot platforms. It's streamlined and easy to navigate from section to section, which is critical if you're multitasking or working on several bots.
The overall layout is minimal and functional with a design that's pleasing to the eye.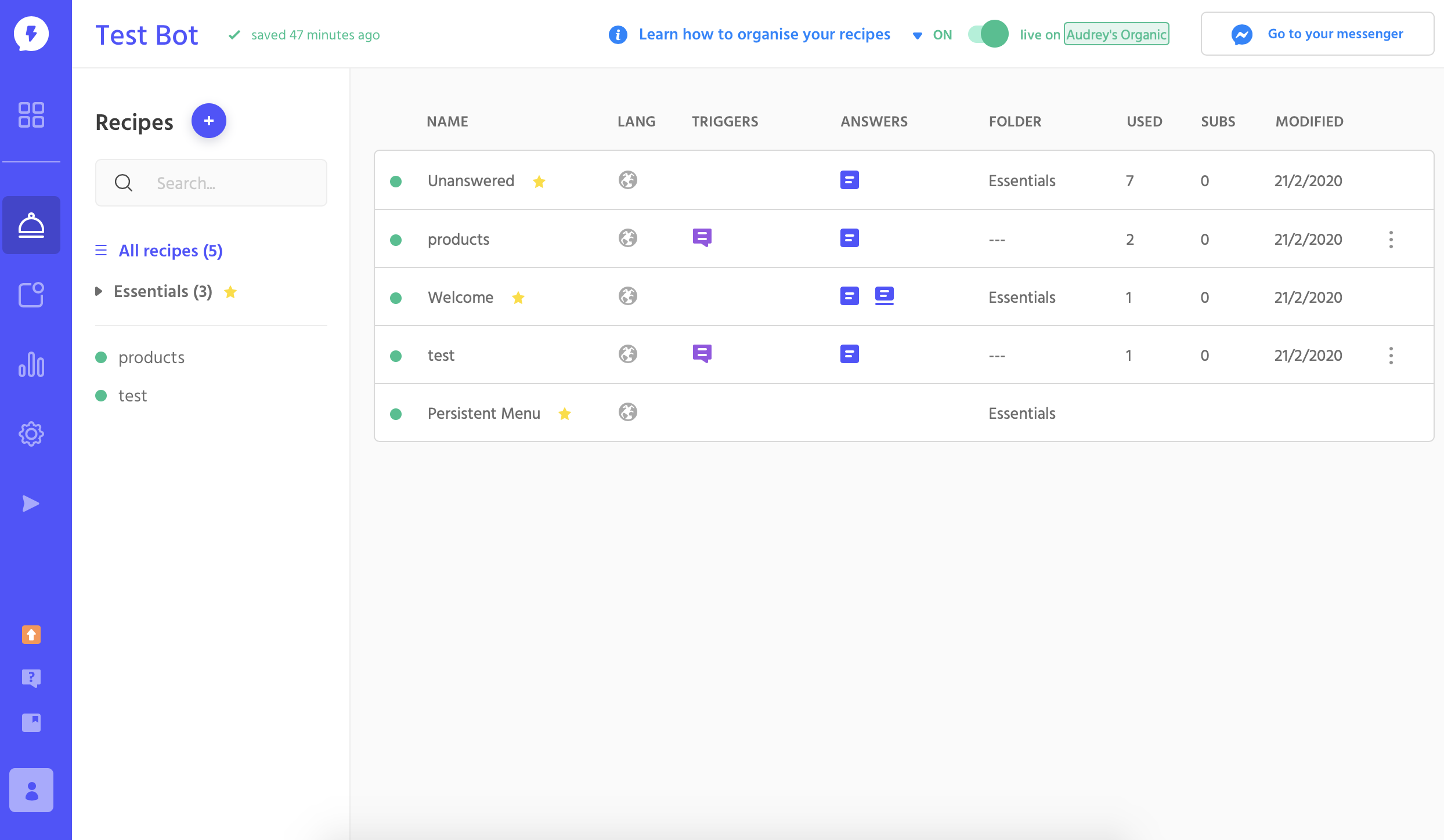 But really, the appearance is secondhand to how the interface functions. Having the sidebar on the left and intuitive menus makes it a snap to find your way around and get exactly where you need to go.
Cons of ItsAlive
Like any platform, ItsAlive isn't without its flaws. Here are a couple that I noticed while using it:
Feature Set
Don't get me wrong––ItsAlive has a ton of useful features. However, I did find myself wanting some features while using it.
For example, when I was making my bot, it occurred to me that being able to see a flowchart and get a bird's eye view of my entire bot would be very useful, especially since ItsAlive is recipe-based. It's not a big deal, but being able to see your whole bot is a nice touch that ItsAlive sadly doesn't have.
Lack of Test Chatbot
Another small quibble I have is the lack of a test chatbot within the software itself. As I mentioned above, you can easily test it out in Messenger, but I do sometimes prefer to have a test bot at my disposal whenever I need it.
Test chats help with making quick changes and checking the accuracy of your bot, and having to wait for Messenger to pop up so you can interact with it can get a bit annoying. Again, while this isn't a huge issue, it would be really convenient to have a test chatbot.
ItsAlive Ease of Use
ItsAlive is quite easy to pick up and start using right away.
After you get the hang of the recipe workflow, you'll be building your bot in a flash. That initial learning curve can take some time if you've never worked in a recipe workflow before, but even if you haven't, it should only take 10-15 minutes and maybe a look through one of ItsAlive's tutorials.
All things considered, ItsAlive is one of the easier marketing chatbot platforms to use. Its unique interface and workflow definitely contribute to this.
Any hangups I faced were usually resolved within a few minutes. I could almost always find my way, and when I couldn't, the tutorials usually helped. So don't be afraid if you don't have any technical skill; you don't need it at all.
Recommendations to Others Considering ItsAlive
At this point, you're probably wondering how ItsAlive compares to its competition. Ultimately, it's up to you to decide whether ItsAlive will work for your specific needs, but here are a few considerations to keep in mind when evaluating ItsAlive:
Its unique recipe-based workflow means that you can do certain things really well, but the flip side is that you'll miss out on some other helpful features.
ItsAlive is one of the more affordable chatbot solutions out there (see the pricing section below).
Making complex bots is easy thanks to the interface, so if you need to design longer conversations, you'll be able to do that fairly easily.
ItsAlive Review: Pricing Overview
ItsAlive has a whopping five pricing tiers: Free, Solo, Plus, Pro, and Enterprise.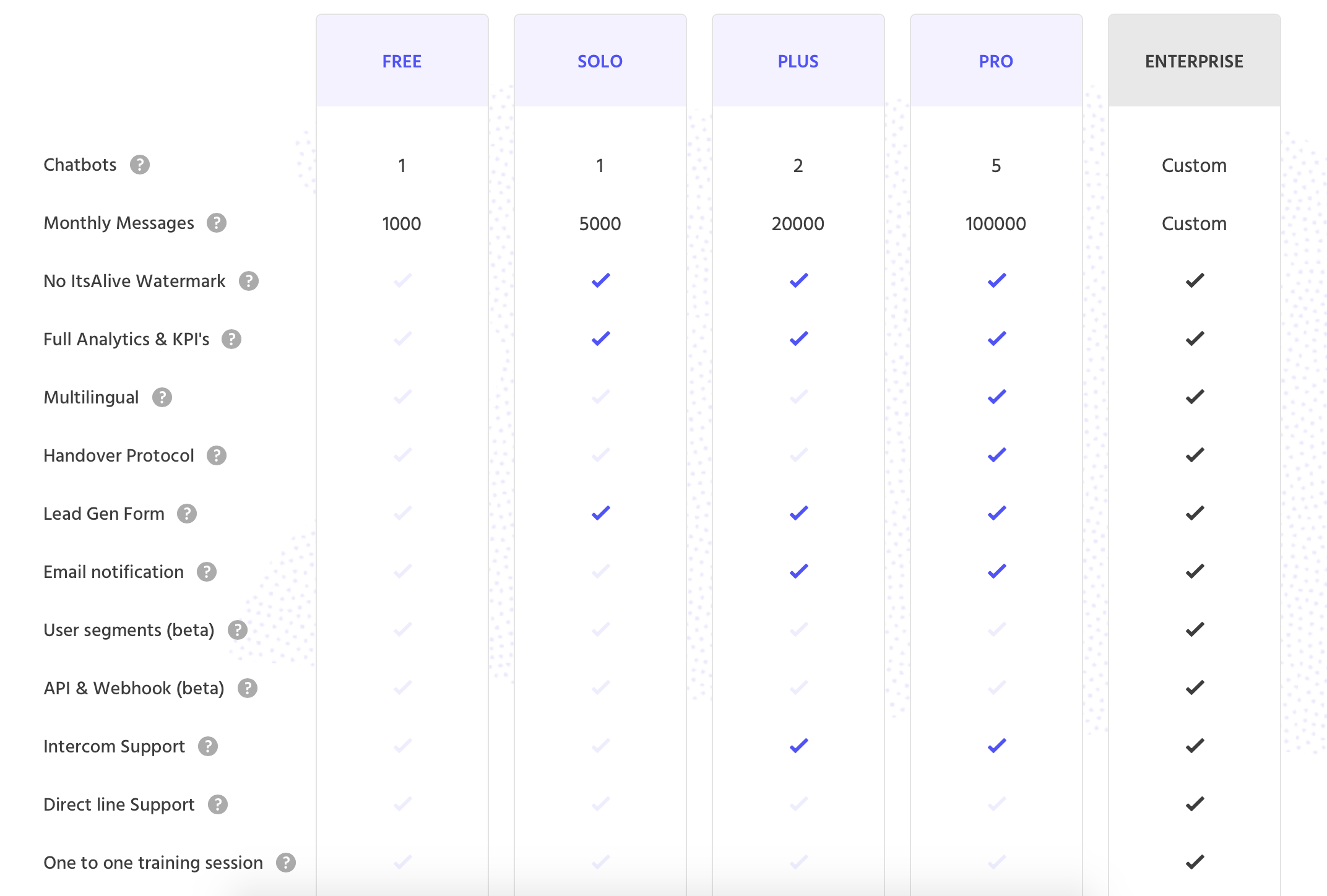 The Free plan gives you 1 chatbot and up to 1000 messages per month. You don't get any other advanced features, but you'll have all of the basic features you'll need to build a bot.
The Solo plan is $19/month and includes 5000 messages, watermark removal, full analytics/KPIs, and a lead generation form.
The Plus plan is a pretty big upgrade from the solo. For $49/month, you get 2 chatbots and up to 20,000 monthly messages. You also get a few other features like Intercom support and email notifications from your bot.
At $99/month, the Pro plan is another sizable upgrade. You get 5 bots and up to 100,000 messages each month. This tier also unlocks premium features like multilingual support.
The Enterprise plan has the full range of features and unlimited chatbots and messages. The price varies depending on your company size and bot usage, so there's no set price at this tier.
ItsAlive Customer Support
ItsAlive provides chat-based support on its Help page, which also hosts documentation: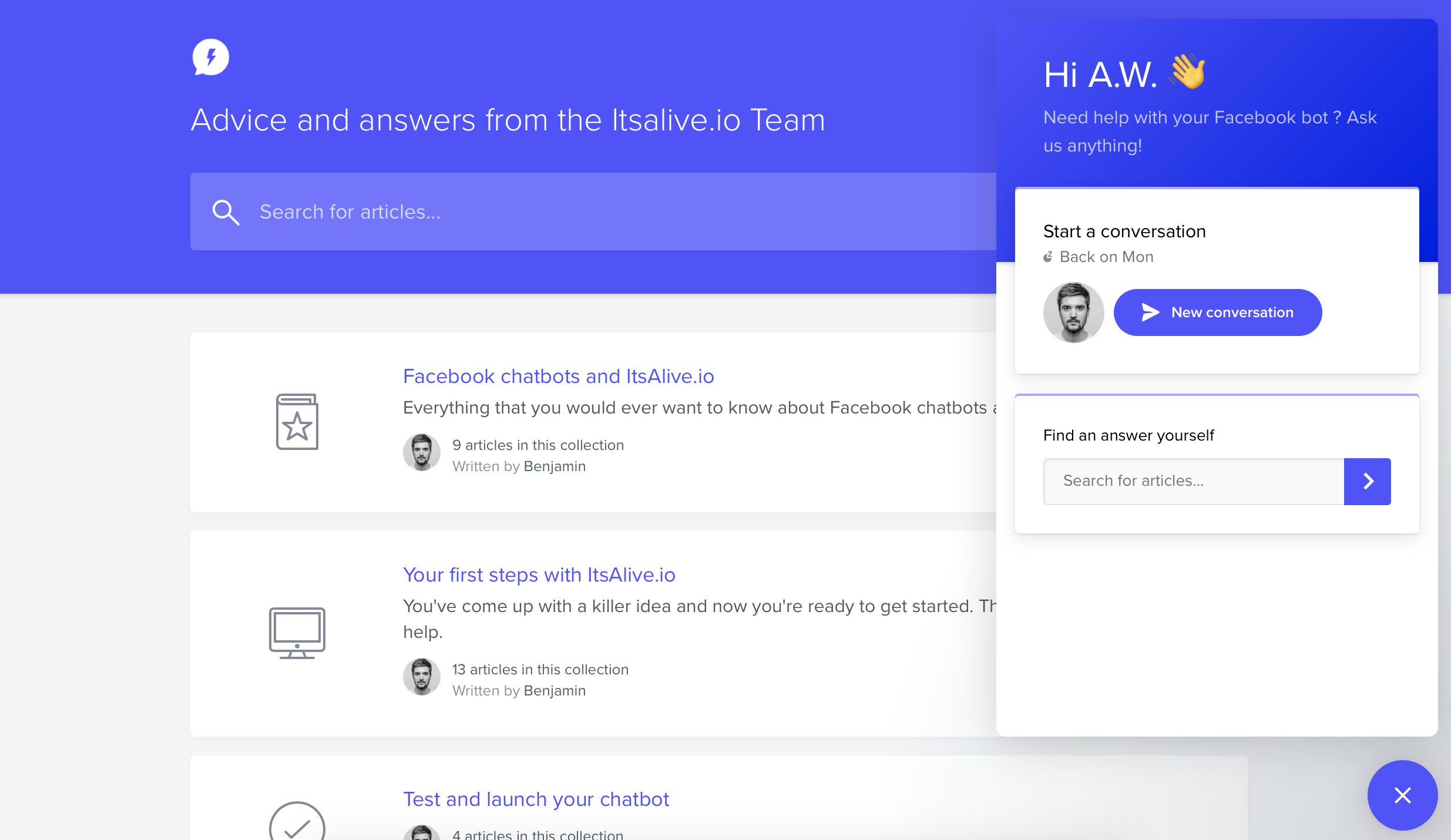 There's no dedicated support email or phone number, but for most purposes, the chat support will work well enough.
Starting at the Plus tier, members receive prioritized support via Intercom. ItsAlive promises to respond within 24 hours, noting that their support hours are 9-7 (UTC+2). Enterprise users receive direct line support.
Frequently Asked Questions
What kind of chatbots can you make with ItsAlive?
ItsAlive allows you to create Facebook chatbots. As of this article, ItsAlive does not offer bot creation for any other platform, so you won't be able to use it on other social media sites. However, you can place it on your website by following this tutorial.
Does ItsAlive have tutorials?
ItsAlive tutorials are available on its Medium blog. (Many of its articles are in French, but its tutorials are all in English.)
ItsAlive Review: Final Analysis
ItsAlive is a unique chatbot platform with a nice recipe-based workflow that some people will absolutely love. If that's your jam, then you'll find a lot to like about ItsAlive.
It's not the most full-featured platform, and it is missing some key features, but for the most part, ItsAlive met and exceeded my expectations.
At the end of the day, if you like the workflow of ItsAlive, then you'll get a lot of use out of the platform, and you'll definitely take your Messenger game to the next level.
If you're interested, give ItsAlive a try by signing up for its free plan.