Chatbot channel(s): Messenger
Overall rating (out of 5 stars):

Price (from $ to $$$$$):

Facebook Messenger has become one of the best ways to generate leads and increase conversions. Marketers all over the world have flocked to Messenger for those very reasons, and they're seeing big gains.
As a result, tons of Facebook Messenger chatbot platforms have popped up to help marketers automate their interactions. These platforms are super useful for getting the most out of Messenger.
Chatfuel is one of those platforms, and they boast that they're "the world's leading chatbot platform for Facebook Messenger." And according to their homepage, 46% of all Messenger bots use Chatfuel.
I'll be taking a close look at Chatfuel in this review to help you decide if it's the right chatbot platform for you. I'll go over the main features, some pros and cons, and additional information to give you the full picture.
Let's get started!
Chatfuel Review: Main Features of the Chat Platform
Chatfuel is first and foremost a powerful chatbot builder that focuses on automation and versatility. Its main focus is building bots that can do it all, from answering questions to collecting emails.
Chatfuel creates bots by using content blocks. These are sections of content that appear on the Messenger bot.
Here's an example of a content block: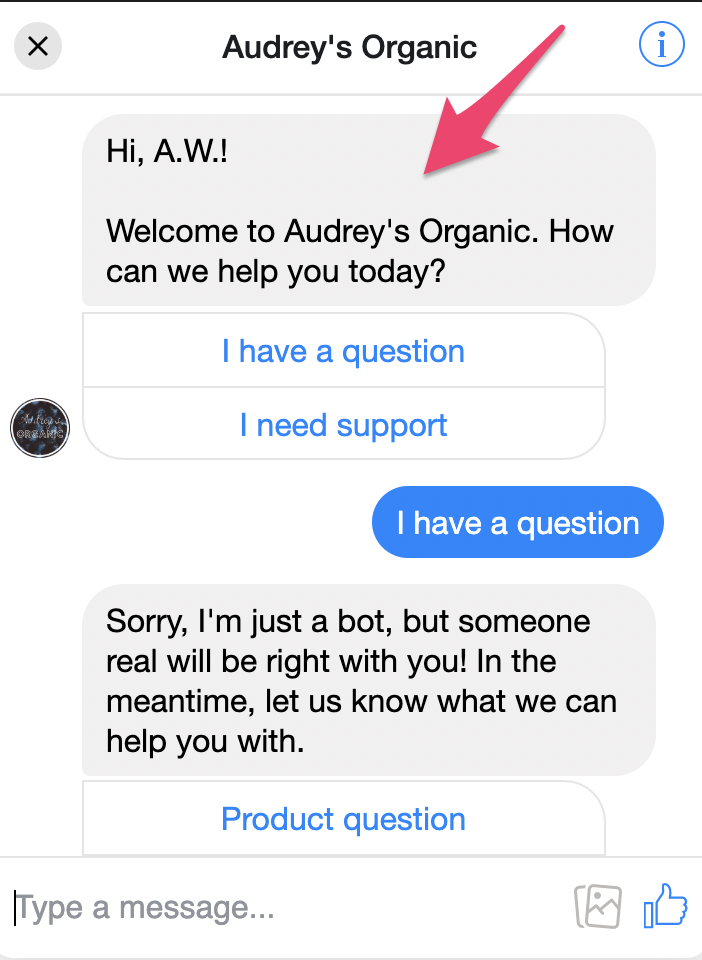 Basically, each dialogue that the chatbot sends to the user is a block. Chatfuel compares blocks to pages of a website in that the user can navigate them based on his or her needs.
The idea is to create a chatbot block by block. This approach allows you to customize every part of the chatbot, which makes it great for creating a personalized customer experience.
There's a block for just about anything. You can create and manage blocks by section: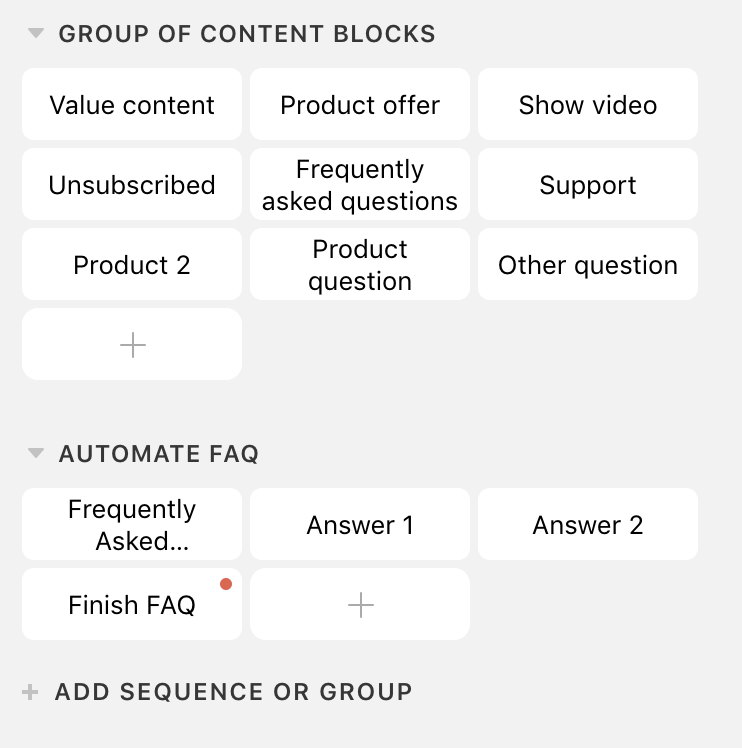 This makes it easy to juggle several blocks for different purposes and navigate between them seamlessly. Here, I have a dedicated section for FAQ automation, so all of my FAQ-related blocks go there.
The block is the basic building unit. You make a bot by making series of blocks that connect to other blocks, forming a conversation pathway for the user to take.
Once you understand how the block system works, you've unlocked 90% of Chatfuel's power, and you can do almost anything. It's rather intuitive and allows you to build your chatbot in a modular, piece-by-piece fashion without getting overwhelmed.
Chatfuel also has an AI component where you can instruct your bot to respond to certain keywords. This is another common feature that most chatbots have, and Chatfuel takes a nice, straightforward approach to it.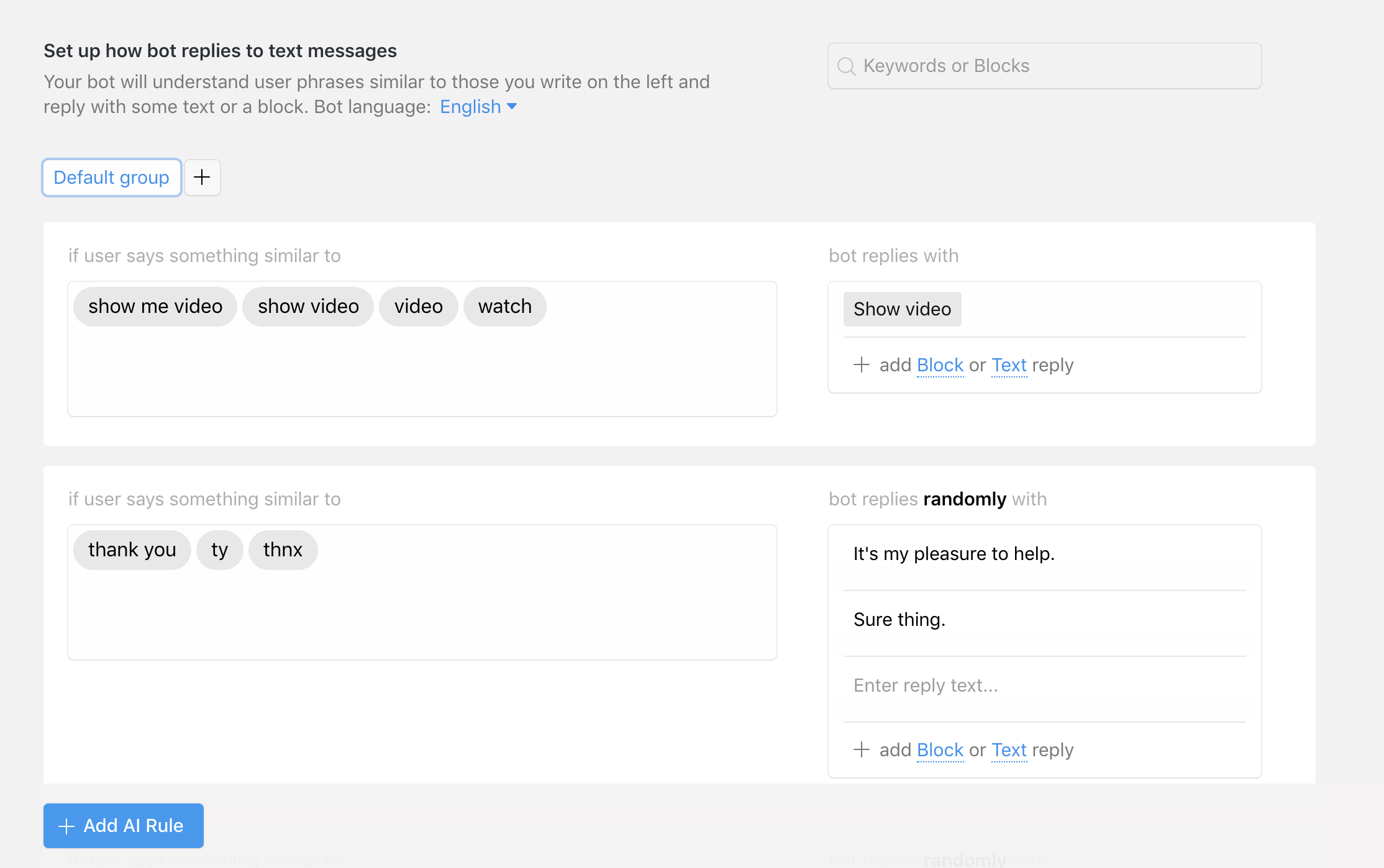 This is another integral part of the chatbot creation process. Setting up the AI means users can type in their own responses, and the bot will watch out for specific keywords.
Then, it will send a response that you've made based on each keyword or set of keywords.
This is one of the best parts about having a chatbot, and it gives a nice sense of personality to your bot as well. Users can dynamically interact with the bot and find exactly what they need.
Chatfuel provides a decent amount of power here.
Pros of Chatfuel
Let's take a look at some of the upsides of Chatfuel.
Interface
I've tested several chatbot platforms, and something I've learned is that the interface is one of the most important parts. If the interface is unintuitive or just clunky, your workflow and productivity will suffer.
Thankfully, Chatfuel's interface is simple and clean. It's incredibly minimal, so there's no superfluous tabs or categories. Every section has a specific purpose.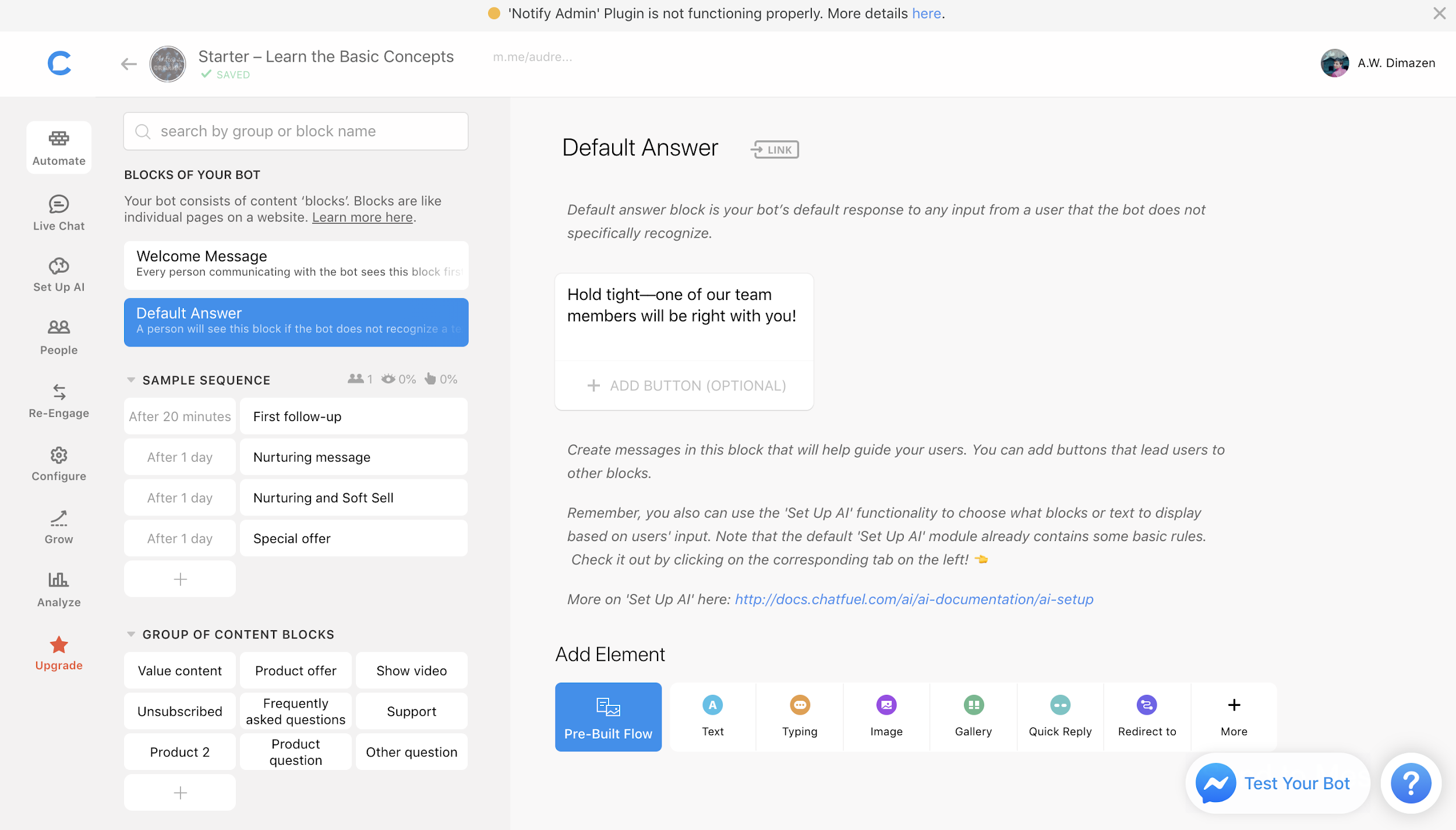 The menu sidebar on the far left-hand side contains all of the top-level tabs. This makes navigation fast and easy, although you rarely have to jump between tabs thanks to how Chatfuel is structured.
Most sections are all-encompassing. For example, you can do a large portion of chatbot creation in the Automation tab. This reduces the need to skip around.
The best part is that testing your bot is always just a click away. The "Test Your Bot" button in the lower right-hand corner pops up a Messenger box where you can make sure your bot is operating as it should.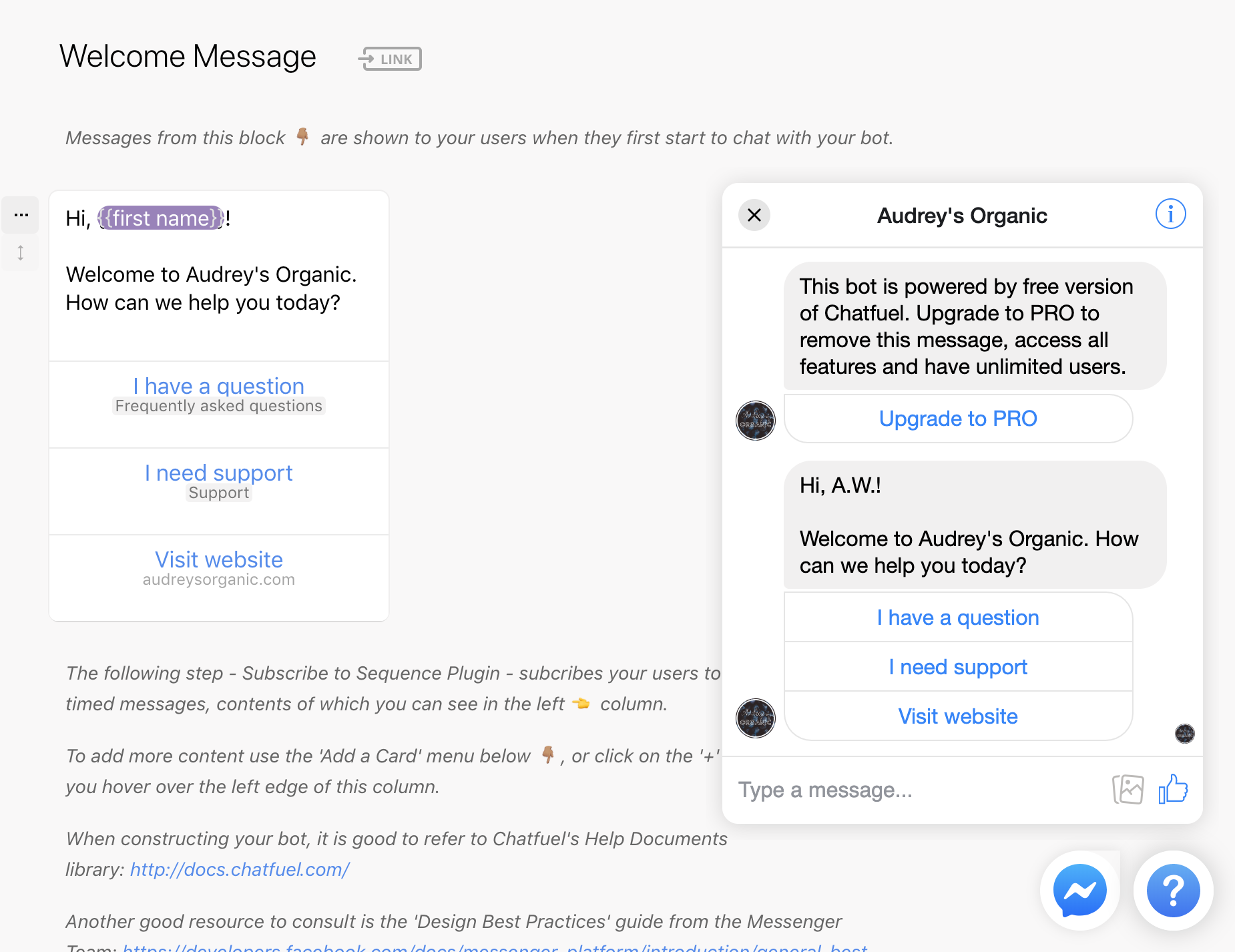 Advanced Features
Chatfuel has all of the necessary features of a chatbot: keyword detection, personalization, and various automation choices to suit different customer needs.
As a result, you can make powerful bots. They can branch off into different conversational pathways, direct or redirect the user to specific places or websites, and answer frequently asked questions.
This means users can have surprisingly in-depth interactions with your bot without feeling like they're talking to a faceless machine.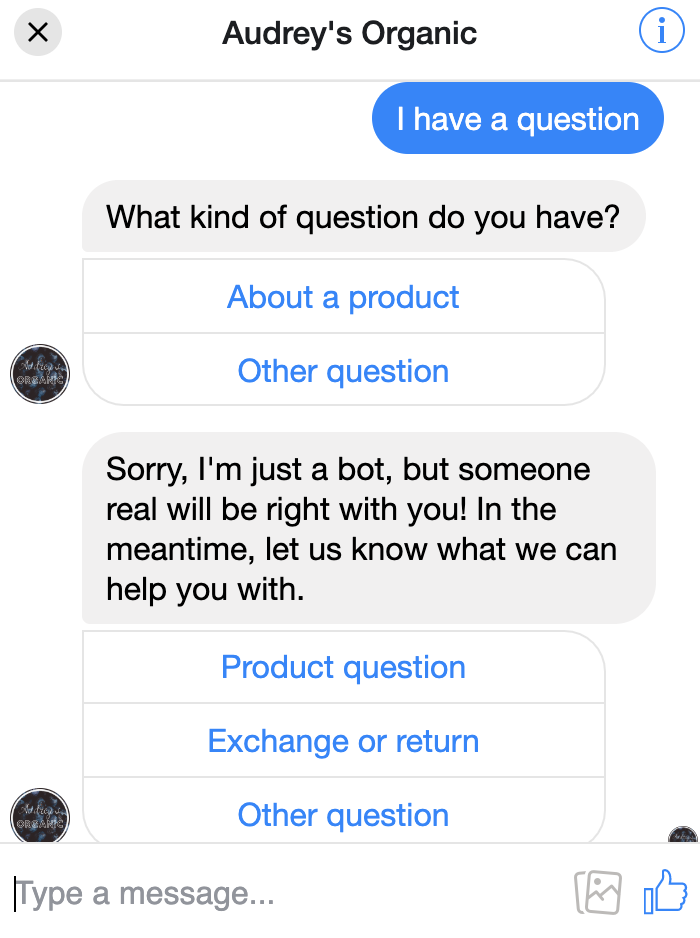 Most importantly, users can easily navigate the bot menus to get where they want to go.
This also allows your bot to be used for a variety of purposes, from lead generation to customer support and much more. And you can create different bots for each purpose or use one bot to handle a few tasks.
Cons of Chatfuel
Chatfuel also has a few shortcomings, as any platform will.
These are a couple of cons I noticed when using Chatfuel:
Limited Free Features
This is to be expected with any freemium chatbot platform, and it's not a huge deal, but there were a few important features that are missing in the free version.
One such feature is the ability to edit, save, and export user data. This can be critical when using Messenger bots for lead generation or ecommerce sales, so it would have been nice to have in the free version.
It all depends on how you want to use Chatfuel. If you just want a dedicated platform for chatbot creation, then you'll be fine. On the other hand, if you want to be able to do just about everything with your chatbot software, you might be a little let down.
Quality of Templates
This is kind of a personal preference since I usually prefer to design bots from the ground up, but I found the templates to be a mixed bag in terms of quality.
Some, like the Starter template that's designed by Chatfuel for beginners, were great, but others weren't as good. The main issue I saw was that the templates are designed to fit very general needs, so you'll end up having to modify them quite a lot, which kind of defeats the point of a template.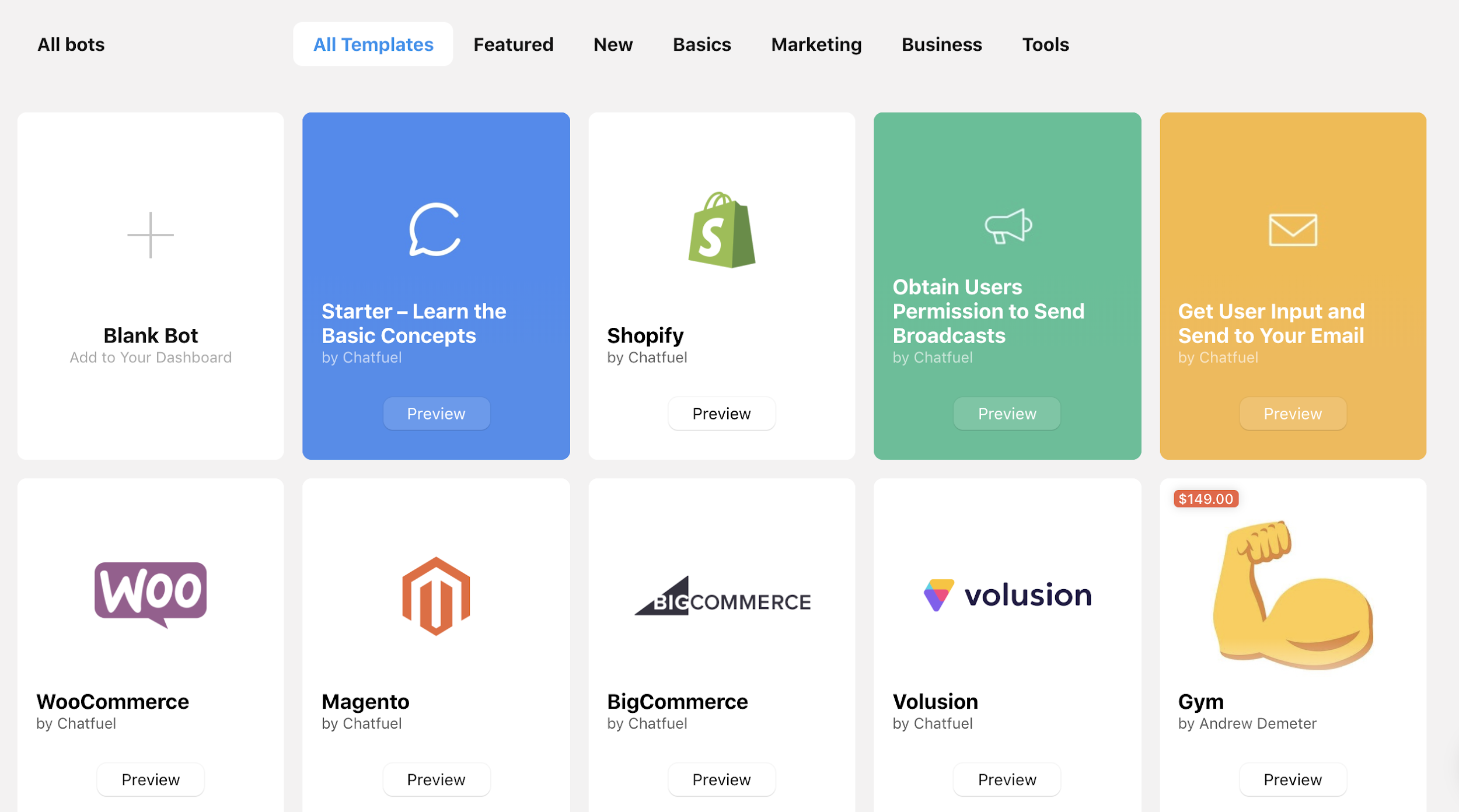 It strikes me that Chatfuel could be a bit more targeted with their templates. As of right now, they're really too broad to be effective.
That said, Chatfuel offers a lot of templates, both free and paid, so it's a minor gripe. In any case, it's easy to design your own bot completely from scratch if you so desire (and that's the option I prefer).
Chatfuel Ease of Use
I found Chatfuel very easy to use from start to finish. As I mentioned above, the interface is nice and minimal, and it feels natural to move around.
It only takes a bit to familiarize yourself with the software. I was pretty comfortable with it in about 10-15 minutes, and if you're used to chatbot software, you'll pick it up even faster.
In addition, Chatfuel provides checklists that show you how to do certain things: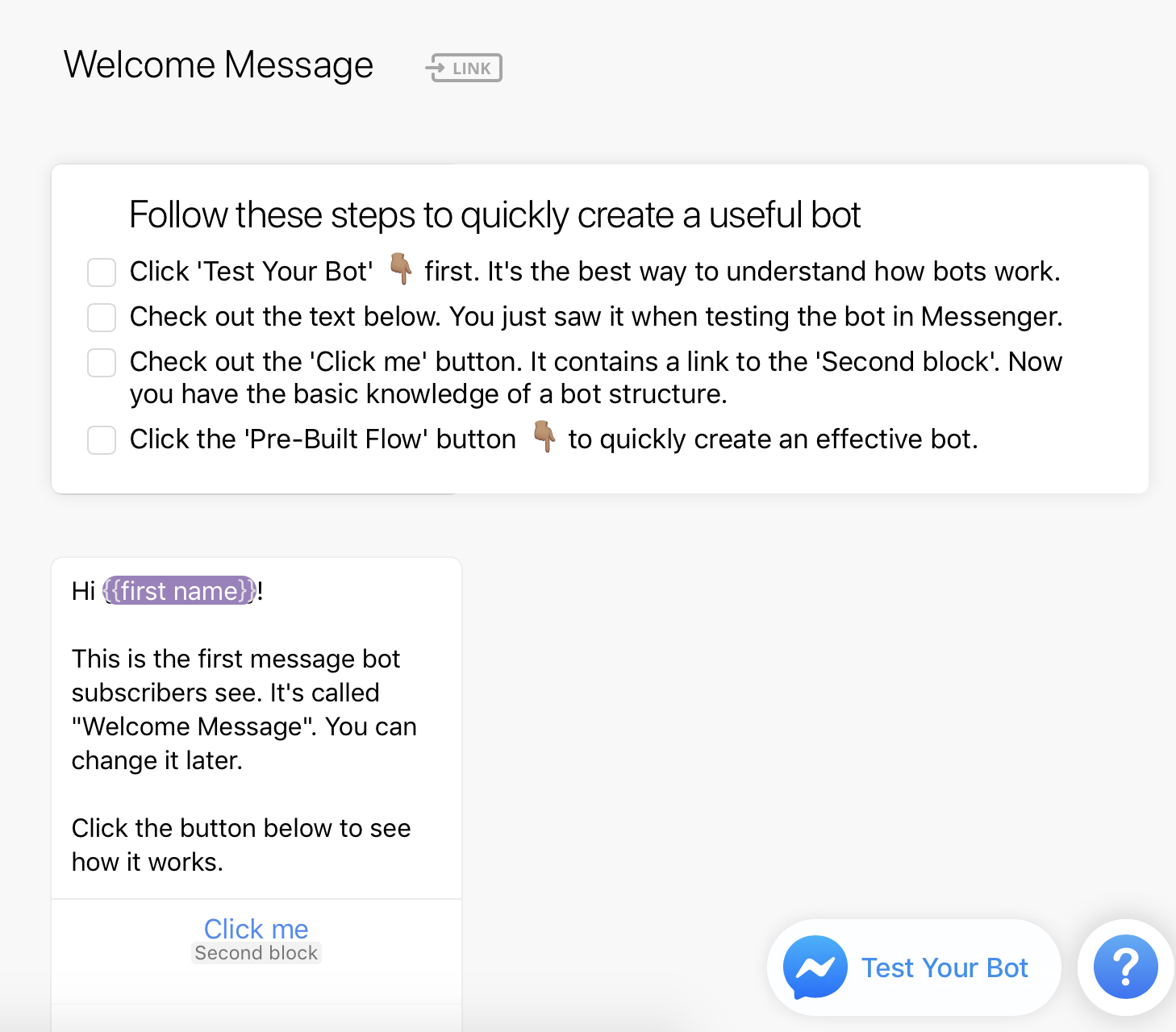 This was incredibly helpful when I was building my first bot. It was nice to not have to click through to a separate tutorial or knowledge base page, and it made bot creation a lot quicker. If you're brand new to chatbots, these checklists will be even more helpful.
I haven't seen this feature on any other chatbot platform, so big kudos to Chatfuel for coming up with a unique and helpful feature. This was easily my favorite part about using Chatfuel.
Finally, Chatfuel also maintains a blog that has lots of valuable ideas and tips that you can use and get inspiration from.
Recommendations to Others Considering Chatfuel
Thinking about using Chatfuel for your business? Here are a few things to keep in mind when comparing it against other platforms:
It's used by many big companies. Chatfuel lists Levi's, Lego, Adidas, and T-Mobile as just a few of its clients.
It's almost exclusively focused on chatbot creation. Some chatbot platforms come with a suite of additional tools for growth and marketing, but Chatfuel sticks with the chatbot side of things. (It does have some growth features that come in handy.)
It's relatively affordable. Chatfuel is one of the more affordable marketing chatbot platforms (see below).
Chatfuel Review: Pricing Overview
Chatfuel has three pricing tiers: free, pro, and premium.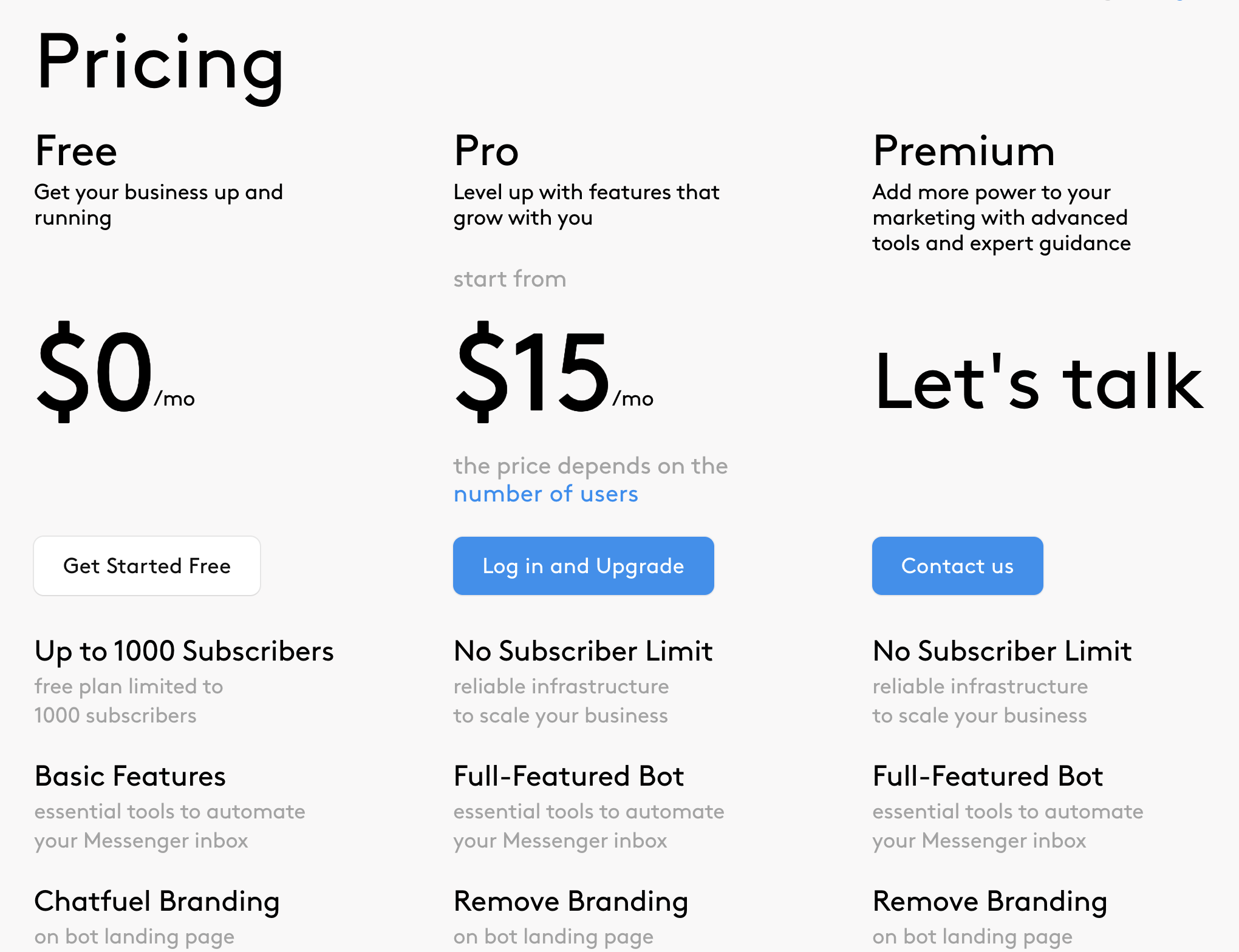 The free gets you up to 1000 subscribers and all the essential features you need to build chatbots.
The pro steps that up by providing additional features, removing the Chatfuel branding, integration with Facebook Ads, and allowing you to have multiple teammates.
The premium level is their enterprise solution that pulls out all the stops and introduces exclusive features like bot syncing. There's no set pricing for this level; instead, you have to contact Chatfuel to learn more, which is typical for enterprise-level pricing.
It's worth noting that the cost of the Pro plan changes based on how many users you have.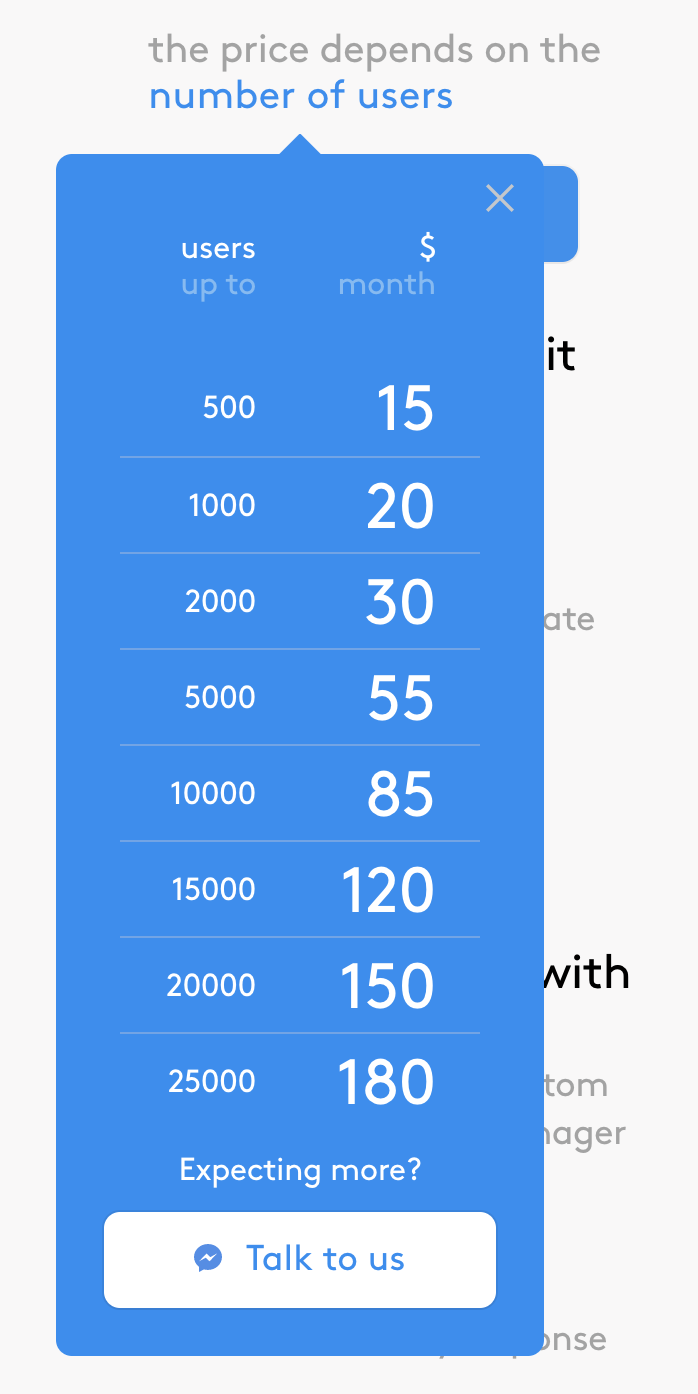 This ensures you're only paying for what you need, which is a nice plus to their pricing.
Chatfuel Customer Support
Chatfuel's support is readily available via a chat within the software itself. There's no support email or phone number, however, so if you want to get support, chat is your sole option.
You can get help from within Chatfuel by clicking the Help button: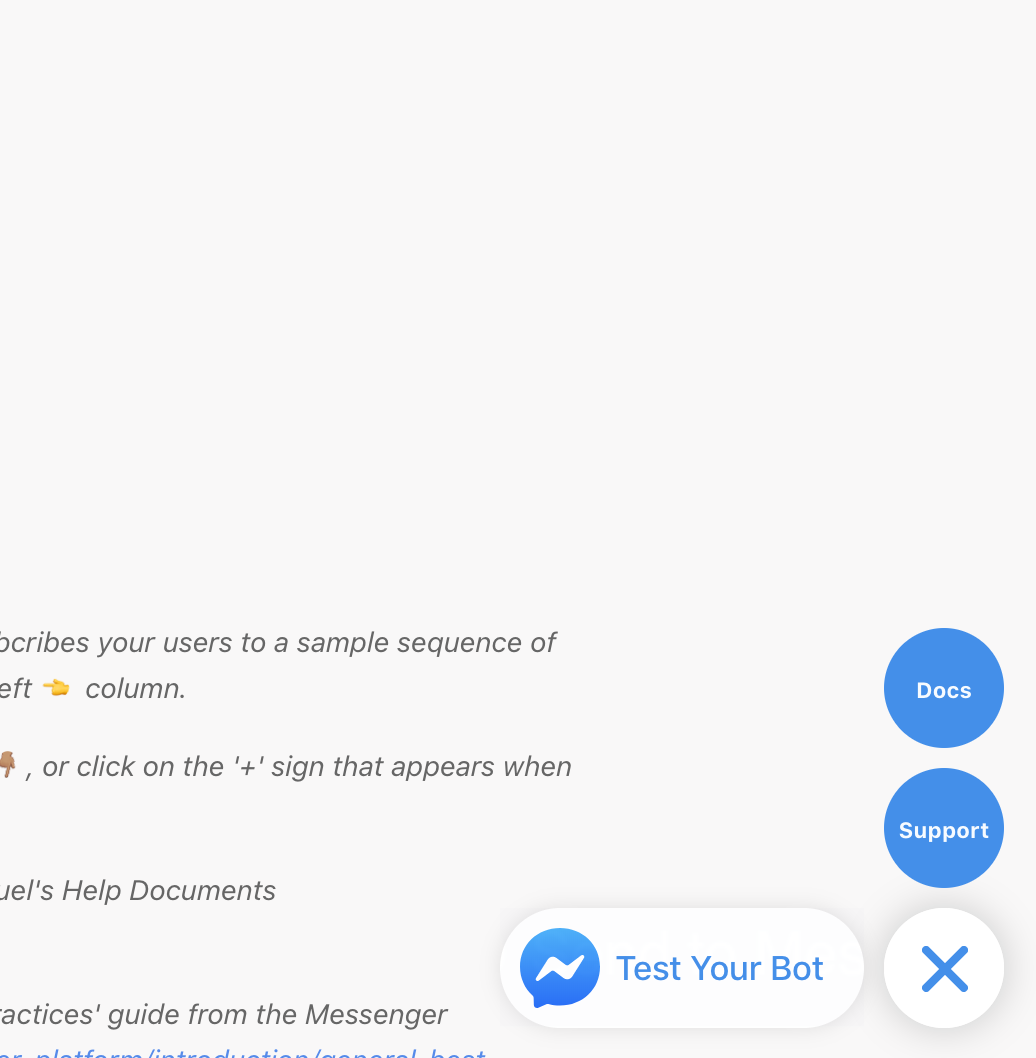 You can then choose to browse the documentation or go straight to support.
If you do need support, a pane will pop up right in Chatfuel: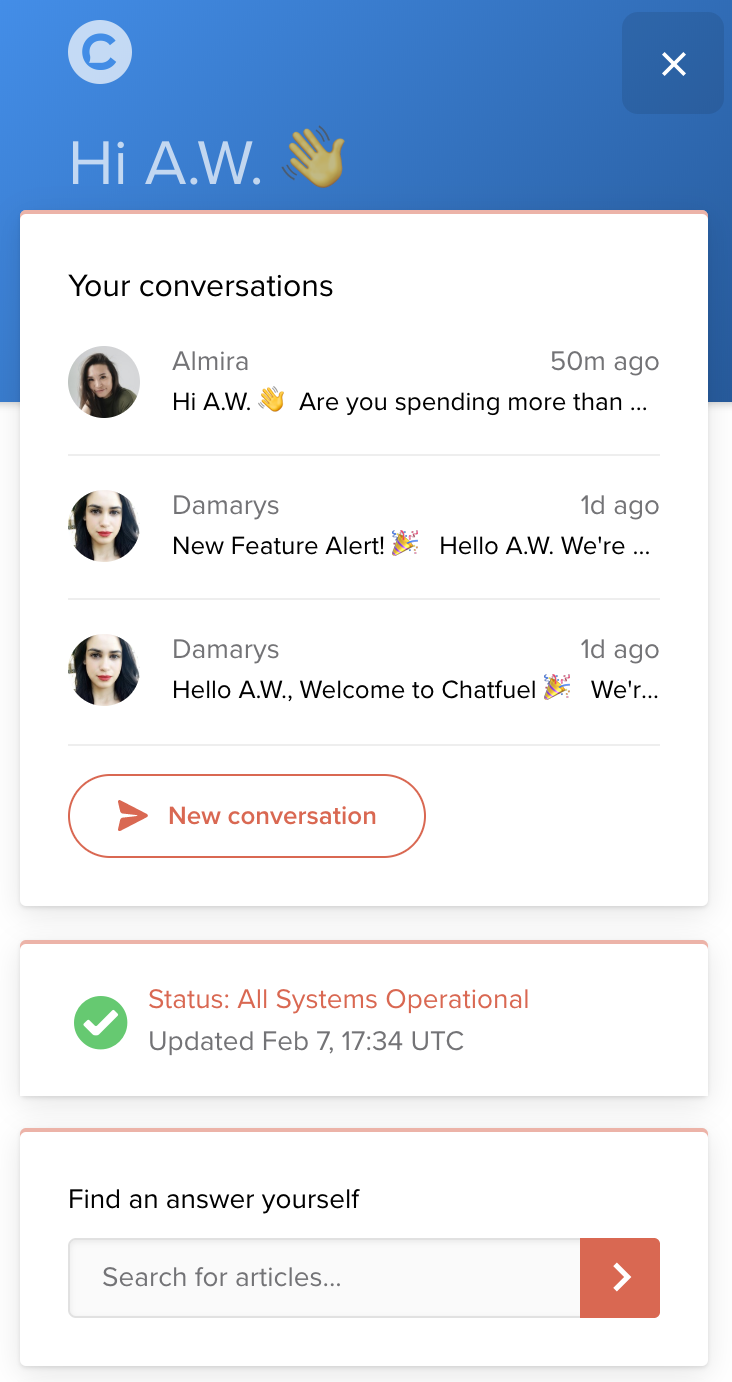 Here you can search the documentation or start a conversation with a Chatfuel rep. You don't even have to leave the page. It's all right there for you.
Not offering a dedicated support email is a bit of a downside, but I have noticed that's something companies are doing less and less. Lots of startups prefer to conduct support through chat. It certainly works, but it would be nice to have multiple avenues for support instead of just one.
Frequently Asked Questions
Is Chatfuel safe?
Yes, Chatfuel is completely secure. They use encryption to fully protect your data. You can read their privacy policy here and their GDPR compliance documentation here.
What is Chatfuel used for?
Chatfuel can be used for just about anything related to Facebook Messenger chatbots. Many businesses use it to increase conversions or generate leads, but you can also use it to optimize your overall engagement with your audience.
Does Chatfuel have tutorials?
Chatfuel does offer tutorials as part of their documentation. You can find tutorials for Chatfuel basics here, and you can also search their documentation to find answers for more advanced questions.
Chatfuel Review: Final Analysis
All in all, Chatfuel is a solid platform for anyone considering incorporating chatbots into their marketing strategy.
It's easy enough for beginners to pick up while still offering enough power to satisfy experts and larger companies who need scalable solutions.
For most use cases, Chatfuel will provide enough power. If you're looking for a lot of bells and whistles, you might be disappointed (especially if you're using the free version of Chatfuel).
That said, Chatfuel has much to offer, and you should at least try it out for a bit and see if it meets your needs.
The bottom line: If you're browsing chatbots, definitely keep Chatfuel in mind.