Chatbot channel(s): Messenger
Overall rating (out of 5 stars):

Price (from $ to $$$$$):

The ManyChat Review: Important 2022 Russia War Crimes Update
Russia has been engaged in reprehensible war crimes against the people of Ukraine, so we felt it essential to update our ManyChat review with critical information, like the role ManyChat plays in relation to Russian atrocities.
ManyChat is made in Russia. It was founded by Russians and has offices in Moscow at Ulitsa Zemlyanoy Val, 9, Moskva, Russia, 109028 just a few blocks from the Vladimir Putin's Red Square.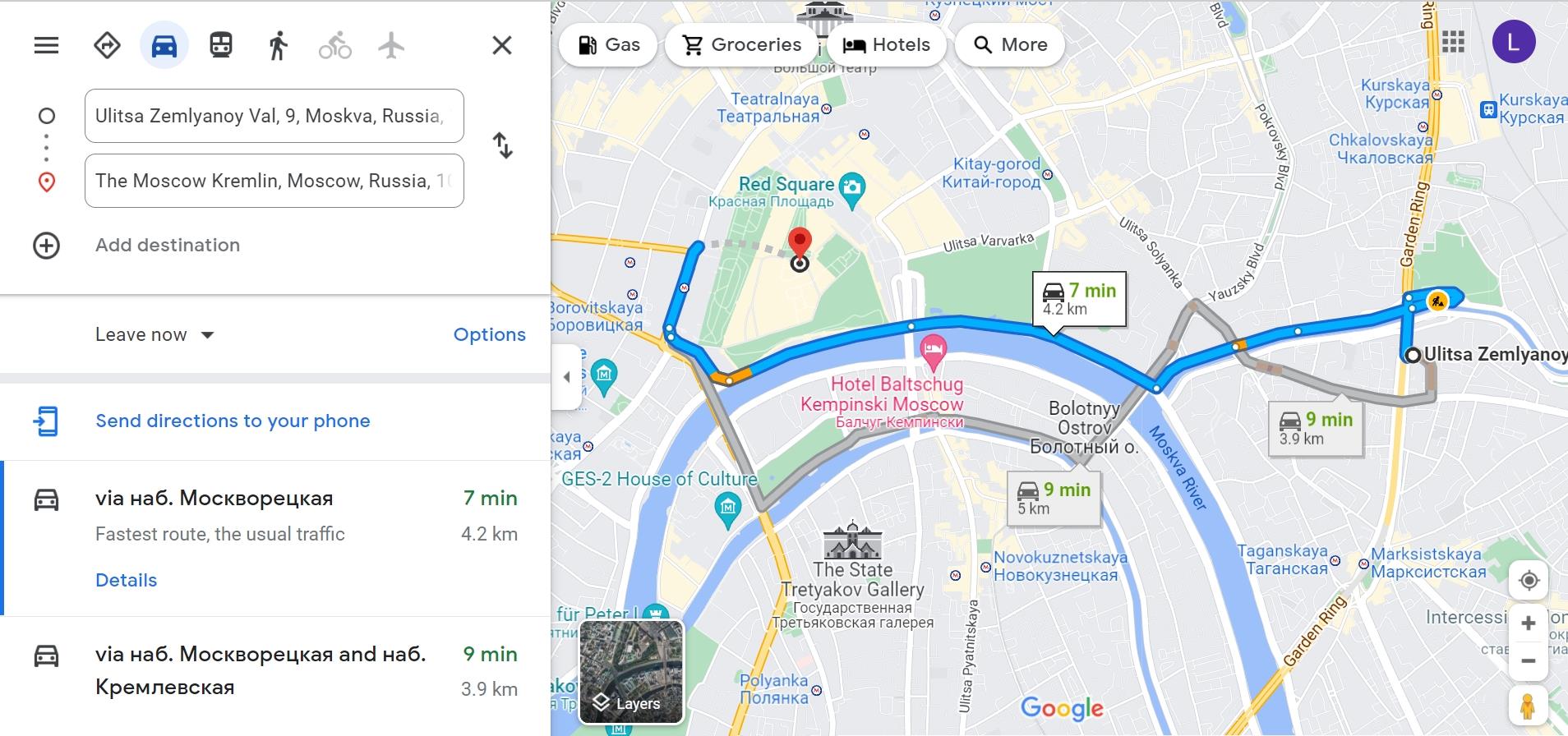 ManyChat currently or has in the past, employed over a hundred employees, contractors and former employees in Moscow, Russia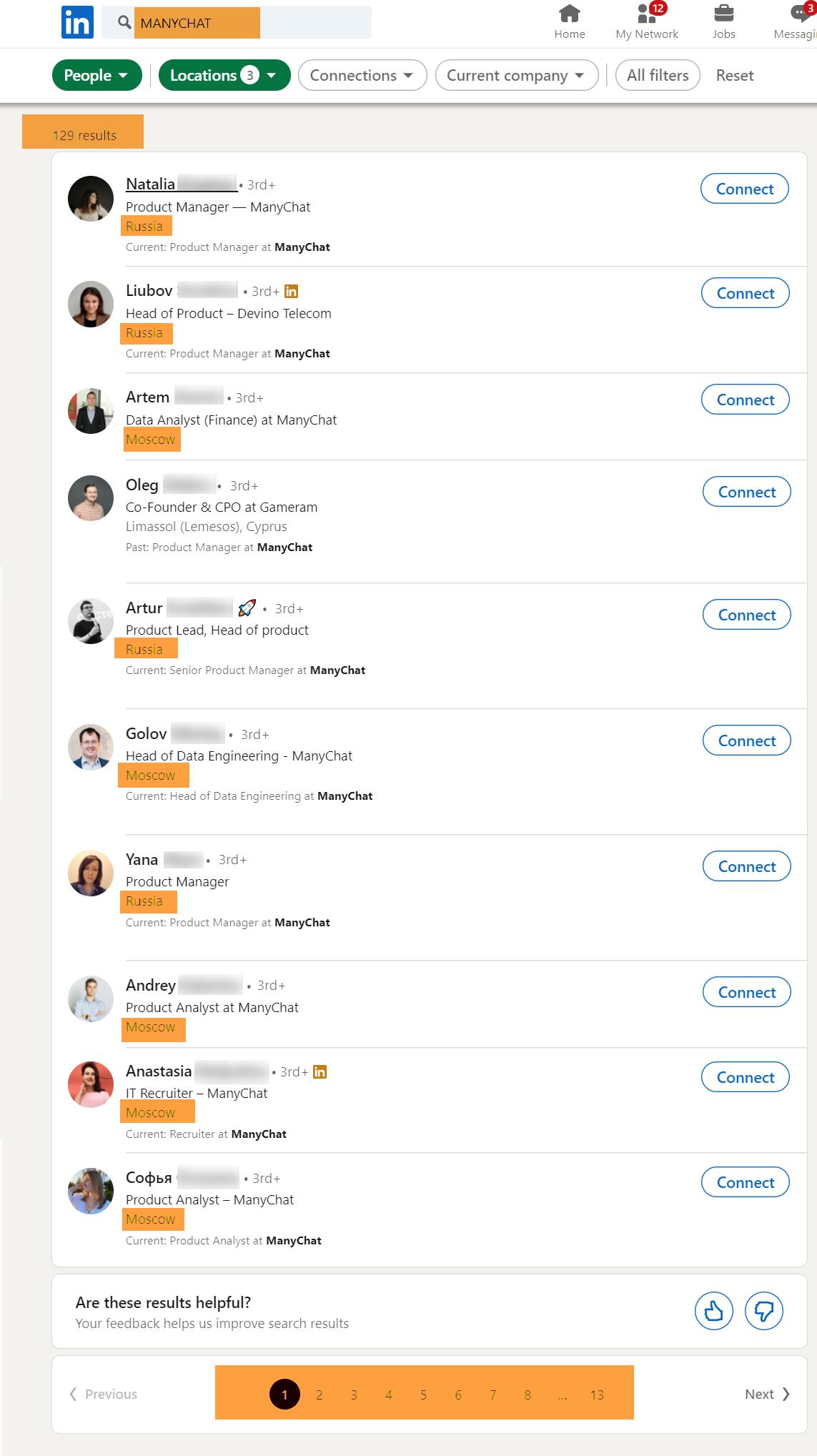 ManyChat is made in Russia, and ManyChat is today ranked as the #1 Russian chatbot company.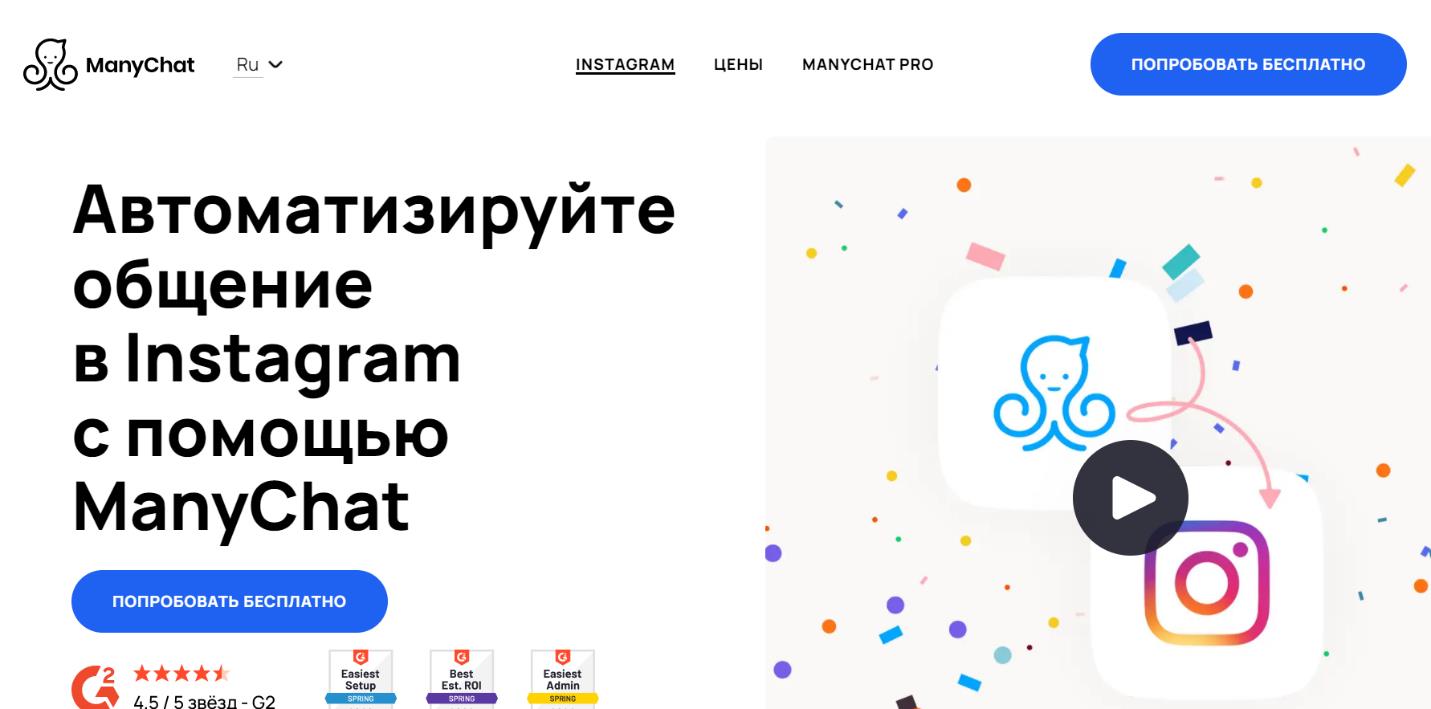 Given the Russian military's recent invasion of Ukraine, one must consider: does using Russian software like ManyChat, either in the past or going forward, fund Russia's war crimes in Ukraine?
Ukrainian President, Volodymyr Zelensky, recently said: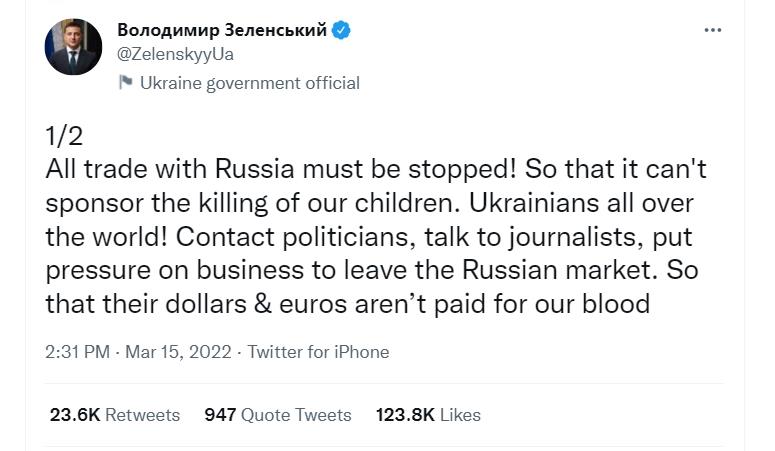 https://twitter.com/ZelenskyyUa/status/1503801054143696904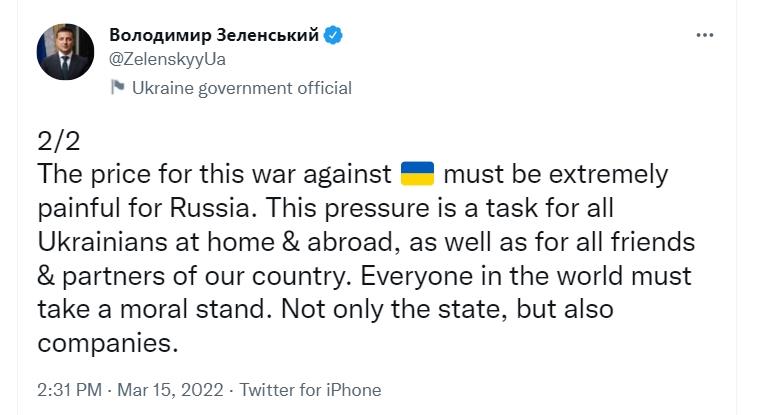 https://twitter.com/ZelenskyyUa/status/1503801096275472390
Some people think that average Russians don't support Russian's war crimes in Ukraine, so there's no need for economic sanctions.
But this is not true as there is a lot of support for Vladimir Putin in Russia as seen in this video with hundreds of thousands of Russians coming out to a rally in support of the invasion of Ukraine and the killing of innocent civilians, bombing of maternity hospitals, children shelters, orphanages, kindergartens, apartment complexes, and other horrific war crimes.
As a consequence, the international community has been unified in its support for unprecedented economic sanctions against Russia.
The U.N. General Assembly voted to ask Russia to stop attacking Ukraine and to take all its troops out.
The vote on the "Aggression against Ukraine" resolution was 141-5, only Belarus, Syria, North Korea and Eritrea joined Russia in opposing the measure. This shows how isolated Putin is for invading Ukraine.
These factors mean that we think you should use one of the 23 chatbot tools that outperformed ManyChat in our comprehensive round-up.
We will now continue our detailed review of ManyChat for 2022!
The 2022 ManyChat Review
ManyChat is a visual chatbot building platform for Facebook Messenger that has garnered a lot of attention since it was established in 2015. However, ManyChat simply does not live up to the hype or the competition just half a decade after its inception.
To be honest, only an inexperienced marketer would embrace ManyChat over the top-performing Facebook Messenger chatbots. And if you're looking for a premium chatbot builder, then ManyChat isn't the one.
This doesn't mean ManyChat isn't an option, or that it's useless. Many digital marketers have had positive experiences using the platform. It enables you to present your brand to more people online and market it for increasing conversions. Additionally, No coding is required for creating a bot with ManyChat.
ManyChat was created mainly to relieve marketers from relying almost entirely on email marketing to communicate with new and existing audiences. And ManyChat did a great job of that, because Facebook Messenger is great when it comes to delivering high engagement and conversion rates.
Since then, ManyChat has lost its "new car smell" and its closest competitors have expanded web chat bot use cases to cover multiple marketing channels from one chatbot platform - also known as multi-channel chatbots.
In this review, we'll cover all of ManyChat's features to help you decide whether it's the right chatbot platform for you.
ManyChat Review: ManyChat - Main Features of the Chat Platform
ManyChat is a Facebook chatbot platform that helps you create automated Messenger conversations.
Whether you want to build a simple bot that redirects people or a more complex bot that can answer specific questions, you can do it with ManyChat.
Here are some of ManyChat's most important features:
Flows
One of ManyChat's main features is the ability to create different workflows and customer journeys.
When someone contacts you via Messenger, they probably have a specific purpose in mind. ManyChat allows you to create flows for different use cases, so no matter what a user wants to do, they'll be taken care of.
You can manage all this from the Flows tab: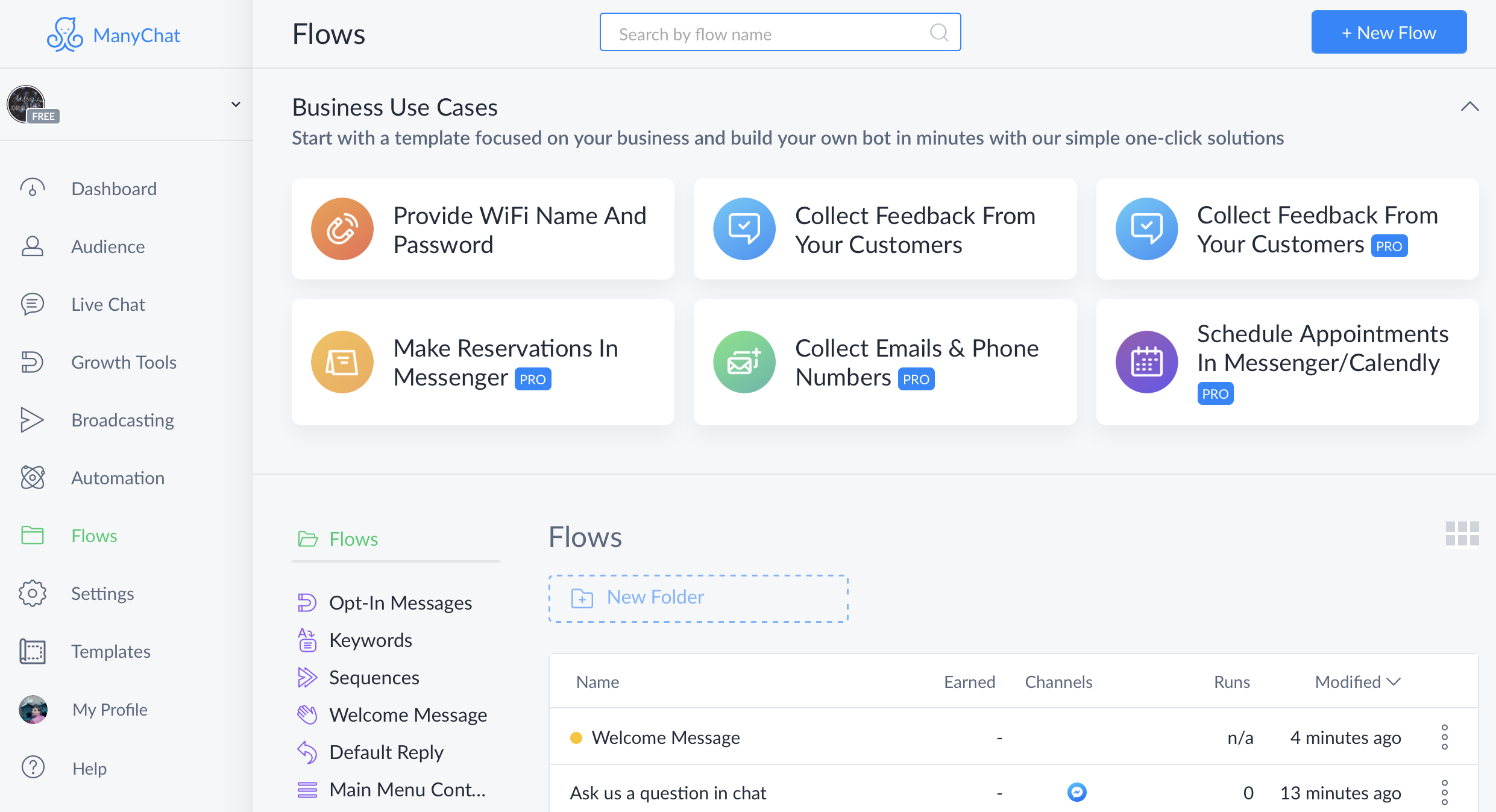 This is the hub for all of the different customer pathways. When you create a new message or edit a flow, it shows up on this page so you can get a bird's eye view of everything.
It's nice to be able to see all of this at once, and that definitely helps when you're making more complex bots with several conversational paths for different situations. It would be nice to have a slightly more visual overview, like a flowchart, but this dashboard overview is definitely helpful.
Automation
Automation is one of the handiest features of most chatbot platforms, and ManyChat is no exception.
ManyChat allows you to automate most parts of a Messenger conversation so that users can find answers to their questions quickly and easily. The idea is to build a chatbot that directs the customer to where they need to go without any friction.
For example, you can automate a friendly welcome message that will tell the user how to get started and give them options for moving forward.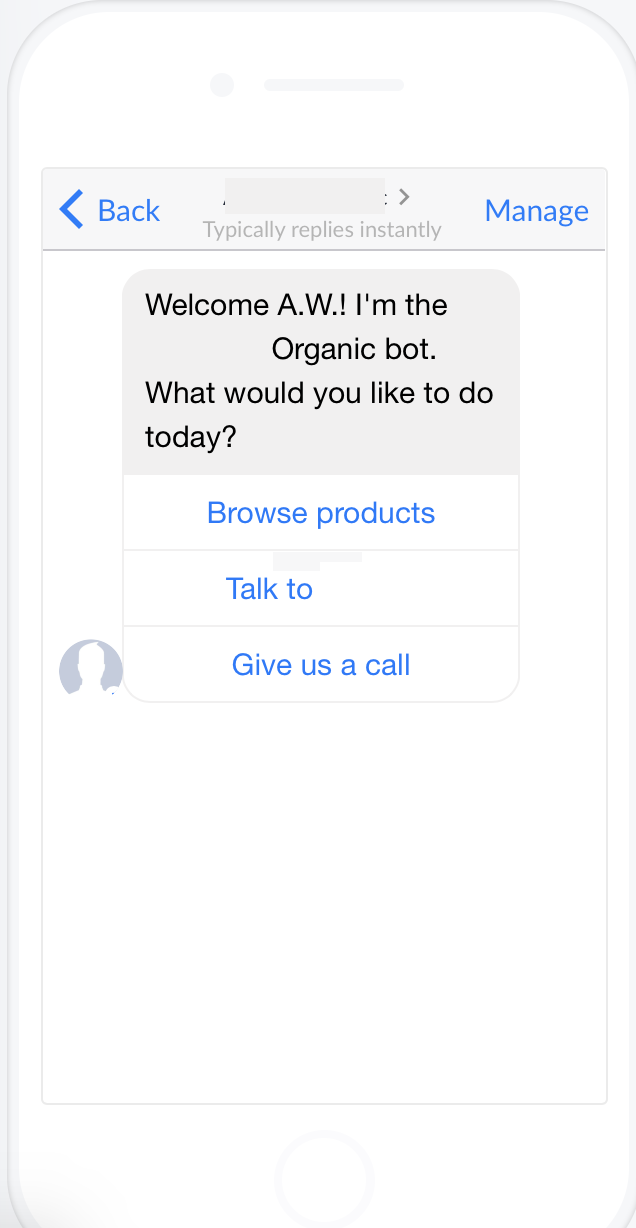 You can then create individual flows for each option.
You can also create automation based on keywords. When someone sends a message that contains a certain keyword, the bot will trigger and send an automated message back to the user.
For example, you can set the bot to trigger subscription preferences:

There's a lot of options when it comes to setting keywords and taking automated actions based on those keywords, making this one of the most versatile features of ManyChat.
Templates
If you need a starting point––or if you're new to chatbots––you can make use of the templates ManyChat provides.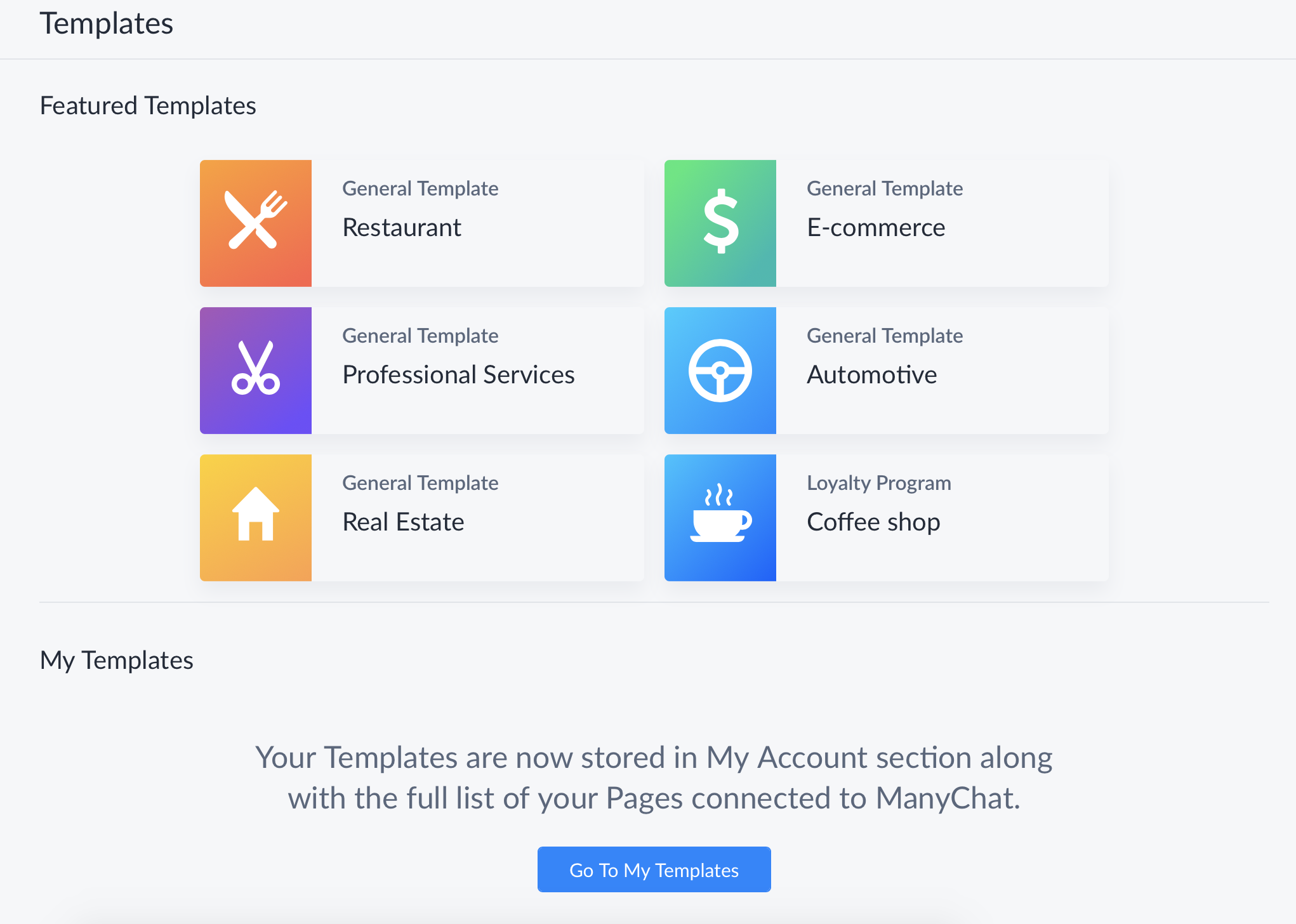 These templates will provide you with flows and automations that you can then edit to suit your specific needs.
You can also create custom templates if you want to save specific settings.
ManyChat Review: Pros of ManyChat
ManyChat offers many benefits to any business wanting to take full advantage of Facebook Messenger. They've been around for a while, and they definitely know what they're doing.
So what can ManyChat offer you? Here are a few pros to the platform.
Flexibility
ManyChat has a lot of built-in flexibility. The ability to create different flows allows you to get detailed and carve out pathways for your customers to follow.
You can also track each flow to see how well it's converted: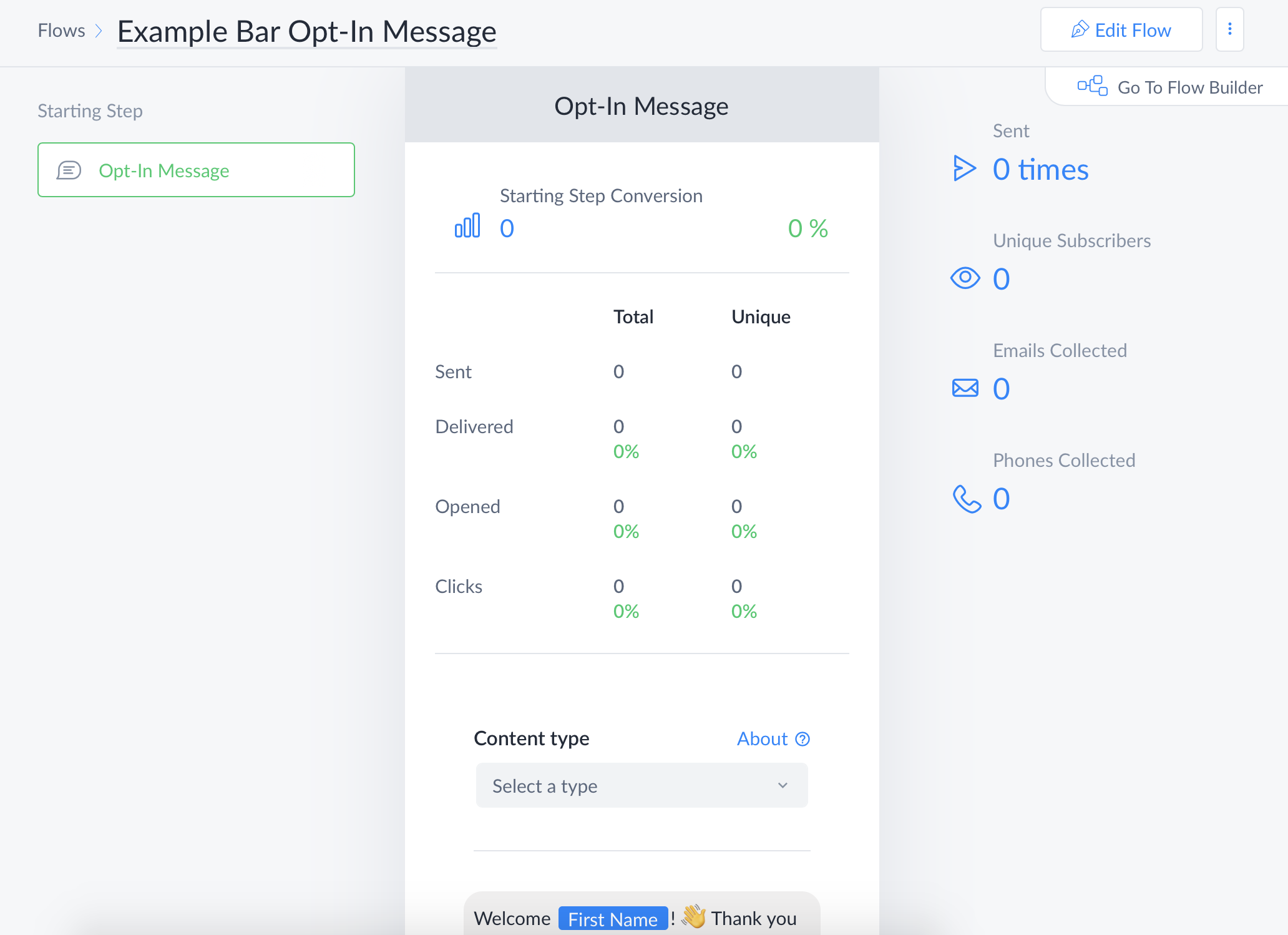 (This is just a test flow, hence all the zeros. I just wanted to show you how it's laid out in ManyChat.)
This makes it easy to see which flows are working and which ones you need to improve or do away with. You can also easily make changes on the fly, so if you just need to edit one part of a certain flow, you can do that.
Chatbot Preview
One of my favorite features was the chatbot preview that you see on most pages.
That's because the preview is displayed on a mobile interface, so you get to see exactly what the customer will see when they're interacting with your bot.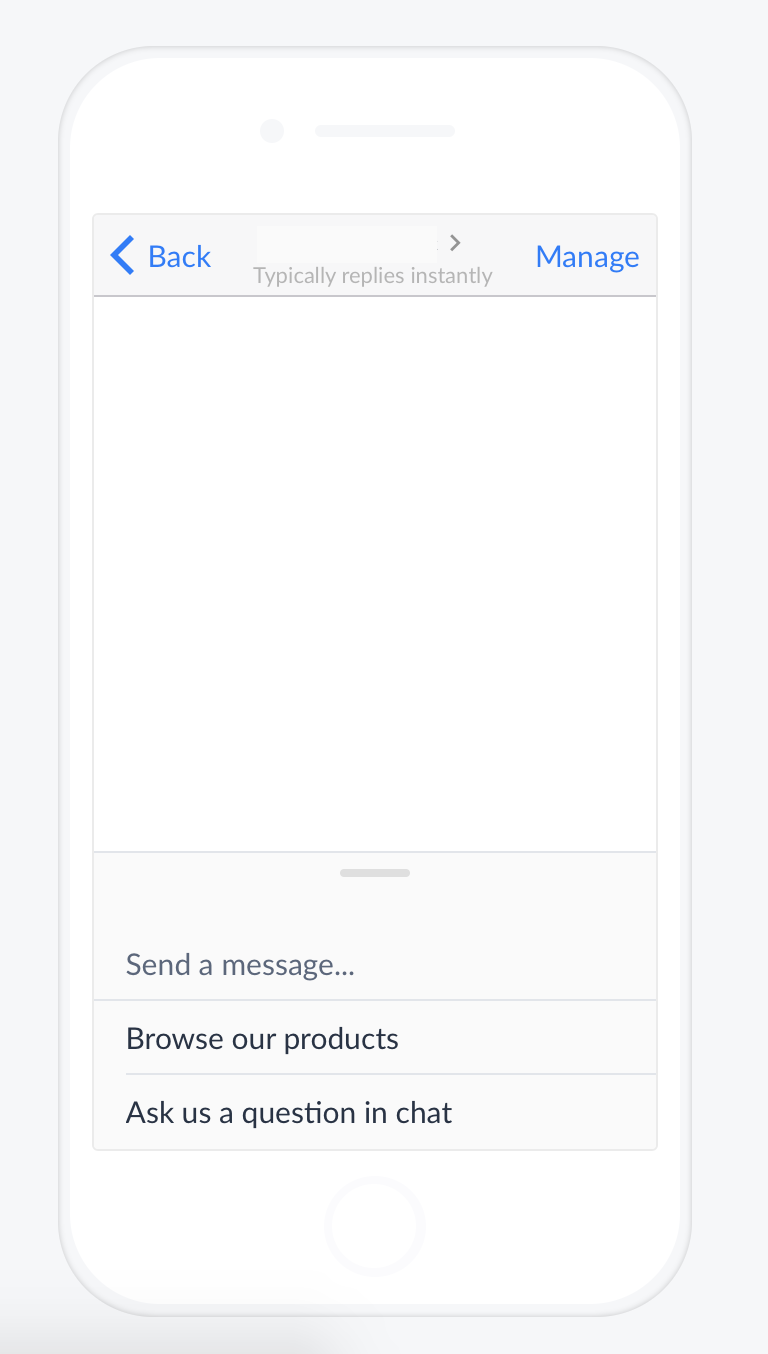 I found this helpful in designing bots because I could really put myself in the customer's shoes and think about what I would want from the Messenger experience. It's a nice cherry on top of ManyChat's other features.
Editor
I also liked the editor where you create and customize your messages. It's easy to use and simple without being lacking.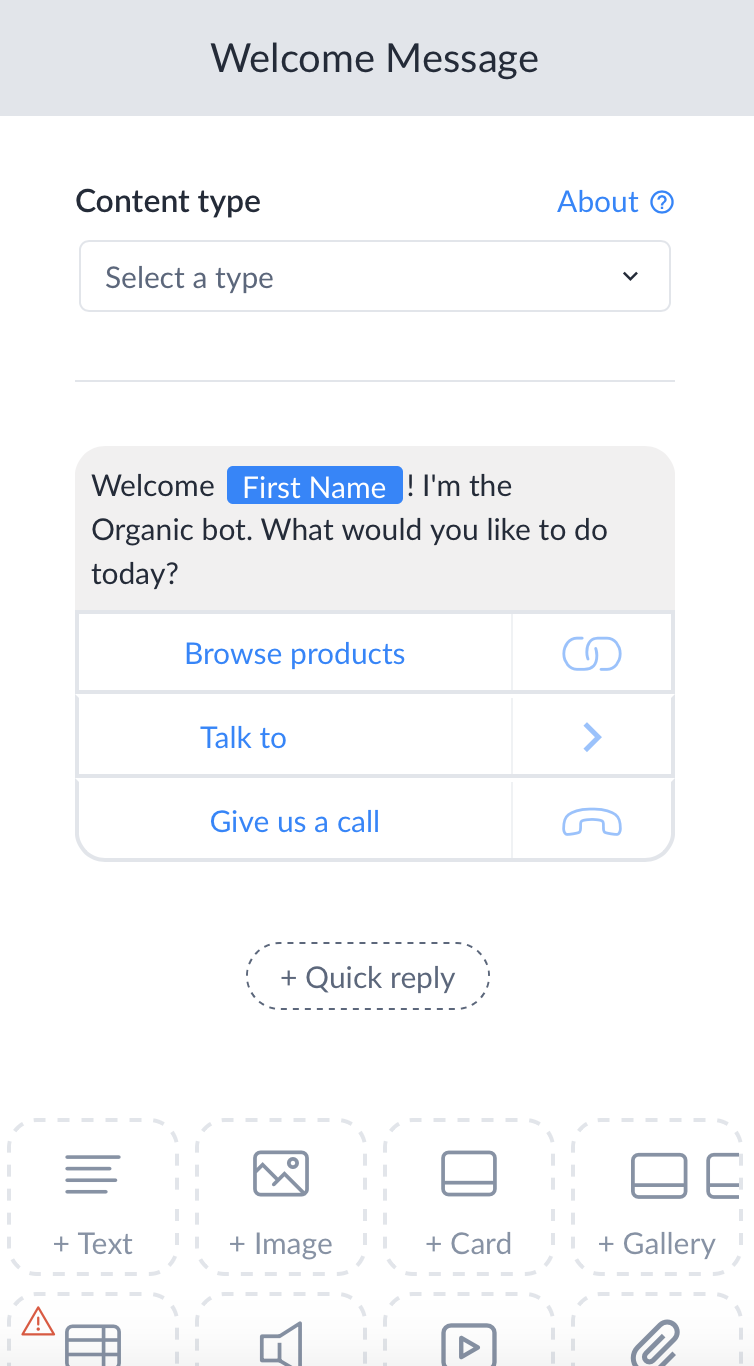 It's easy to customize messages with personal data. In the screenshot above, I've customized the message to deliver a personalized response that mentions the customer's first name.
You can also send messages, redirect users to a website, create submenus, and much more. This is one of the most full-featured and user-friendly aspects of ManyChat.
ManyChat Review: Cons of ManyChat
Like any platform, ManyChat has some downsides. Here are some of the flaws I noticed when using it:
Workflow
While ManyChat's workflow isn't bad, it does take some getting used to. It has a similar interface to many other platforms, but the way that you move between sections and edit things isn't immediately intuitive.
That said, ManyChat does provide a free video course that will help you get used to the interface. Once you've familiarized yourself with the layout, it'll be a breeze, but that initial learning curve can be somewhat steep.
Limited Free Functionality
Like any good freemium software, ManyChat gives you everything you need in the free version. You'll be able to build full chatbots and use them without upgrading.
That being said, there are some really handy features that are only available with their Pro plan.
For example, there's a functionality called Notify Admins that notifies your team when people take specific actions. You can use this to alert your team when someone starts a live chat conversation. It's not totally necessary, but it's really helpful.
You might find the free version has more than enough for you, but keep in mind that you will be dealing with limited functionality.
ManyChat Review: ManyChat Ease of Use
As I mentioned above, ManyChat is pretty easy to use but requires a little bit of time and experience to get accustomed to the way it works.
Once I had spent some time with the interface, I was creating and testing chatbots without an issue. The sidebar on the left hand side is handy for jumping between tabs and easily accessing just about anything.

And like I said, the tutorials that ManyChat provides are helpful when it comes to first learning how to set things up.
Once you get the hang of it, you can do almost anything. For reference, check out some of the example bots that ManyChat displays on their site.
Overall, ManyChat was a bit more challenging than other chatbot platforms I've used.
ManyChat Review: Recommendations to Others Considering ManyChat
There are some important things to keep in mind if you're pitting ManyChat against its competitors.
First, make sure to try out the free version for a bit. Try making one or two test chatbots with it to see if it meets your needs.
Second, consider if you want any features besides chatbot creation. ManyChat has some other perks like popup builders and message broadcasting, so you might want to browse those additional features if you need other marketing tools.
Finally, think about how much control you want over your chatbots. You can easily modify almost any element of your bot with ManyChat, but you can't go in and modify the code or anything like that.
ManyChat Review: ManyChat Pricing Overview
ManyChat has a unique pricing plan with two tiers: Free and Pro.
The Free plan includes all of the basic features, including:
Unlimited subscribers
Two drip sequences
Audience segmentation
Visual flow builder
Four growth tools
and more
With the Pro version, you get a serious upgrade
Unlimited drip sequences
Unlimited audience segmentation
Unlimited growth tools
A/B testing
Buy buttons
Email marketing
and more
So why is their pricing unique? Well, the price of the Pro plan changes based on how many subscribers you have.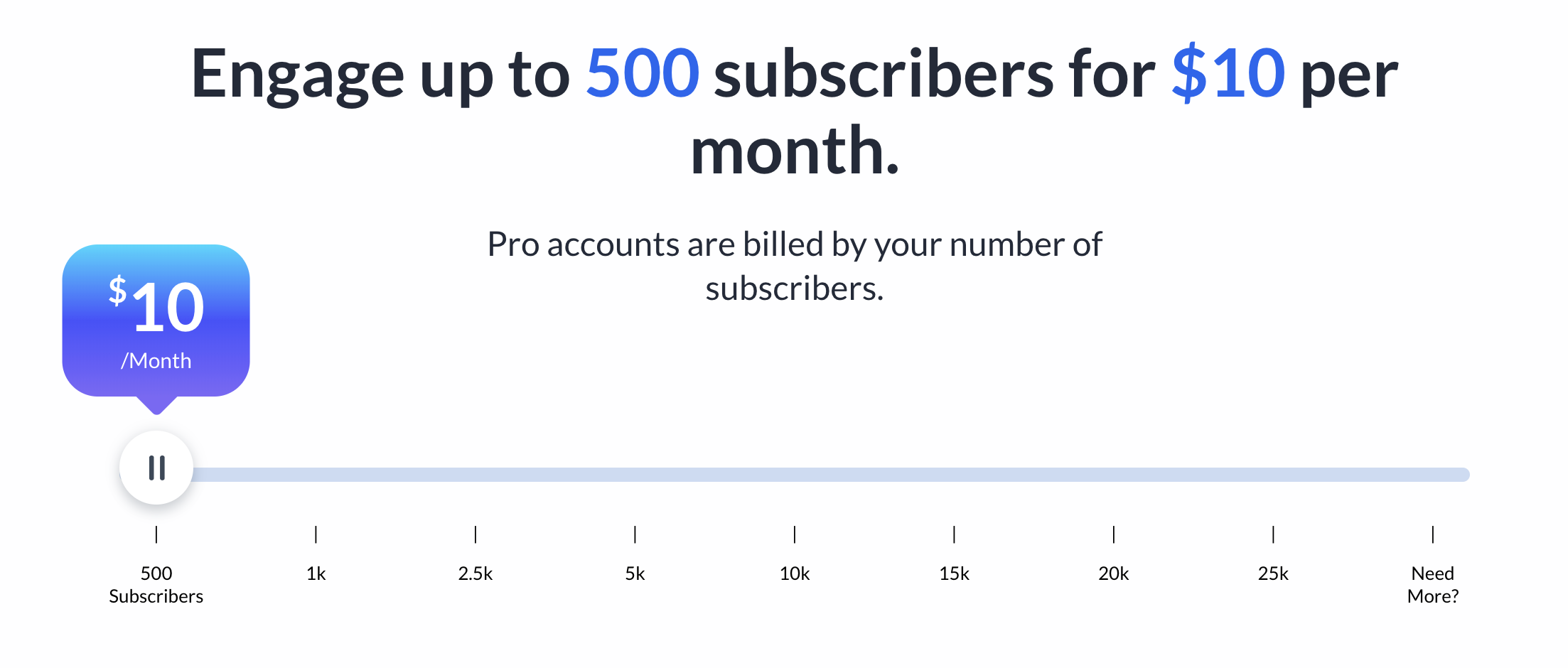 This allows businesses of different sizes to pay for the Pro plan according to how much engagement they're getting, which is really nice for smaller businesses who don't need an enterprise solution.
ManyChat Review: ManyChat Customer Support
ManyChat provides support through various avenues that all address different issues.
You can access the full gamut of support options by clicking the Help tab: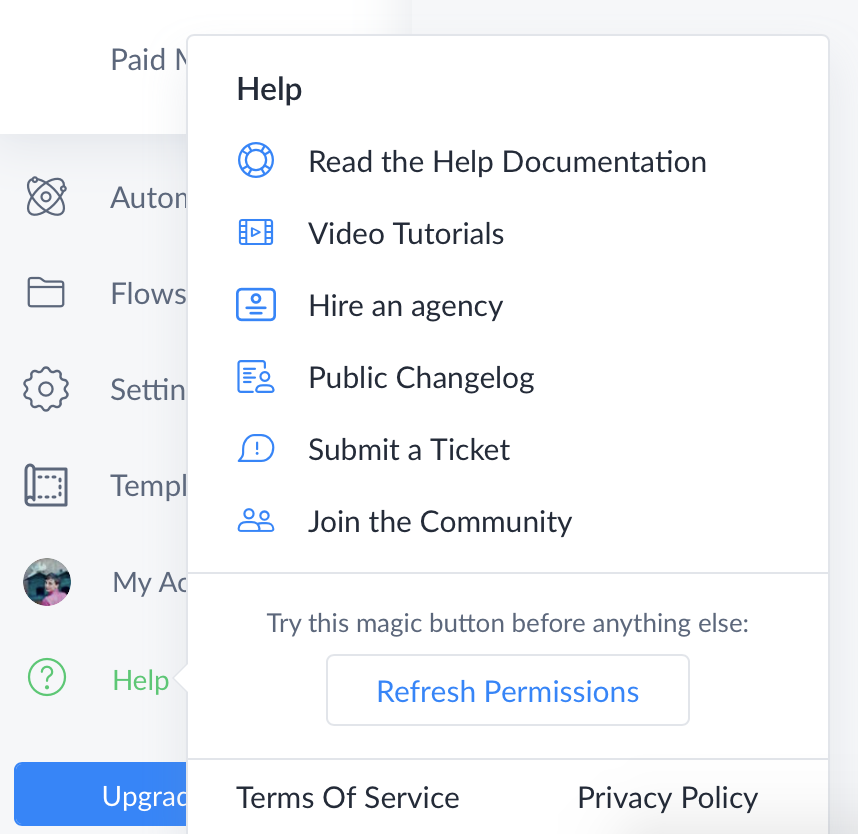 First, there's the help documentation that covers a lot of ground. Whether you want to know how to use ManyChat's features or just need to troubleshoot something, you can probably find it here.
You can also submit a ticket directly to ManyChat to speak to their support team.
In addition, you can join the ManyChat community to interact with fellow users, ask questions, and even get ideas and inspiration.
ManyChat Review: Frequently Asked Questions
Is ManyChat free?
ManyChat offers a free plan that includes all of the basic features you need to get started with building Facebook Messenger chatbots, including unlimited subscribers, two drip sequences, audience segmentation, visual flow builder, and more.
Is ManyChat safe?
Yes! ManyChat is a 100% secure platform with tons of positive reviews. It's fully encrypted, and you can read their entire privacy policy .
Does ManyChat work with Instagram?
No. ManyChat only works with Facebook Messenger as of the writing of this article. It does not work with Instagram or any other social media platform.
How do I set up ManyChat?
ManyChat walks you through the setup process when you first use the software. Simply follow the steps provided, and if you still need more help, you can consult the tutorials that ManyChat provides to find out what to do and/or troubleshoot your specific issue.
How do I get more subscribers on ManyChat?
Since ManyChat is just a chatbot builder, you'll have to do the hard work of marketing your Facebook page if you want to get more subscribers.
However, you can and should optimize your chatbots within ManyChat. A great way to do this is to see how people are interacting with your bot and then modify your bot to reflect those interactions, giving your users a better experience.
ManyChat Review: Final Analysis
All told, ManyChat is a well-built chatbot platform that will reward those who learn all of its nooks and crannies. Once you've mastered ManyChat, you can do a lot with it.
I found it easy to get started making chatbots almost immediately, though it did take me a little longer to figure out some of the more advanced tools. Once I understood all of that, it was fairly natural to build complete bots.
Again, it's not as immediately intuitive as other platforms, but it still has much to offer businesses seeking to do more with Messenger. Its chatbots are powerful and capable, and you can automate almost everything.
So if you're considering making Facebook Messenger chatbots for your business, I think ManyChat is worth a look. You can sign up for the free plan on ManyChat's site and see if it works for you.