Chatbot channel(s): Messenger, website chat
Overall rating (out of 5 stars):

Price (from $ to $$$$$):

Today, I want to introduce you to ChatterOn, a tool that I've used and experimented with extensively in my own businesses.
ChatterOn is an AI chatbot platform that focuses on providing accessible yet powerful tools that anyone can use.
You don't have to know how to code to use ChatterOn (I don't), and you don't even have to have previous experience with chatbots (I had only a little). You'll have everything you need right within the ChatterOn software.
It's also focused on efficiency. Their homepage claims that you can build a bot in under 5 minutes!
I thought I'd take a look at ChatterOn, review its main features, and see how it stacks up against its competitors.
So let's take a look at what ChatterOn has to offer!
ChatterOn Review: Main Features of the Chat Platform
The majority of marketing chatbot builders look more or less the same. They have a typical left-sidebar layout and dedicate most of the screen space to the tab you currently have open.
They also tend to approach bot building in a block-based fashion, where you create blocks of content within a specific tab.
But ChatterOn takes a different approach from most chatbot programs.
How? It uses a visual chatbot editor: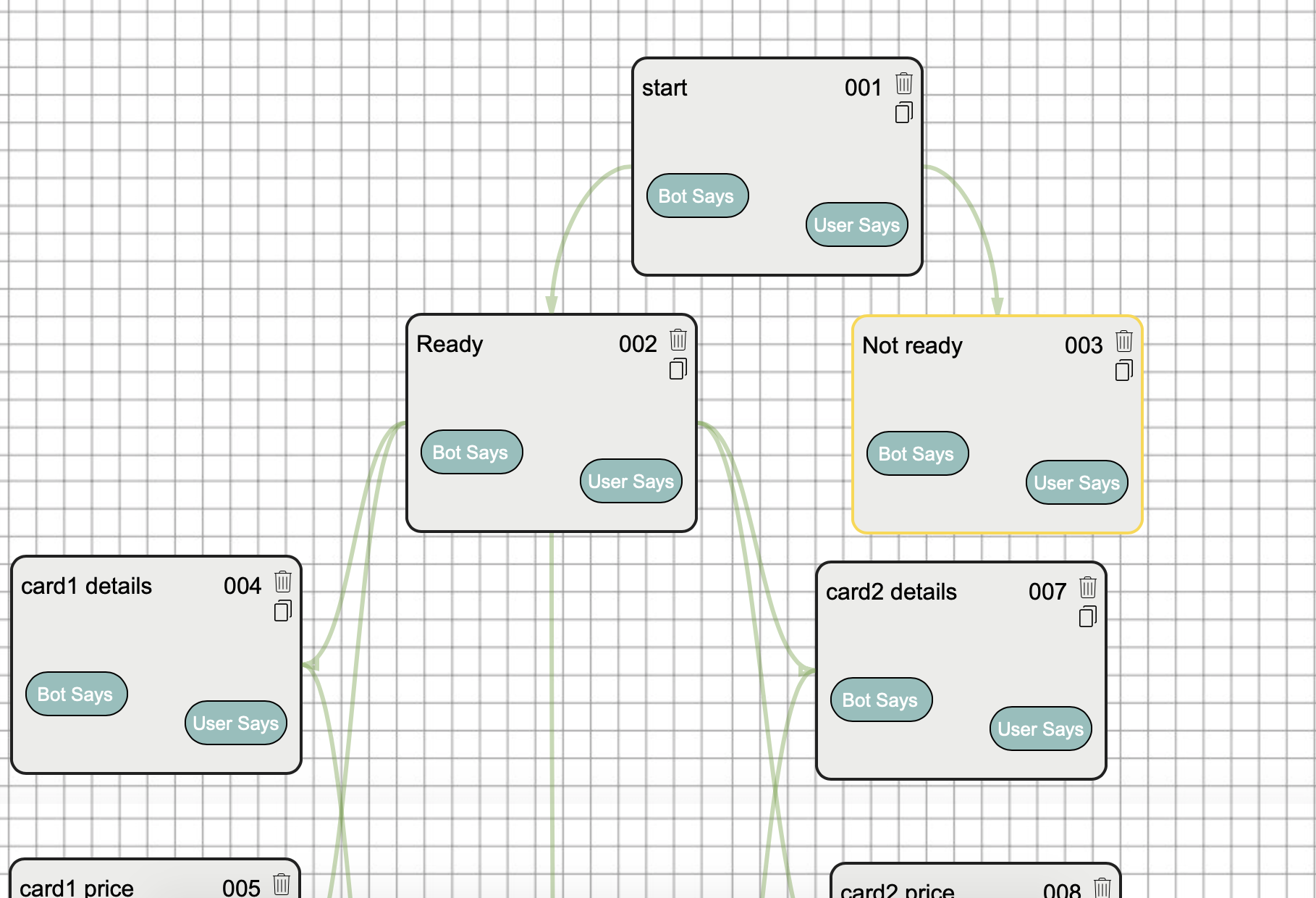 Most chatbot programs have dedicated sections to each part of the bot, but few feature a complete visual editor like ChatterOn does.
Of course, ChatterOn has several other features that help you build chatbots, but the visual editor serves as the center of it all. This is where you'll be creating your dialogues and arranging your conversational paths.
Each module can be moved around the grid so you can lay things out exactly how you want. This is a nice touch that gives you a lot of freedom to modify the layout, which is something that no other platform really offers.
For example, if you're building a simple welcome message, you can organize the message sequence in the way that best suits your workflow.
You might arrange it like this: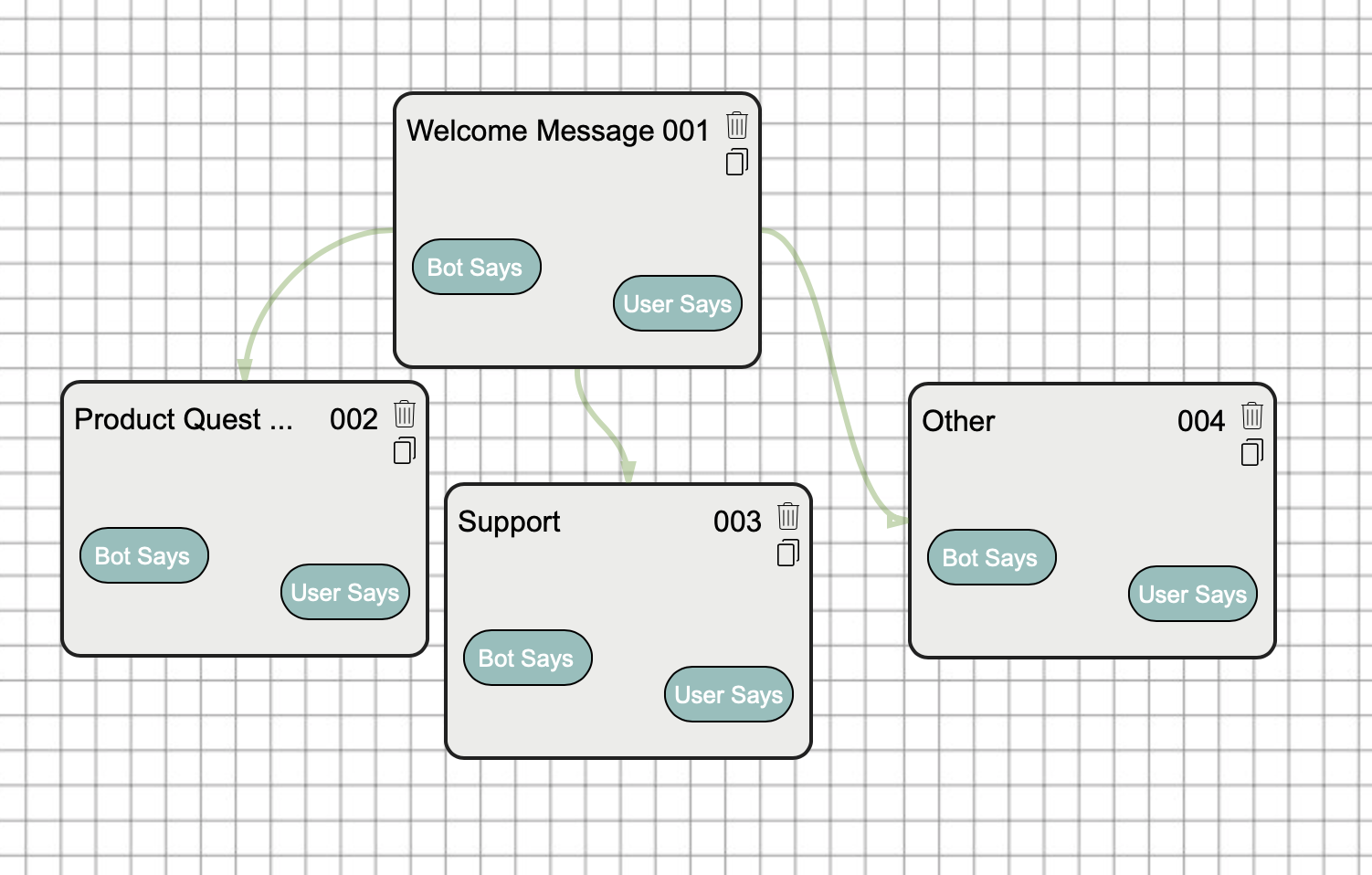 Or maybe like this:

Or how about this:

The point is, there are endless ways to arrange each sequence. It can be really satisfying to build branching sequences that are easy to follow thanks to the connecting arrows.
This also helps with building the flow of the chatbot, especially if you're creating a more in-depth bot. You'll be able to keep track of every bit of dialogue, and you can easily see where the pathways go thanks to the green pathways that connect the blocks in the visual editor.
Each module is broken up into two parts: one for the bot action and one for the user action.
First, you choose what the bot will say and what options it will give the customer.
You can create a static message that will stay the same all the time or a dynamic message that will change based on contextual parameters.
Then you can create either Buttons or Quick Replies depending on where you want to send your users. Buttons are basically clickable URLs that can take users to places like your website, while Quick Replies keep the conversation going and offer in-chat options.
It's easy to create either of these. Here I created a basic menu for users who have questions about products, support, or something else.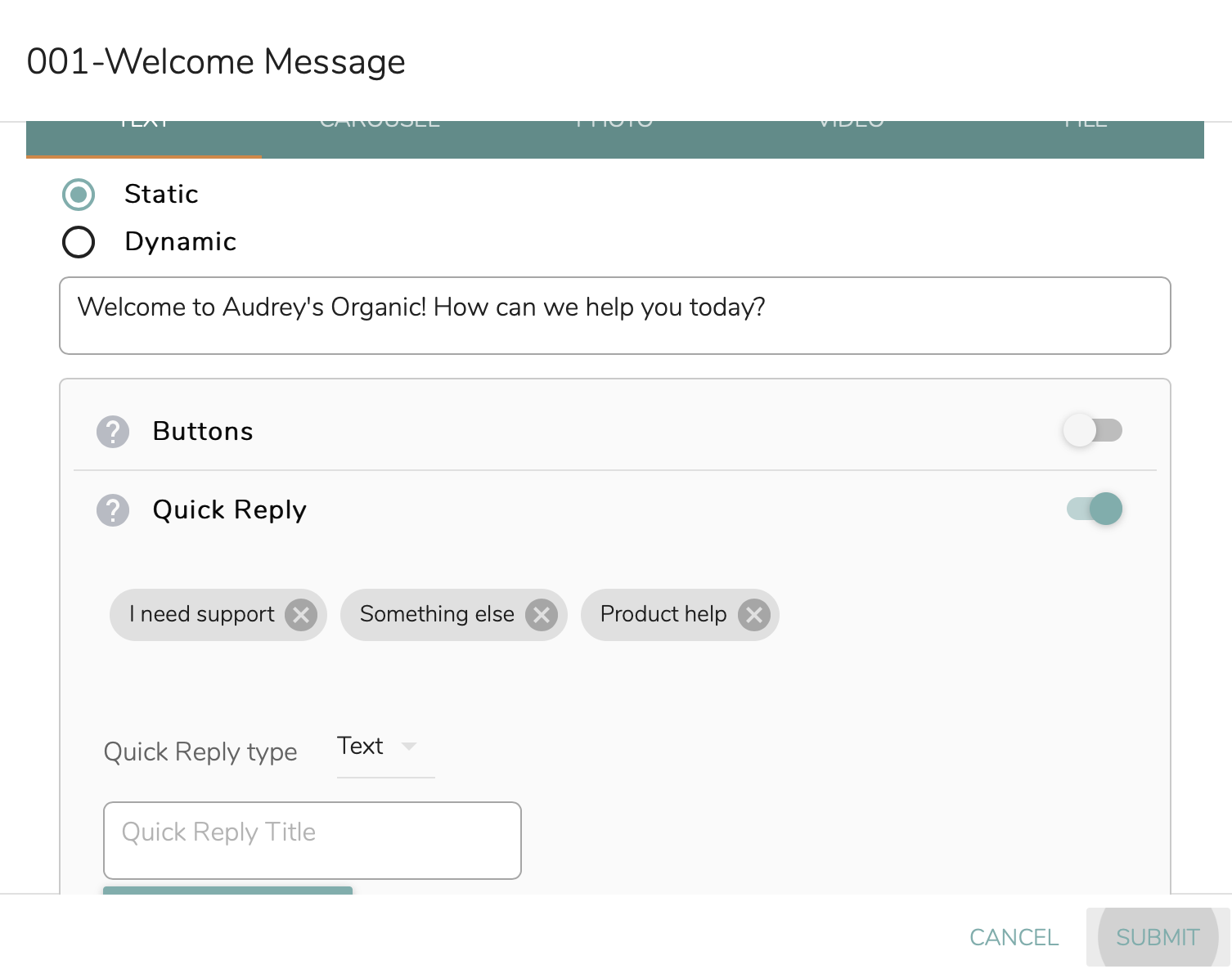 After you've decided what the bot will do, you can move on and decide what the user can do.
This is where you create the flow of the chatbot. The way that it works is pretty simple. You create menu options and then either connect those to an existing module or make a new one.
You can see here I've connected the three user responses to their corresponding modules: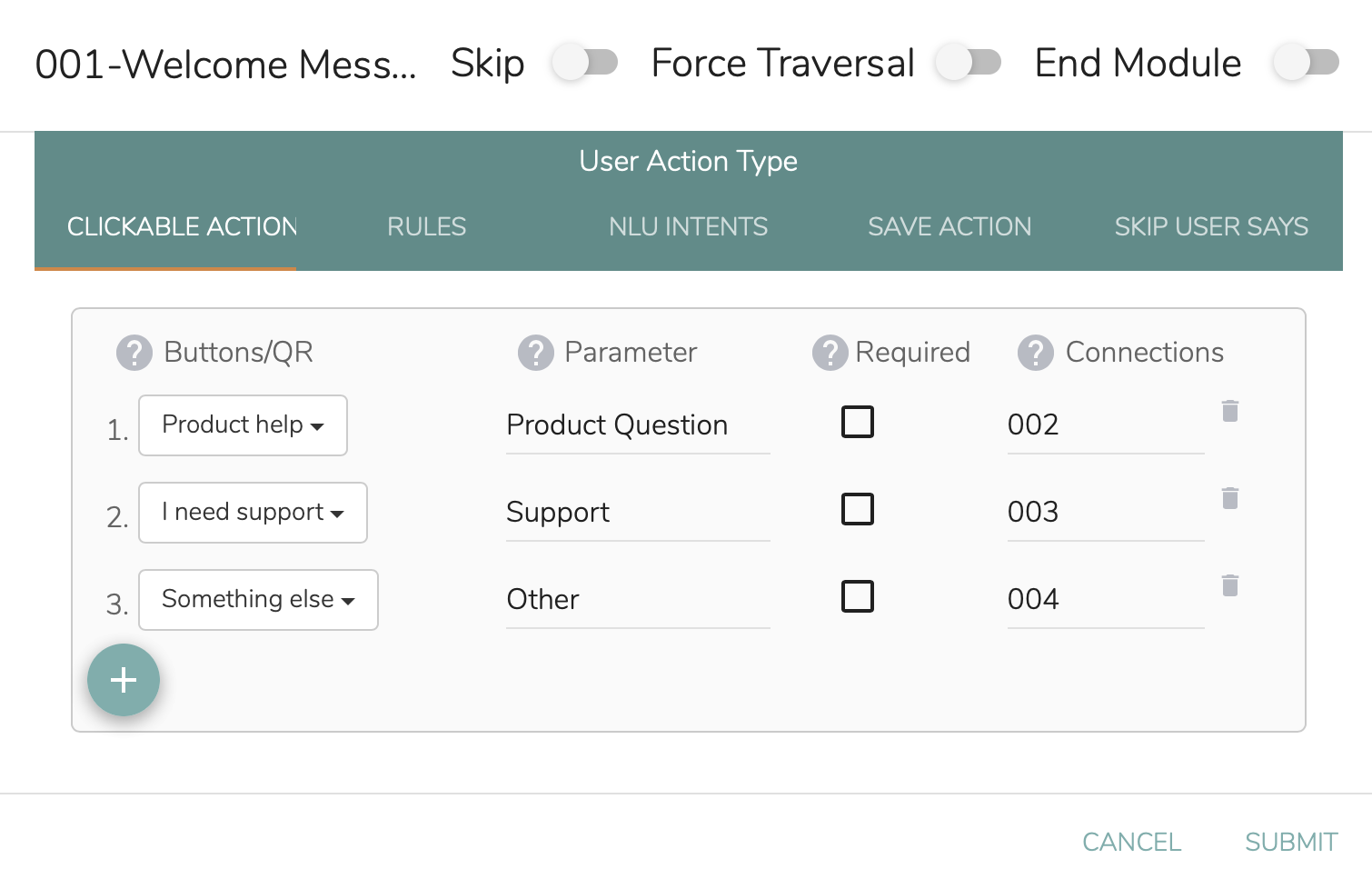 Each connection leads to a new module, so in this case, if someone clicks "Product help," they'll be directed to module 002, which has more details about the products.
This is the basic workflow of ChatterOn. You create one module at a time and automatically connect them based on how you want to link them together.
Conveniently, you can also create brand new connections within the User Action Type pane, and you can even send people back to the previous section: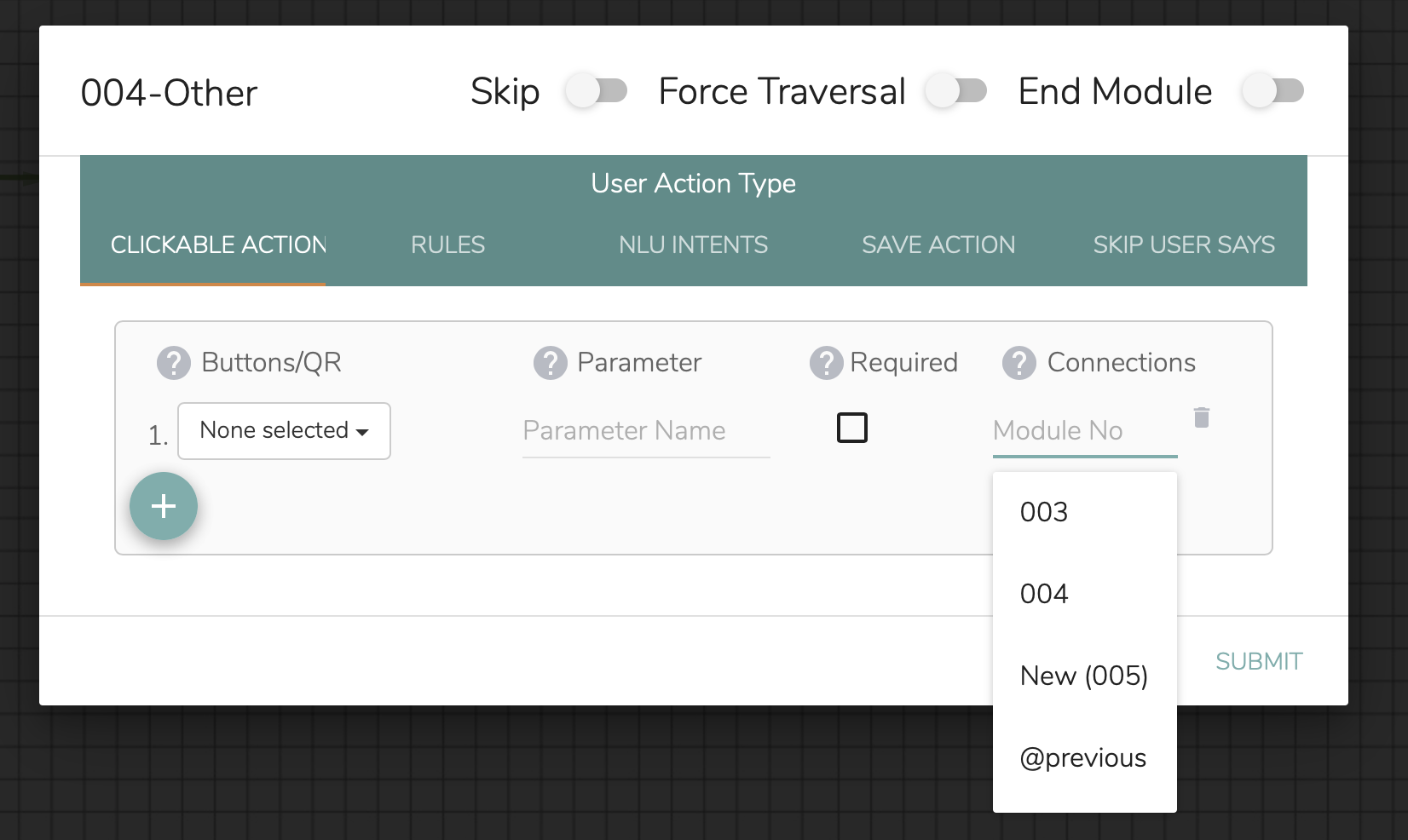 There are many more features packed into ChatterOn, but those are the basics that will get you started building bots.
Pros of ChatterOn
ChatterOn is unlike a lot of other chatbot platforms I've used, so it has some pretty unique advantages. Here are a few that caught my eye:
Visual Editor
Obviously the visual flow editor is the most striking element of ChatterOn, and it's also one of the handiest. It's incredibly intuitive to create new modules and connections and manually drag them into a configuration that works for you.
This also makes longer, more complex bots really easy to handle and navigate.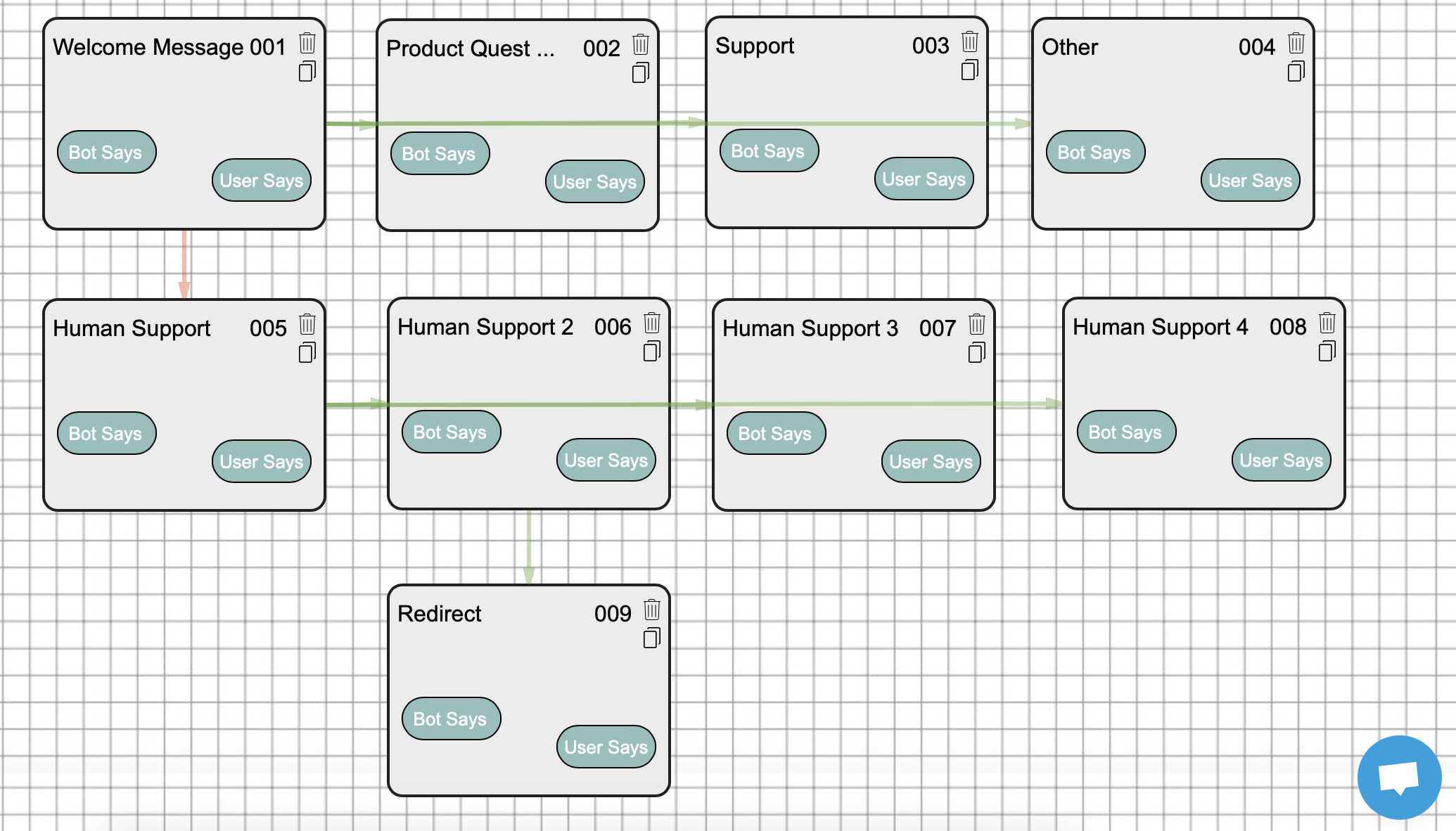 This gives you a bird's eye view of your entire chatbot. If you're a visual person, this is a huge bonus.
Convenience
With its visually-driven interface and simple action panes, ChatterOn takes a unique approach to solving problems that some chatbot platforms have. As a result, it's extremely convenient.
You barely have to switch sections while you're working on one thing, so you don't often lose focus or misplace something. For example, when you're creating a chatbot, you'll likely stay almost entirely in the flow editor.
Depth
ChatterOn has a fair amount of depth to its features. You can just use it to create simple, responsive bots, but you can also get in-depth by grabbing API information or take a peek at your analytics.
Another advantage is that you don't have to know how to code to utilize all of ChatterOn's advanced features. This makes it quite accessible no matter your skill level.
Cons of ChatterOn
Since ChatterOn is so unique, it has some disadvantages that other platforms won't have. While none of these are complete deal breakers, they are downfalls you should consider.
Bot Testing
The way you test your chatbots with ChatterOn is different from how most platforms handle it.
Typically, you'll get a chatbot icon in the lower right hand corner that allows you to test out your bot right from the software.
If you've paid close attention to some of the screenshots I've shared, you might have noticed that ChatterOn does have such an icon. However, it's not a bot tester––instead, it's a chat box for ChatterOn support.
ChatterOn doesn't actually have a way for you to test your bot inside of the software. Instead, you have to connect directly to Facebook, subscribe to your bot, and then test it from Messenger.
On top of that, I had some issues connecting to Messenger even though it was properly connected in ChatterOn.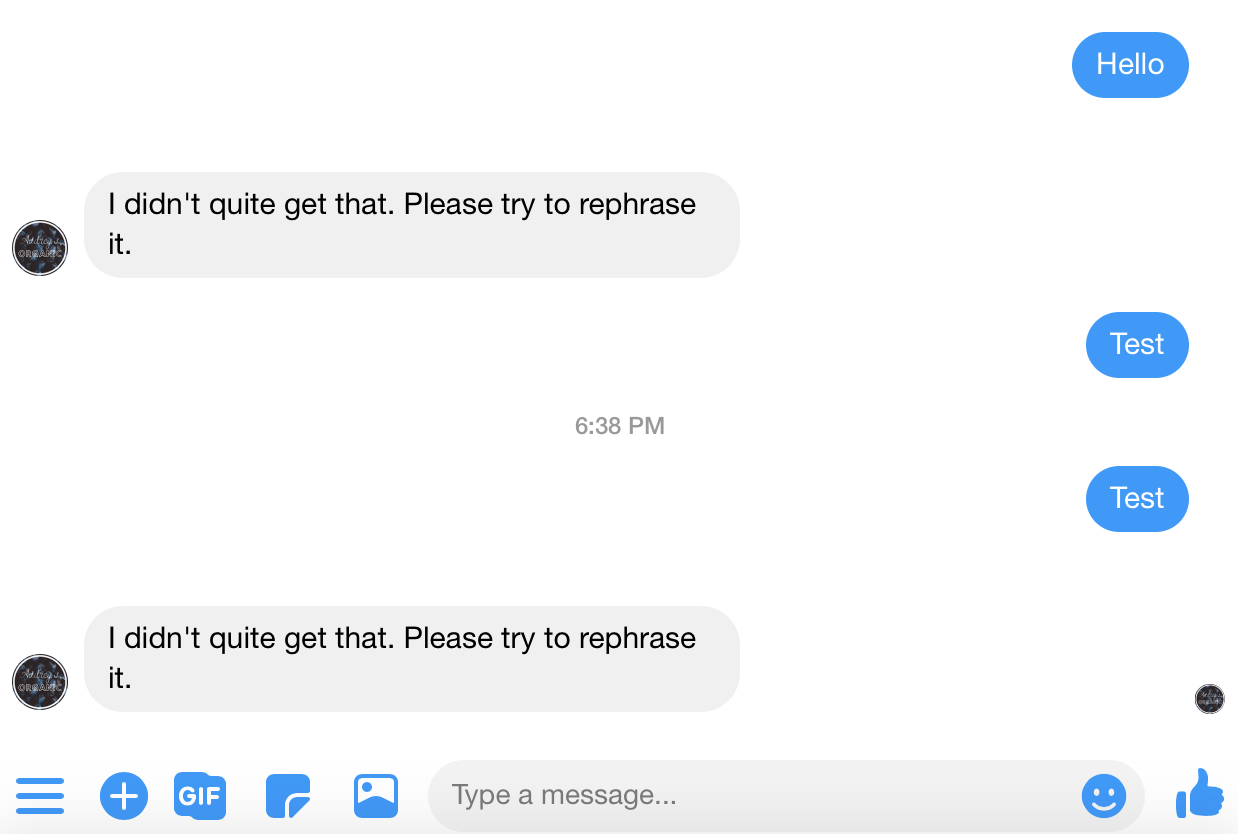 All in all, ChatterOn's feature set would be much more appealing if it had a test chat box like most other platforms.
Limited Features
ChatterOn technically does have a lot of features, but the problem is that it's missing a lot of features that its competitors have.
For example, if you want to allow users to type in their own responses, you'll find that the process is pretty unintuitive. This can be a big part of building chatbots, so you'll have to spend some time with ChatterOn if you really want to get the most out of it.
ChatterOn Ease of Use
Overall, I found ChatterOn very easy to use. The visual editor is a natural way of making chatbots, and after a while you get into the rhythm of building and connecting modules.
There are some hitches that cause you to stop in your tracks, so it's not seamless. Like I mentioned, allowing for freeform responses can be tricky and takes away from the experience a bit.
On the other hand, ChatterOn is super accessible, so no matter what your chatbot experience is, you can pretty easily dive into it right away.
Right off the bat, you can choose from templates that are designed to make things as easy as possible.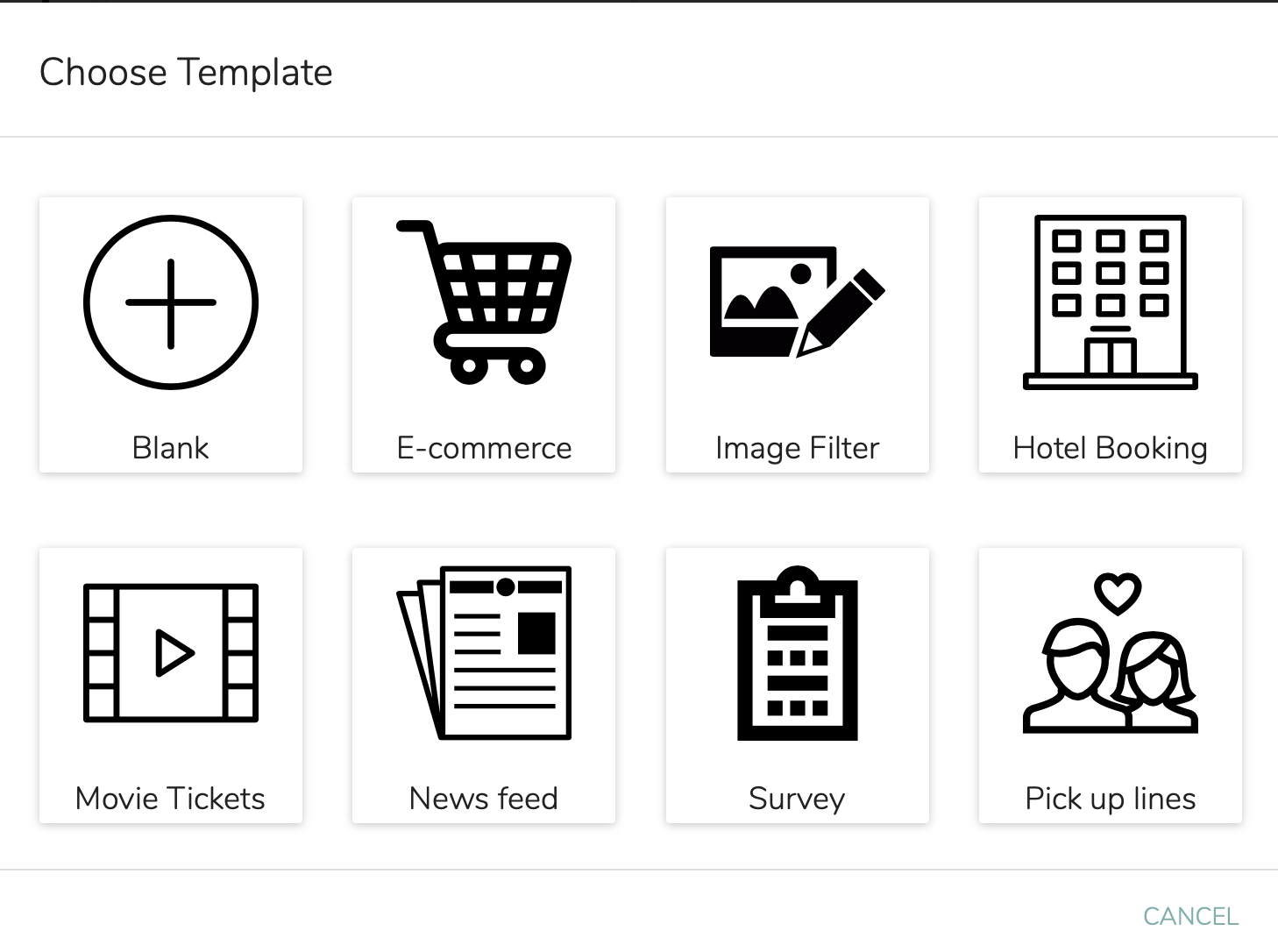 You can also access video guides that are helpful in setting things up: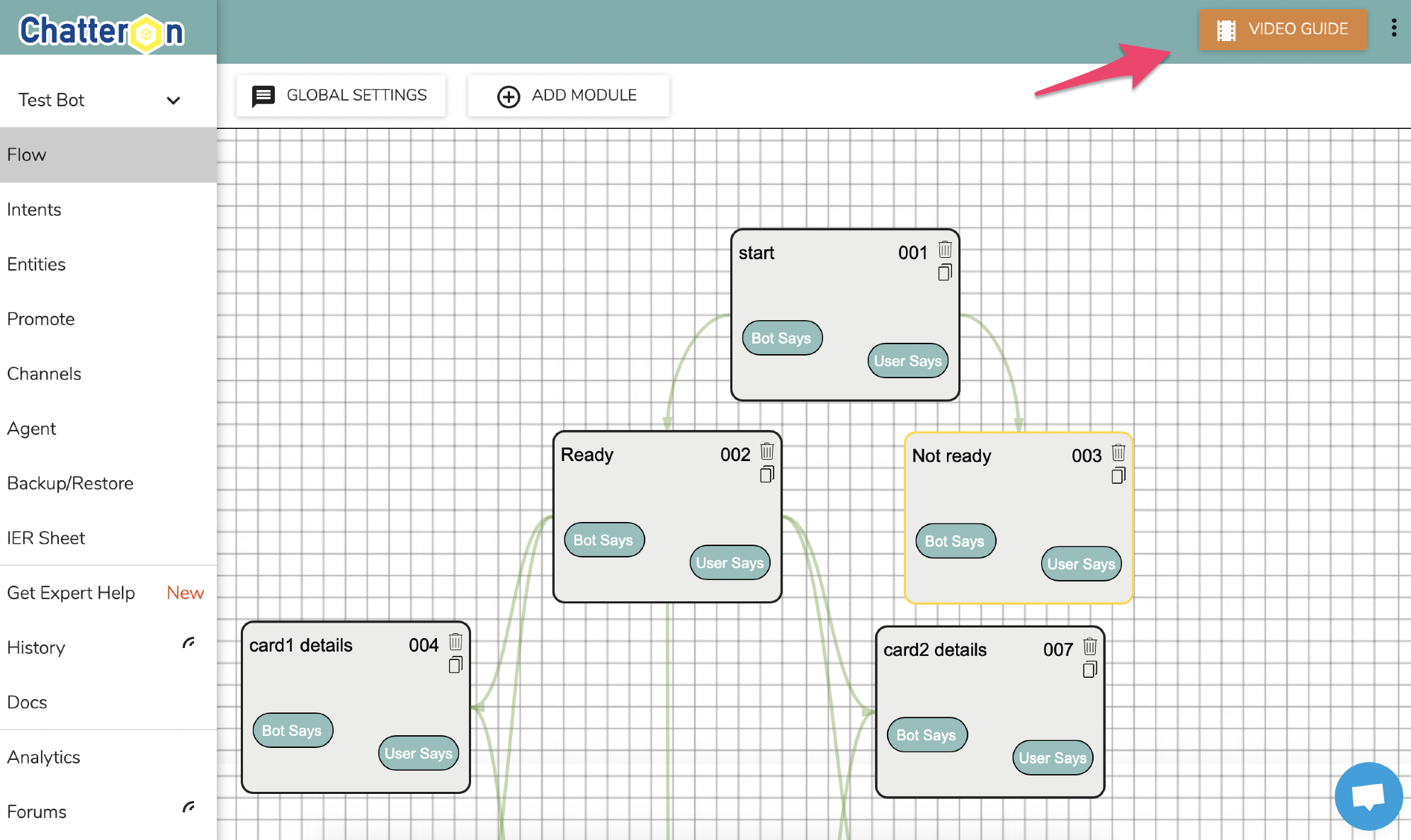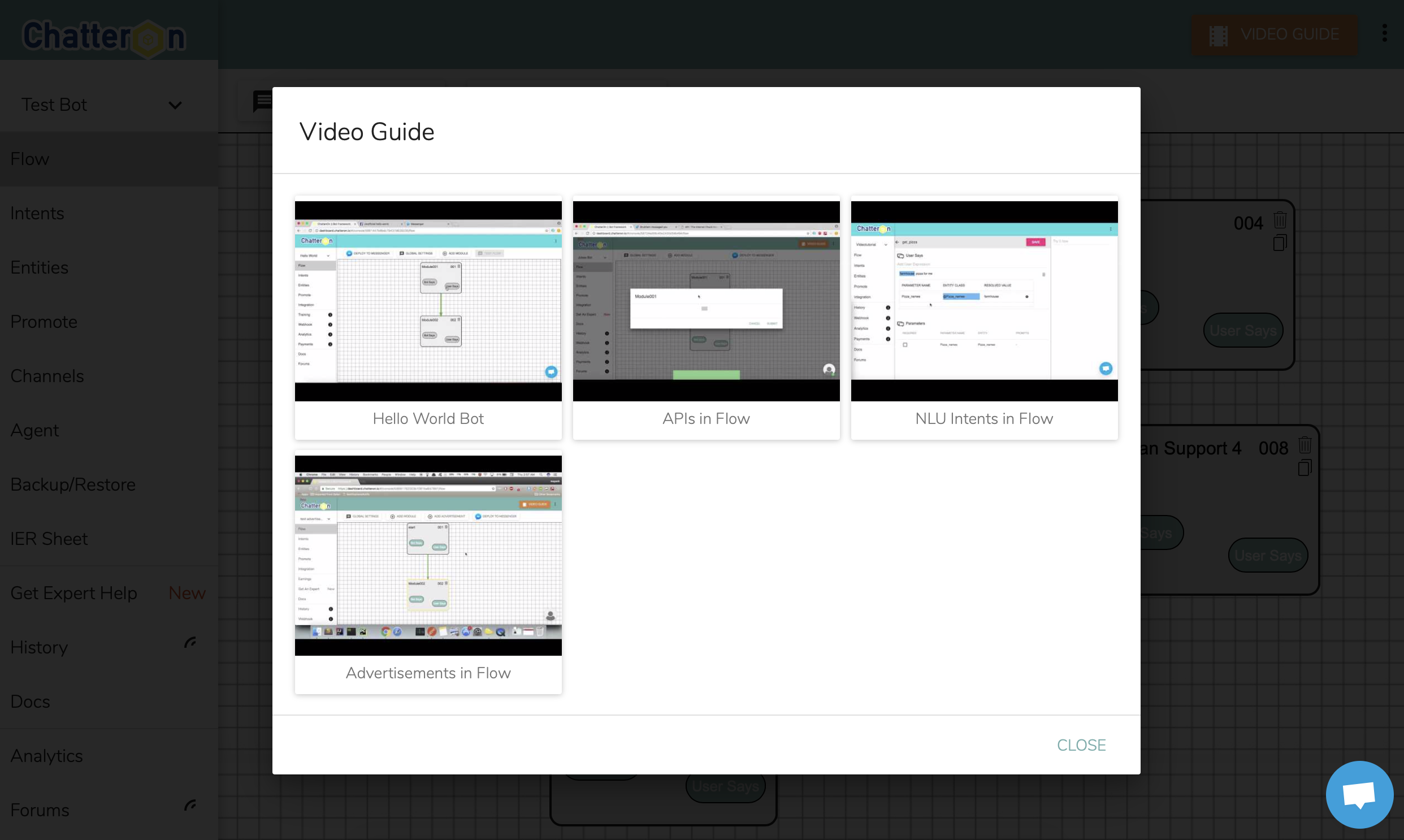 All things considered, ChatterOn is a simple platform that gives you visual tools to build chatbots in a way that few other platforms do.
Recommendations to Others Considering ChatterOn
A couple of final notes on ChatterOn:
If you're brand new to chatbots and want to make some simple bots for your Facebook page or website, ChatterOn is a great jumping-off point.
If you're a larger business, ChatterOn might not be ideal for you since other platforms will offer you more advanced functionalities.
ChatterOn Review: Pricing Overview
ChatterOn is different from other platforms in almost every way, so it should come as no surprise that they also have a unique way of pricing.
Instead of billing you monthly, they bill you based on the number of messages. I haven't seen this pricing strategy before, at least not from any other chatbot software.
They offer three tiers: Startup, Business, and Enterprise.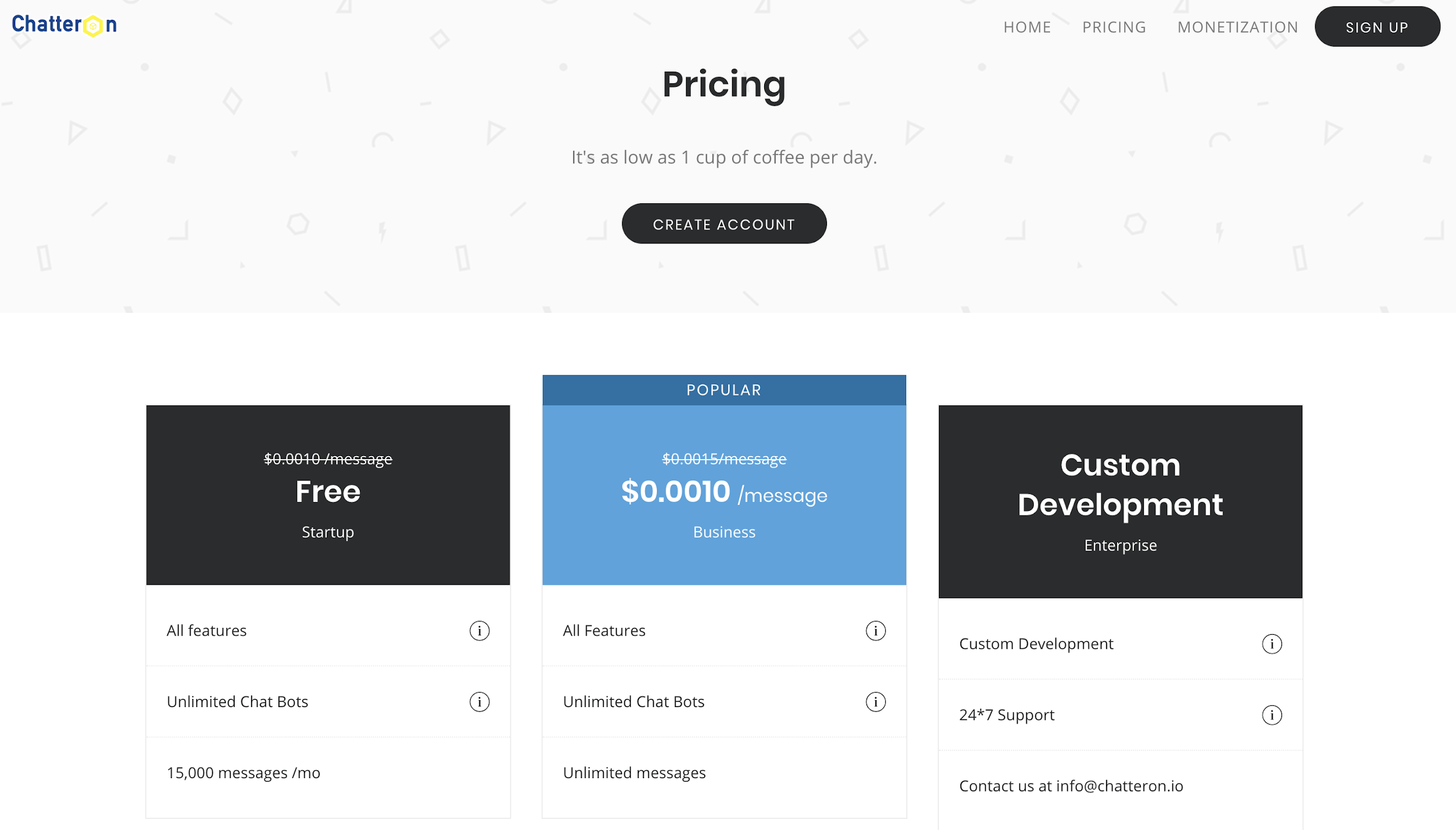 The Startup is their free plan and includes all basic features. You also get 15,000 messages a month.
The Business plan says it gives you "unlimited messages," but you do have to pay per message. The current rate is $0.0010 per message, which equals out to $1 for 1,000 messages. Again, this is a strange way to charge, so it's hard to tell how competitive it is.
ChatterOn also offers an enterprise option that unlocks custom development and 24/7 support.
ChatterOn Customer Support
If you're on the basic Startup plan, you can contact support by clicking on the chatbot icon within ChatterOn.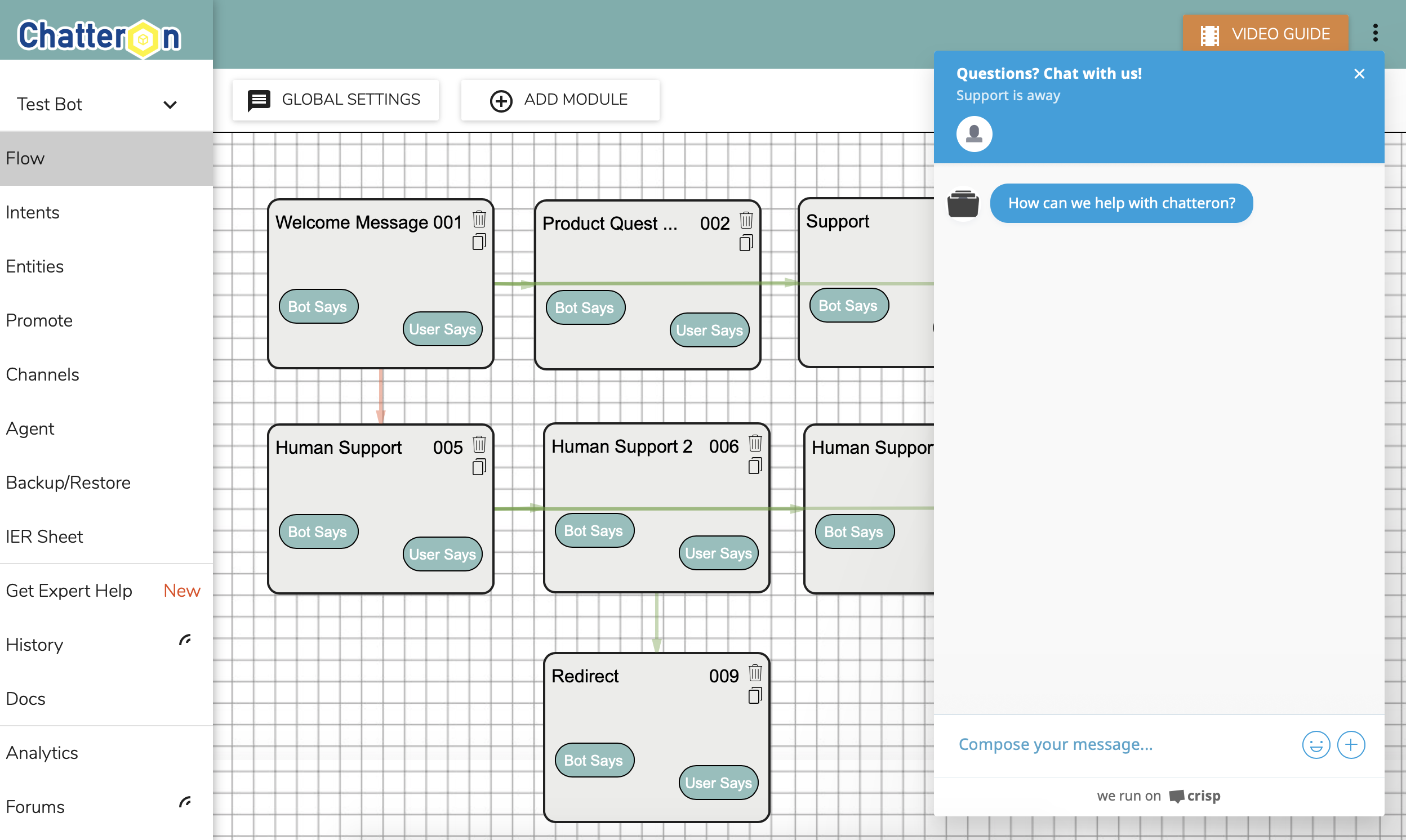 The Enterprise tier is the only one with 24/7 support, and presumably you receive other options to contact their support more quickly.
ChatterOn Review: Final Analysis
ChatterOn is certainly one of the most interesting chatbot options I've reviewed.
It has incredibly unique features that you won't see on most other platforms, but it also has some pitfalls that prevent it from being a true powerhouse.
I'd recommend ChatterOn to entrepreneurs and smaller businesses who want an easy way to make simple chatbots. You can still get technical if you want, so there's room to grow.
Interested? Head on over to ChatterOn and take it for a spin.