Daden specialise in immersive training and learning systems, built environment visualisations, visual analytics and creating interactive virtual personalities (chatbots). Our virtual world and chatbot based solutions help organisations enhance and improve their business. Our clients range from the private sector to central and local government, education, public safety, defence, health and care within the UK and abroad.
Case Study
Daden chatbots enables your website to talk to your customers, building trust and empathy and increasing usage and sales. Using natural language, and speech to text technology, our chatbots can engage visitors on your website in conversation and load relevant information and web pages to answer their specific queries. Daden chatbots can provide:
your visitors with a different and distinctive experience, help them find key information quicker and reduce the work load on your staff saving you time and money. Studies have shown that the average cost-per-contact using a chatbot is under 60p – compare to £4 or more for telephone or live chat services.
information about your visitors and the questions they are asking, increasing customer insight and even help you sell.
a consistent message to your customers 24/7 via your website and other platforms such as email, social media, SMS, instant messaging and even virtual worlds
support to your staff enabling them to focus on more complex queries and tasks
Key features of a Daden chatbot:
Rapid Setup/payback – lightweight to implement
Easy to maintain and update – web based management screens
Requires minimal staff training – Form based editing for knowledge entry, so easy to learn
Presented as a web-service, so the user interface can be whatever you want – from simple text box to a Flash animated character
All conversations stored for analysis and to help you understand your client base and instantly update your chatbot's knowledge
Can access web services to answer questions with live data from your or public systems
You can choose how your chatbot is hosted (e.g. by Daden or not)
Multilingual support
Form based editing for knowledge entry, so easy to learn
Conduct surveys and collect data
Low cost solution with a fixed price and no monthly fees
A Daden chatbot can be represented however you want – from a plain text box or static image, to a fully dynamic avatar immersed in a virtual environment. They have significant applications in the area of e-learning and improving accessibility.
LISA (Learning & Information Services Chatbot)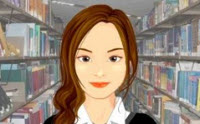 The University of Wolverhampton's Learning and Information Services (LIS) approached Daden for a chatbot. They already had a live chat and information service, called ASSIST 'Available Simple Supportive Information Service Today' but they wanted "a tool to support its users and as a way of improving access to web-based information.
The main criteria for the chatbot was to be lightweight to implement and maintain, easily controllable, require minimal staff training and be low cost.
The resulting chatbot, named LISA, has over 2000 cases and provides:
real-time interaction and navigation to resources and services provided by LIS
supplements the ASSIST online chat service, by dealing with routine information enquiries
promotes content on the University of Wolverhampton's website
directs visitors to website content not fully being utilised
an alternative front-end/access method to content on LIS website, by offering an interactive service to enhance the passive web pages.
LISA is achieving a "good success rate in terms of responding to queries; and the user surveys, both pre-launch testing and beta, show that it is popular with those who use it"..."the fact that users have spent time engaged in 'small talk' with the bot aids in the site's overall stickiness; this 'fun' element means they stay longer on the site and by simple interaction with the chatbot see more of what is available".
Positioning Statement
Daden Limited is an award winning, virtual worlds and AI solution provider based in Birmingham, UK. We offer consultation, design and build services in virtual worlds, and have special expertise in the areas of web and real world integration, visual analytics and creating interactive virtual personalities.
Daden chatbots:
can be used as non player characters in a simulation and immersive learning environment
are available 24/7
can be multi-lingual
are easy to maintain
can be hosted on different platforms including Gtalk, mobile phones, twitter, websites, SMS, email, facebook
can integrate with databases and applications
can hand over to a live operator system
provides detailed logs of user conversations with the chatbot
Daden's chatbots can provide visitors with not only a different and distinctive experience, but also help them find key information quicker and help reduce the load on your human staff. A Daden chatbot gives your website an opportunity to talk to your customers and to respond to their questions using natural language. Combining leading edge avatar and text-to-speech technology with our own Discourse conversational engine we can offer organisations and their customers a variety of new ways of interacting with you.
Read:
Daden chatbots also have significant applications in the area of e-learning and improving accessibility. There is no reason why chatbot need be limited to speech conversations on the web. Chatbots are ideal to provide virtual characters within learning exercises – either as incidental or lead characters.
Daden have used chatbots in this manner in a number of projects including a project to train care home managers where the chatbots were used to create senior management and stakeholder figures with whom the students had to interact in order to manage problems.
Chatbots by Daden
Read more