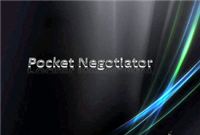 The Automated Negotiating Agents Competition (ANAC) advances the development of intelligent agents with autonomous negotiation skills. The competition will be held in spring 2010, with the finals being run during the AAMAS 2010 conference. The reward for the winner of the competition is €1500.
The purpose of the competition is to steer the research in the area bilateral multi-issue closed negotiation. Closed negotiation, when opponents do not reveal their preferences to each other, is an important class of real-life negotiations. Unfortunately, the game-theoretic approaches cannot be directly applied to design efficient negotiating agents due to the lack of information about opponent. Instead, heuristic approaches are widely used to design negotiating agents.
Negotiating agents designed using heuristic approach need extensive evaluation, typically through simulations and empirical analysis, since it is usually impossible to predict precisely how the system and the constituent agents will behave in a wide variety of circumstances. Furthermore, there is a need for the development of a best practice repository for negotiation techniques. That is, a coherent resource that describes which negotiation techniques are best suited to a given type of problem or domain. To facilitate research in the area of bilateral multi-issue negotiation the GENIUS system. is developed. It allows easy development and integration of existing negotiating agents. GENIUS can be used to simulate individual negotiation sessions as well as tournaments between negotiating agents in various negotiation scenarios. It allows the specification of negotiation domains and preference profiles by means of a graphical user interface. GENIUS can be used to train human negotiators by means of negotiations against automated agents or other humans. Furthermore, it can be used to teach the design of generic automated negotiating agents.
GENIUS can be used as a stand-alone application as well as on a server. In the server version the code of an agent is uploaded to a server where it participate in tournaments. The agent designer is presented with a log from the analytical toolbox.
The automated negotiating agents competition has the following aims:
Design of more efficient negotiating agents
Testing bidding and acceptance strategies
Exploring learning strategies and opponent models
Collecting the state-of-the-art negotiating agents, negotiation domains, and preference profiles and making them available for the negotiation research community and the communities working in related areas
The organization chair is Prof. Dr. Catholijn Jonker. More information is available on the ANAC website.