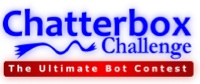 The Chatterbox Challenge (CBC) is an annual contest (named by Corey Taylor) which starts in mid March that allow any chatbot developer to participate and evaluate the intelligence of the chatbot through turing tests and much more. In 2001, CBC came to life thanks to Wendell Cowart who founded this contest with some help and effort from his friends. He held the contest for 8 years, the idea behind this contest was to give everybody (including himself) an opportunity to participate in a chatbot contest with a simple rules that meets most of chatbot developers.
Year after year, CBC got much attention from sponsors, developers and also fans from all over the world. In 2008, InfraDrive sponsored and managed the contest for 2009. Later, Wendell decided to leave the management and move the ownership to InfraDrive which is owned and managed by Ehab El-agizy.
By the time, CBC came up with many ideas in Turing Tests and new categories thanks to the supporters everywhere. It is a really fun, simple and inclusive way for all of us to practise our speech and language skills, it will be also interesting and amazing for anyone who wants to chat with the best chatbots.