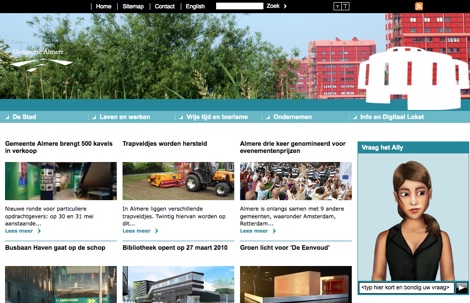 Almere is the first Dutch city to have a virtual agent installed on its homepage. Her name is Ally and she will answer any question asked on Almere.nl, giving the site a truly personal touch. The launch of Ally is a result of a successful experiment with the Almere Hyves page (alike to Facebook) and has been officially live on Almere.nl since March.
Quote of Mayor Jorritsma of Almere:
"We have chosen for a digital official in order to get our information through new channels and to new places. In other words, reach out to the customer instead of the customer needing to find us. In doing so, for example, we reach more youth through our Almere Hyves page. Ally is a successful example of how a community can use new technology to improve customer service as well as the flow of information. Thanks to Ally we are able to enhance service at several online locations at a lower cost."
The community of Almere is the first city to put an animated avatar to the test. With Ally, the city anticipates to communicate in a fast and modern way to the people of Almere and others as well as further expand its digital services. Ally never sleeps and is the most active official of the city of Almere, as she is available 24/7.
During Ally's trial run of approximately 6 months, she has answered 20,000 questions. Many questions were related to the mayor, moving, or parking. Remarkable many questions Ally answered concerned events such as the 'kermis' (a type of fair) and the Jump Up Caribbean Festival.
Related Chatbot:
Ally
http://www.almere.nl/de_stad/de_stad_content/_pid/kolom1-1/_rp_kolom1-1_elementId/1_496101