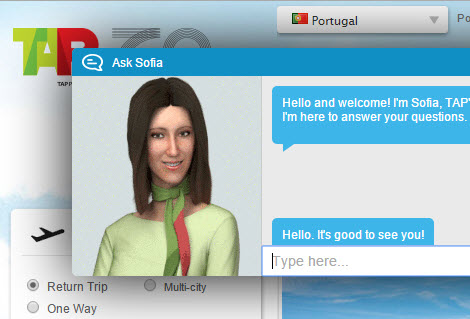 Artificial Solutions™, the natural language interaction (NLI) specialist that enables users to have a meaningful, humanlike interaction with technology, announced today that TAP, Portugal's leading airline, has deployed a digital employee powered by Teneo to strengthen its online customer service.
Already fluent in Portuguese and English, Sofia answers customer queries via the http://www.flytap.com website (Portuguese version). Her extensive knowledge enables her to respond to a wide range of questions from check-in options and baggage rules and allowances, to services for passengers with special needs and on board services for passengers travelling in Executive and Economy class. She is also an expert in TAP's air miles program, Victoria, and can offer up-to-date advice when unusual circumstances occur such as bad weather delays.
TAP wanted to offer its customers 24/7 multi-lingual assistance via the website in a way that was easy for passengers to communicate online and receive an immediate, intelligent response to every question. Artificial Solutions' technology not only allows TAP to achieve this, but the relaxed and informal way that customers can converse with TAP also enables the airline to understand customer requirements more and tailor services in the future to their needs.
With a fleet of 77 aircraft, TAP operates on average 2500 flights a week to 84 destinations in 34 countries. Sofia's extensive all-round knowledge enables her to help passengers from the moment they start planning and booking a trip with a wealth of information about flights, destinations and services when travelling with TAP. Launched just four weeks ago, Sophia is already fielding thousands of customer queries. Her knowledge is constantly improving as she continues to 'learn' about new topics and in the near future her language capabilities will be expanded to reflect the destinations TAP flies to.
Teneo from Artificial Solutions is an ultra-rapid NLI development and analytics platform that allows business users and developers to create sophisticated natural language applications in record time without the need for specialist linguistic skills. In customer service type applications, a digital employee can relieve the frustration of trying to find information buried in a website structure or the need to know company jargon just to search for a topic. Instead, customers can ask in their own words what they want to know and receive an expert answer, every time.
"Digital employees are changing the way customers expect to be able to retrieve information online," says Andy Peart, CMO, of Artificial Solutions. "They don't just enhance the customer experience online, but also relieve pressure to overstretch call centers by deflecting inbound queries reducing wait times for those customer where using the internet is not an option."