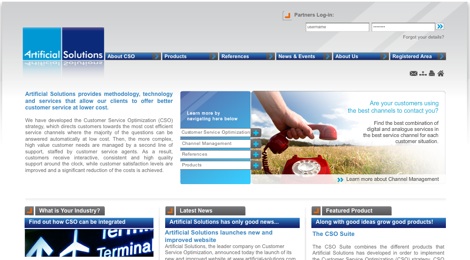 Artificial Solutions, the leader company on Customer Service Optimization, announced today the launch of its new and improved website at www.artificial-solutions.com. This new site is the result of a period of analysis, design, programming and collaboration to offer a fresh interface, significantly improved navigation and a better user experience.
"Our goal with this launch is to allow our visitors to better understand what Artificial Solutions does and what we offer; Artificial Solutions provides methodology, technology and services that allow companies to offer better customer service at lower cost and we believe that the new site will help us provide users with a better vision of our Customer Service Optimization (CSO) concept", explains Johan Åhlund, CEO and co-founder of the company. "Our vision is that people all over the world shall receive a better customer service experience and we are trying to apply that to our company as well with this launch; we want to serve you better!"
The new website is another step for Artificial Solutions as it continues to build its presence and awareness around the world. Artificial Solutions has also recently announced a partnership with Tetco-Voxpilot, a software vendor of video-voice-data solutions.
In the coming months, Artificial Solutions will be introducing new site features including a corporate Virtual Chat Agent, a blog, multimedia content, and content only available for registered members such as product sheets, white papers, demos and so on.
"The launch of our website is part of our new company architecture showcasing ourselves and our solutions. We want to give our audience a better user experience as well as a clear understanding of how we can help creating business value for their companies", says Stig von Linstow, VP of Sales at Artificial Solutions.
http://www.artificial-solutions.com/News-and-Events/