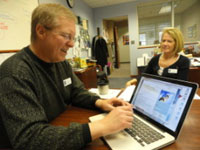 Emma, the virtual librarian, is getting some attention in Northeast Ohio media. This cute article appeared on Jan. 9 in the Mentor, Ohio Patch.
Sometimes, bad situations spawn good things. Consider Emma, the Mentor Public Library's catbot.
David Newyear, the head of reference at the library, started making Emma after then-Gov. Ted Strickland announced his plan to cut state funding for Ohio libraries June 19, 2009.
"That's really what started it all," he said. "We had no idea how extreme the cuts would be, so we looked at how we could be as efficient as possible."
Newyear wanted to make a chatbot, a computer program designed to imitate intelligent conversation, that could answer the frequently asked questions that librarians receive. This would free the librarians to work on something else.
And because library people can't help but play with words, Newyear made his chatbot look like a cat. Hence, Emma the catbot.
"We started with a dozen FAQs," Newyear said. "They were questions we get all the time like 'When are you open?' or 'Where can I find this in the library?'"
Now Emma answers more than 70,000 questions.
Emma has a personality, too, and it's appropriately feline. If someone is rude to her, she'll refuse to help them until they apologize. Her favorite book is Fiasco by Stanislaw Lem. Also, if someone proposes marriage – and this does happen – Emma will coolly reply, "Why would you want to marry a computer program?"
Emma is a labor of love for Newyear. The Friends of the Mentor Public Library paid for the software to make her, and Newyear spends a lot of his free time adding to her programming.
"I feel it's an important project," he said. "I don't mind putting my own time into it. I want it to be a success."
Conversations with Emma are anonymous, but Newyear can see what people ask her, and Newyear constantly checks the questions to see if Emma can be more helpful.
"If you look at the program's growth, she only gave a meaningful answer 15 percent of the time when I first started," Newyear said. "Now she's hitting the high 70s."
Emma usually receives about 800 questions per week, but she is "on vacation" while Newyear syncs her with the library's catalog. That way, when someone asks about a specific book, movie or album, she can search the catalog to see if it is available.
Newyear never stops tinkering with Emma. He said his next project is to add voice recognition, so Emma can be more helpful to visually impaired patrons.
Mentor Public Library plans to add a pillar in the main branch where people can converse with Emma.
As the first library chatbot in the country, Emma has drawn some favorable attention. Newyear was invited to speak twice at the EnvisionWare Conference this April. EnvisionWare is one of the largest software providers for libraries in the country.
Newyear appreciates the opportunity to talk about his creation, but Emma seems unimpressed by her success.
When asked if she likes being famous, she answered, "I have never known another existence."
http://mentor.patch.com/articles/catbot-makes-purr-fect-impression-at-mentor-public-library