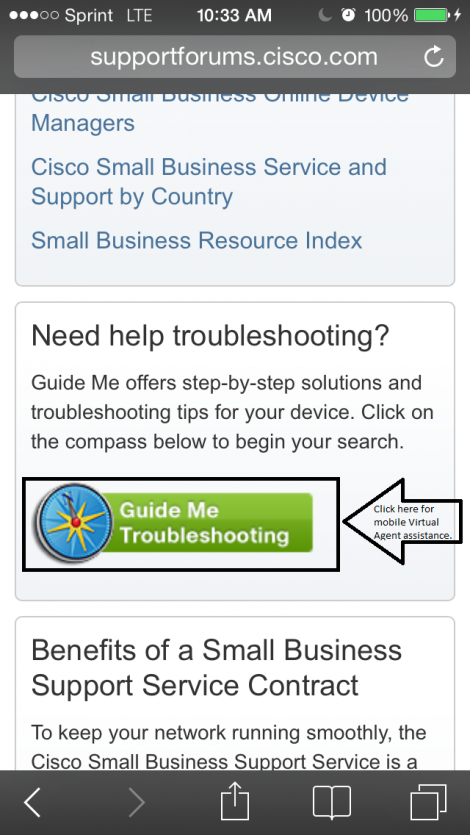 November 6, 2014, MILPITAS, CA – noHold, Inc. is pleased to formally announce Cisco Small Business' first mobile-friendly Virtual Customer Assistant. This mobile Virtual Assistant was launched in December of 2013 and has received positive feedback ever since.

Cisco Small Business (SB) is an extension of Cisco, providing small businesses with trusted Cisco products and services. Cisco has been a longtime customer of noHold, circa 2006, working collaboratively to bring innovation and smarter self-service together. noHold provides Cisco SB with the self-service support option appropriately named 'Guide Me.' Since its implementation, Guide Me has produced great results for Cisco SB. With the success of their web-based Virtual Assistant, noHold suggested developing a mobile-friendly version of Guide Me, to make support accessible for users on any device.
"As of 2013, worldwide mobile phone internet user penetration was 73.4 percent. In 2017, figures suggest that more than 90 percent of internet users will access online content through their phones." (Statistics and Facts on Mobile Internet Usage). Smartphones and mobile devices (i.e. tablets, wearable devices, etc.) are becoming users' preferred mode of staying connected. For Cisco SB, it is important to make self-support available across all devices because most of Cisco SB's customers are not always near a desktop when they need support resolving an issue. Becoming mobile-friendly is proving to be the most efficient way for Cisco SB to provide the answer their users need, while on the go.

Shawn Price, Sr. Manager of End-User & Collaboration Applications at Cisco says, "Our Virtual Agent helps us in two very important ways: One, it helps achieve our goal to make self-support easier for our customers to discover exactly what they need as quickly and easily as possible; and two, our Virtual Agent also gives all of our customers the opportunity to give us critical feedback on our content with every article. Having the voice of our customers helps us improve our content, which is a tremendous value to us all." As an acknowledged leader in providing excellent web support for their customers, Cisco prides themselves on giving great customer service. Cisco has won multiple awards for excellence in web-based self-service for the support site. Now, Cisco is carrying on the experience of outstanding web-based support, and using it to revolutionize support for the mobile generation.

"Making the Virtual Assistant work on a mobile device is important, but detecting in real time that a query is coming from a mobile device, so that the content can be automatically rendered to fit that type of environment is imperative and makes the solution very scalable, " said Diego Ventura, Founder and CEO of noHold.