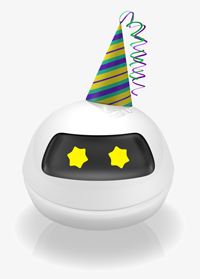 Creative Virtual, a leader in customer experience self-service solutions for global enterprises, today announced the celebration of the company's tenth anniversary. Founded in London, United Kingdom in November 2003 by Chris Ezekiel, Creative Virtual began trading in January 2004 with a focus on providing web-based natural language virtual assistants. Over the past ten years, the company has diversified their product offerings and embarked on a global expansion.
Today the company's headquarters remain in the United Kingdom with operations also located in the United States, Netherlands, Germany, India, Singapore, Australia, Guatemala and Brazil. In December 2013, Creative Virtual hosted their first Global Partner Meeting at the company's headquarters in London with representatives from eight different geographic regions in attendance. Through the establishment of this network of international offices and strategic partnerships, Creative Virtual seeks to provide their customers with localised support and collaboration. The company's global expansion is an ongoing endeavour with additional locations planned to be announced during 2014.
Creative Virtual's product portfolio has expanded over the ten years of the company's history as well to include an innovative suite of V-Person™ customer experience solutions that allow multi-lingual engagement across various channels, including web, mobile, call centre and social media. Their intelligent virtual assistants are deployed via the multi-channel knowledge management and workflow tool, V-Portal™. Shortly after its official release in 2012, V-Portal was recognised as "a significantly strong differentiator" and "one that will exceed customer expectations" by an industry analyst. In 2013, this technology won the company a prestigious Stevie Award in the category of Most Innovative Company of the Year in Europe as part of the 10th Annual International Business Awards.
"It is a real honour to lead a company that is truly defining a new technology space and exciting to see our innovative solutions providing significant business value to our customers around the globe," said Chris Ezekiel, Founder & CEO. "This tenth anniversary celebration is a noteworthy milestone for Creative Virtual. 2014 is set to be an exciting year as we continue to expand the features and functionality of our technology, further increase our network of international partnerships and grow the company in our established marketplaces."
In addition to the company's internal celebrations, Creative Virtual will be commemorating their tenth anniversary on the company blog and social media accounts using hashtag #CV10Years.
Related Chatbot:
Quark