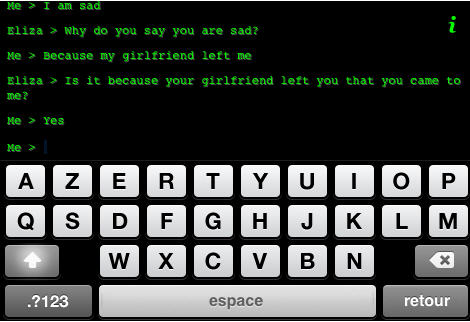 French software company Visuamobile has come out with a new application Eliza AI, a chatterbot for your iPhone using artificial intelligence software developed by Joseph Weizenbaum at MIT in 1966. It was amongst the first AI programs' and now used as a basis by most computer generated speech programs. You can converse with her on your iPhone as if she was your therapist and like all good therapists, she will answer most questions with another question.
Samples from a conversation bettween Emily Turrettini from Geneva, Switzerland and Eliza:
Me: Do you have an iPhone?
Eliza: What do you think!
Me. I'm feeling depressed
Eliza: Can you eleborate on that?
Me: When my google AdSense earnings are down
Eliza: What happens when your Google AdSense earnings are down?
Me: Nothing really
Eliza: What do you mean by nothing?
Me: Do you like chocolate?
Eliza: What do you think?
Me: Do you always answer a question with a question?
Eliza: What do you think?
Related Chatbot:
Eliza
http://www.textually.org/, image: http://cultofmac.com/category/iphone-3g/page/2