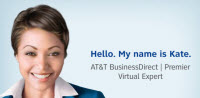 Kate is a virtual customer-service representative created to help people visiting the AT&T Premier Store. The Premier Store is where AT&T Business Customers and Individual Responsibility Users can manager their accounts and shop online for great deals on the latest wireless devices, plans and accessories.
Customers visiting the AT&T BusinessDirect Premier website will be able to click one of the "Ask Kate" and open a chat window to enter their question, just as though they were chatting with an agent. Kate provides a friendly, immediate written and spoken response, creating a personal and interactive experience. From deals on devices, to finding applicable discounts and getting answers to questions about service contracts, Kate can provide the same high-touch service available from call-center representatives.
For example, when a customer needs help upgrading their device, Kate will guide them through the selection process, making the buying experience personal and easy.
The technology behind Kate provides a conversational interface that goes beyond the traditional natural language processing employed by most avatars and virtual agents. Kate has the ability to understand the intent of phrases and the context in which questions are asked, guiding customers to information and offers relevant to them. She's even able to navigate users to the most helpful web pages and provide additional links to related information. For difficult questions, Kate will ask clarifying questions to help locate answers quickly.
The business-savvy virtual agent is integrated with the other real-time support options. Should a customer need to speak to an agent, the agent has access to the chat with Kate, eliminating the need for the customer to re-explain the query. Not only is Kate able to interact with customers on a variety of subjects; she also has her own opinions - including plans on how she will spend her retirement.
"The AT&T BusinessDirect Premier store is a 'virtual telecom department' for customers, helping them manage their communication services conveniently online, improve productivity, improve the speed and accuracy of transactions, optimize network efficiency in near real time, and reduce their costs," said John Cushman, Vice President AT&T eSales & Service. "Tools, such as 'Ask Kate', allow us to be of assistance to our customers in the instant, continuous, and comprehensible way they need," he said.
The AT&T BusinessDirect Premier store containts a suite of over 200 productivity-enhancing online tools that enables business customers to manage their AT&T products and services most efficiently. Each month, the AT&T BusinessDirect Premier store handles over 4.5 million customer transactions from users across 90 countries, helping businesses improve productivity, increase the speed and accuracy of network transactions, optimize network resources and reduce operating costs. It caters specifically to each business users' needs. Over 50% of all new enterprise mobility customer sales are completed online through the AT&T BusinessDirect Portfolio. The eServicing capabilities supported on the AT&T BusinessDirect Premier store include the following:
Performance Reporting
Ordering and Status
Account Management and Billing
Trouble Ticketing
Network Management
Inventory Management
With training, online help, globally integrated field support, extended call center hours- including weekends, online chat and now a virtual agent, users have flexibility in choosing which support option best suits their needs.
Watch an Introduction of Kate here: Ask Kate
Related Chatbot:
Kate