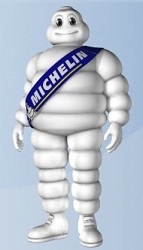 Created by VirtuOz, this intelligent animated character appears on the home page of the site, providing a human-like interface between users and the Michelin brand. The Michelin Man is the first world-famous brand icon to interact with users in this way.

Chatting in both English and French, Michelin's two official languages, and programmed to converse on around 10,000 topics each month, this intelligent virtual agent answers questions about the Michelin Man as well as the company, while also helping visitors to find their way around the site.
The brand's iconic mascot since 1898, the Michelin Man is the best possible ambassador of information about the organization, its history and its businesses. Based on technology that resembles artificial intelligence, the system behind his virtual persona will become increasingly effective as it "learns" from each new conversation.
At present, Michelin is the only tire maker in the world using this technology. It was developed in cooperation with VirtuOz, a French-US firm specialized in creating intelligent virtual assistants, and Cantoche, a video interface design company. The Michelin chatbot offers a higher level of performance than the market standard in terms of the quantity of information provided, the quality of the interface and the expressive range of the animations.
As a result, a conversation with the Michelin avatar generally lasts around seven minutes compared to the market average of around three minutes. This is because people around the world see the Michelin Man as a likeable character and are happy to have a friendly chat with him. Online visitors are free to get creative and ask anything they want about the Michelin Man's private life, his pastimes and, of course, his culinary tastes.
Related Chatbot:
The Michelin man