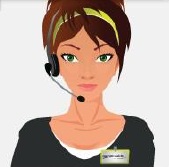 VirtuOz, the leading provider of intelligent virtual agents (IVAs) for online customer service, today announced that Numericable, a major cable and high speed Internet provider in France, debuted Emilie, an intelligent virtual agent powered by VirtuOz, as a new and contemporary online support channel. Available on Numericable's website support page, Emilie provides a high quality support experience 24/7 to Numericable's subscribers while also freeing their live agents to focus on higher value support and service activities.
"We evaluated multiple intelligent virtual agent solutions. In addition to its advanced technology, VirtuOz stood out from the crowd based on their deep domain expertise and managed service delivery approach, which continuously improves agent performance, guaranteeing an effective service and satisfied customers," stated David Lefèvre, Selfcare Manager, Numericable. "We implemented Emilie because we wanted to provide our users with instant online help regardless of the time of day. Furthermore, we expect Emilie to manage routine, high traffic inquiries enabling our customer service agents to focus on more complex questions, ensuring the highest overall customer satisfaction."
Designed to provide an innovative and optimum user experience, Numericable's virtual agent is based on advanced natural language processing technology combined with an intuitive interface and animated avatar created in collaboration with Kanse solutions. Emilie interacts with users to help solve their problems and immediately answer questions. Online since June 22, 2011, Emilie has already held more than 38,000 conversations and achieved a first contact resolution rate of 75 percent. If the question is outside of her scope of duties and knowledge, Emilie automatically directs subscribers to the most appropriate support channel. Her prominent location on the website's support page and 24/7 availability make her not only the first, but also the preferred point of contact for Numericable and its customers.
Numericable envisions expanding Emilie beyond customer service to assisted selling, acting as their primary online customer engagement channel. In the future, Emilie may direct users to Numericable's offers page, evaluate their unique needs and suggest the most appropriate, customized services tailored to each users preferences.
"We are already considering integrating Emilie into the 'My Account' area to give our customers a more personalized support experience. This would be an advantage both in terms of earning customer loyalty and marketing our services online," said Christophe Le Sage, Web Project Manager, Numericable.