The whitewater rafting company RiverRunners has successfully implemented Emily Virtual River Guide to increase website conversion rates and prevents abandonment. The CodeBaby Virtual Assistant "Emily" is an animated-friendly helper for users searching for their ideal outdoor vacation. RiverRunner's "Emily" acts as a personal "guide" through the information-rapids of online deals, offers, and 'bundle packages' that otherwise go unnoticed.
Just Google search "recreational activities Colorado" and you'll get bombarded by deals, offers, and "bundle packages" from many outdoor companies that might as well be nameless.
Who'd guess recreation was so stressful! It was easy doubting myself out of websites, wondering things like does cheaper mean sacrificed safety? Come on, what's "expert" really mean? Forget about if they're friendly.
"I become overwhelmed, quickly"
It's no secret that Colorado, along with the other four corner states, is known for its 'screensaver-esque' landscapes offering easy access to recreational activities that are physically, mentally and spiritually rewarding.
So I browse the internet, right, researching places, I become overwhelmed quickly, but I narrowed it to two all-day choices: book somewhere for overnight-camping (have fun fishing) OR some water sport like kayaking, rafting and etc.
"I Can Help" says Emily, River Runners' virtual agent
My definitive choice was to go whitewater rafting (which I've never done before!) when I came across River Runners' online "virtual river guide" named Emily.
"Emily" is a 3D, virtual agent custom made by software company CodeBaby, a leader in optimizing online engagement. The CodeBaby Emily is also a Coloradan —awesome, just saying. She's an athletic brunette in her late-20's, wears square-framed glasses and is dressed like a River Runners' rafting guide, their logo even on her shirt; everything —she's official!
On the site, she patiently smiles —even slightly fidgets as she looks around waiting right-hand bottom screen— with a bubble over her head saying "I can help".
Thankfully, she did not have some creepy robotic voice. Emily spoke aloud and fluently —you know, like a person— as she explained two locations to ride the Arkansas' rapids.
Honestly, I just let her talk. I could explore on my own but where would I start?
"I need emotional support not tech support"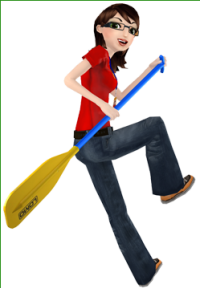 I decided the resort location looked and sounded the best because she helped me find what kind of trip I was looking for; She gave me clear explanations about what River Runners offer. I didn't even think about experience levels until they were listed because I figured they were similar.
From camping areas to other rafting companies, River Runners was the only outdoor company using the virtual assistant software. It verbally explained, excuse me— "Emily" explained what to expect and what's expected of me. Look, I need emotional support not tech support, so I chose a full day package called "Numbers." With my fear of math, I'm in for an intimidating —but real value— experience.
I like 'em so I'm biased. I recommend browsing River Runners website with your own eyes.
Otherwise here's a direct link to the Numbers trip that I was talking about.
For more information behind River Runners' "Emily" The Houston Chronicle covered a story about the rafting company's use of their virtual agent.
Related Chatbot:
Emily