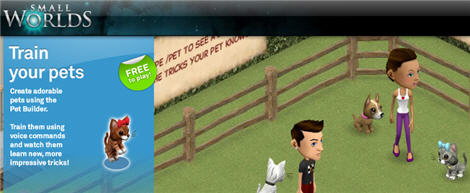 Small Worlds is a fast-growing online virtual world that runs in a browser instead of requiring you to download a graphics-intensive application. Members of Smallworlds create avatars and use these to have shared experiences like chatting, watching videos, playing games, or listening to music.

Pandorabots is a chat bot hosting service. From any browser, you may create and publish your own bots for web pages, instant messenger services, virtual worlds and many other places. Pandorabots utilizes a patented memory management algorithm that scales in number of bots, amount of bot knowledge, and number of conversational interactions. The bots are based on AIML and spring entirely from the work of the A.L.I.C.E. and AIML free software community.
Pandorabots offers a unique experience for members Smallworlds. One of the first bots deployed there is named Shelley, who works in the Smallwear virtual store. Shelley can provide useful information about products for sale in the store. But also, Smallworlds members enjoy having silly conversations with the robot, just to see what she will say. You'll often find a crowd around Shelley as groups of people all try talking to her at once.
Virtual currency in Smallworlds is called Gold. Smallworlds offers many different ways for participants to get Gold. One fun aspect of Smallworlds is exploring it to look for new ways to earn Gold. People will engage Shelley in conversations asking if she can give them Gold. Can Shelly give you Gold? Just keep talking to her and maybe you will find out!
Contact:
Evan Lessmore
+1-609-379-2552
Related Chatbot:
A.L.I.C.E.