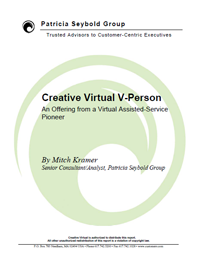 Creative Virtual, a leader in self-service customer experience management solutions for global enterprises, announced recently that its V-Person and V-Portal products were positively reviewed by the Patricia Seybold Group as go-to solutions for enterprises looking to improve customer satisfaction and secure brand loyalty.

Specifically, the report cites Creative Virtual's recently launched V-Portal knowledge management system as its most significant strength and differentiator in the industry.
The detailed, 32-page report outlines how the company's V-Person and V-Portal technology can easily deploy virtual agents on the web, mobile, and social channels to answer customers' questions directly or through natural-language-based conversations. It also recommends that large B2C and B2B organisations and city governments consider implementing Creative Virtual's technology to add cross-channel virtual assisted-service to their customer service application portfolio to deliver answers to any customer question, lower cost to-serve, and increase overall customer satisfaction. The full report can be requested here.
Senior Analyst Mitch Kramer stated, "V-Person earns very good grades on the Customer Service Report Card for Virtual Assisted-Service — and exceeds requirements for answers, question analysis and matching, and analytic functionality. Creative Virtual's V-Person technology is a leader for customer service integration, product viability, and company viability."
Industry Leadership
The report highlights four features that characterise and differentiate Creative Virtual in the industry, including:
Cross-channel virtual assisted-service - web, mobile devices, and social networks;
Answers that integrate application data;
Comprehensive knowledge management facilities for creating, editing, publishing, and managing the answers that V-Person delivers to customers and users; and
Rules-based question analysis and matching.
"Creative Virtual is a pioneer in virtual assistant technology, and continues to evolve its presence in the customer service market," continued Kramer. "V-Portal's knowledge management technology is a significantly strong differentiator in the industry, and one that will exceed customer expectations."
Creative Virtual's V-Person and V-Portal deploys in the cloud or on premise, and the company offers professional services to help ensure successful deployments as well as management options. Creative Virtual is helping exceed customer experience expectations in over 40 customer-facing organisations within the financial services, retail, travel, and the telecom market. Success has included reducing live chat volumes over 80%, and creating the ability to answer thousands of questions via Facebook that is translating into significant cost savings, business efficiency, and enhanced brand loyalty for companies who are committed to strengthening their customer support strategy through each company interaction.
"The Patricia Seybold Group's, and in particular Mitch Kramer's, positive assessment of our products extends Creative Virtual's industry reputation beyond the wide range of industries our technology products serve," said Richard Simons CEO Creative Virtual USA. "We consider the report a significant milestone integral for setting the stage to helping us further solidify our leadership in self-directed multi-channel customer experience technology strategy."