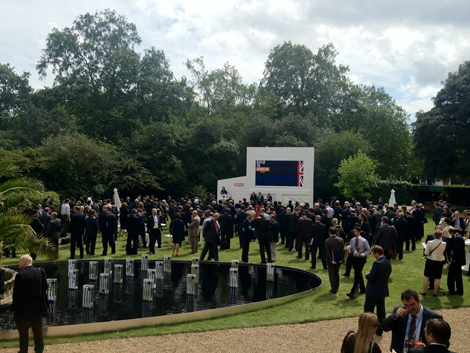 UK Trade & Investment (UKTI) recently hosted a series of Global Business Summits to coincide with the London 2012 Olympic Games. The ICT Summit, held on 3 August 2012 at the British Business Embassy, was a well-attended and successful event which brought together technology leaders from across the globe to hear from and engage with UK businesses and industry leaders. Chancellor of the Exchequer George Osborne said, "London 2012 is the perfect stage to show investors and entrepreneurs how much we have already achieved, and the exciting potential of what is to come."
Delegates unable to attend the summit in London were given the opportunity to watch live streams of the technology showcases and participate in event discussions via a virtual platform. This virtual platform, which was visited by more than 650 individual delegates on 3 August, also provides access to the Best of British technology virtual exhibition that is continuing until 4 February 2013. Creative Virtual Ltd is honoured to be one of the select British companies participating in the technology virtual exhibition.

Creative Virtual, founded in Great Britain by Chris Ezekiel, is a world leader in virtual assistant natural language technology and is currently showcasing their V-Person™ solution in this virtual exhibition. Ezekiel, CEO of Creative Virtual Ltd, attended the Global ICT Summit and is proud to be a part of the virtual exhibition. "UKTI hosted a fantastic event and we were proud to have been part of it. It's great to have the opportunity to continue the Best of British technology showcase over the coming months through the virtual exhibition; it comes at a perfect time for us as we continue our international expansion through building local partnerships."
Access to the Global ICT Summit virtual platform has now been opened to the public. In order to register and visit Creative Virtual's booth in the Best of British technology virtual exhibition, please visit the Global ICT Summit webpage.