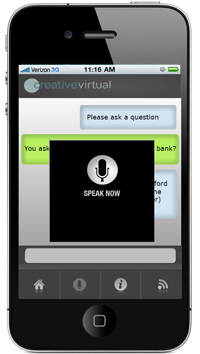 There is little doubt that the mobile revolution has changed consumer expectations. According to a recent study by Clickfox on mobile customer service, over 78% of consumers use mobile apps for customer service purposes such as billing, account status/updates and interactive chat. And the estimated 8 billion handheld devices in use over the next few years is nothing short of a clarion call for financial services, telecommunications, and other companies to stake their mobile CRM claim. That means that to stay on top, enterprises need to provide personalisation, accessibility, and superior service both on and offline to create a meaningful and cohesive customer experience.
But while tablets and smartphones present innumerable opportunities, companies need to deliver the right technology without risking customer loyalty or the bottom line. To help in that endeavour, on 25th September we announced V-Person Mobile™, a new solution for enterprises who want to provide world class mobile customer service without incurring the enormous costs usually associated with its development and maintenance.
Our latest mobile virtual assistant technology extends our current natural conversation and knowledge management suite to mobile devices, enabling large enterprise customers to easily deploy on-demand mobile customer service in less than three months without being cost prohibitive. Powered by our V-Person™ technology, customers can engage with your business using virtual assistants who speak in natural language, just like Apple's Siri, but with access to a deeper level of knowledge specific to your organisation. In creating V-Person Mobile, we've essentially brought small business agility to the enterprise class. We believe that technology investments should amplify great service not make up for it, and the goal of implementations should be to meet customer needs and create efficiencies.
Our clients have learned from their customers that providing stellar self-directed customer service means meeting the consumer where they are. That is why we have made it our business to enhance the consumer experiences so our customers can reduce email and call centre volume while increasing customer engagement. When thinking about your customer service strategy, consider that extending your contact centre to mobile devices can not only boost engagement, but save you valuable time and money by yielding faster response times, and reducing customer support costs, especially through the use of virtual assistants who can augment your teams and provide sophisticated levels of support. When seeking a mobile customer service solution, look for one that compliments your mobile goals yet supports your entire CRM strategy throughout the customer lifecycle.
To see how V-Person Mobile works, download our Demo App. You can interact with a personalised banking assistant just as you would with a live agent.